Calendar September/October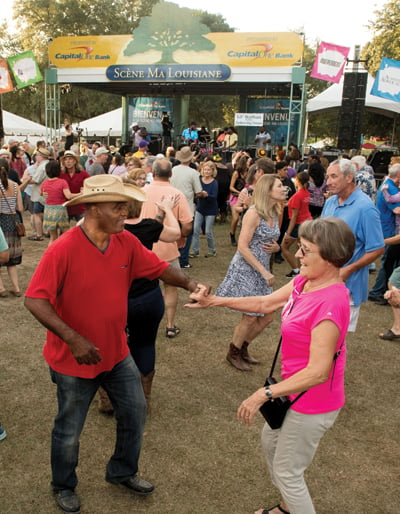 Greater New Orleans
Aug. 31 – Sept. 4. Southern Decadence. New Orleans. southerndecadence.net
SEPT. 11-17. Restaurant Week New Orleans. New Orleans. coolinaryneworleans.com
SEPT. 14-17. New Orleans Burlesque Festival. New Orleans. neworleansburlesquefest.com
SEPT. 23. NOLA on Tap. New Orleans. nolaontap.org
SEPT. 23-24. National Fried Chicken Festival. New Orleans. friedchickenfestival.com
SEPT. 29-Oct. 1. Treme Fall Fest. New Orleans. faubourgtreme.wixsite.com/tremefest
SEPT. 30. Carnaval Latino. New Orleans. carnavalatinola.com
SEPT. 29-Oct. 1. Treme Fall Fest. New Orleans. faubourgtreme.wixsite.com
OCT. 4. Art for Arts' Sake. New Orleans. cacno.org/afas
OCT. 6-8. Gentilly Fest. New Orleans. gentillyfest.com
OCT. 6-21. Oktoberfest. Kenner. deutscheshaus.org
OCT. 7. Beignet Festival. New Orleans. beignetfest.com
OCT. 11-19. New Orleans Film Festival. New Orleans. neworleansfilmsociety.org
OCT. 13-15. Crescent City Blues & BBQ Festival. New Orleans. jazzandheritage.org/blues-fest
OCT. 20-21. Boo at the Zoo. New Orleans. audubonnatureinstitute.org
OCT. 21. Krewe of Boo Halloween Parade. New Orleans. kreweofboo.com
OCT. 21. Mac n Cheese Fest. New Orleans. nolamacncheesefest.com
OCT. 21. Cochon de Lait Festival. New Orleans. nolaporkfest.com
OCT. 22. Oak Street Po-Boy Festival. New Orleans. poboyfest.com
OCT. 27-28. Boo at the Zoo. New Orleans. audubonnatureinstitute.org
OCT. 27-29. Louisiana Seafood Festival. New Orleans. louisianaseafoodfestival.com
OCT. 27-29. Voodoo Music + Arts Experience. New Orleans. voodoofestival.com
OCT. 27-29. WWII Air, Sea and Land Festival. New Orleans. nationalww2museum.org
Cajun Country
JUNE – SEPT. 17. Eat Lafayette. Lafayette. lafayettetravel.com
Aug. 31- Sept. 4. Louisiana Shrimp & Petroleum Festival. Morgan City. shrimpandpetroleum.org
SEPT. 1-2. Louisiana Zydeco Music Festival. Opelousas. zydeco.org
SEPT. 8-10. TaWaSi Antiques and Collectibles Show. Thibodaux. tawasi.net
SEPT. 9. Boudin Wars. Sulphur. facebook.com/BoudinWars
SEPT. 9. Taco Festival. Lafayette. thetacofestival.com/lafayette
SEPT. 15-16. Pepper Festival. St. Martinville. stmartinville.org
SEPT. 16. Rebel Run 5k. Sulphur. active.com/sulphur-la/running/distance-running-races/rebel-run-5k-2017
SEPT. 21. Farm Fest. New Iberia. shadowsontheteche.org
SEPT. 22. Downtown Live After 5 – Blue Eyed Soul. Houma. tpcg.org
SEPT. 22-23. Best of the Bayou Music Festival. Houma. bestofthebayou.la
SEPT. 23. Movies in the Parc. Lafayette. downtownlafayette.org
SEPT. 28. Sesquicentennial Exhibit Opening. Lake Charles. visitlakecharles.org
SEPT. 29. Sesquicentennial Community Celebration. Lake Charles. visitlakecharles.org
SEPT. 30. Movies in the Parc. Lafayette. downtownlafayette.org
OCT. 6-8. Tour du Teche 135. Breaux Bridge. tourduteche.com
OCT. 7-8. Germanfest. Roberts Cove. robertscovegermanfest.com
OCT. 10-15. Louisiana Cotton Festival. Ville Platte. louisianacottonfestival.com
OCT. 12-15. Festivals Acadiens et Creoles. Lafayette. festivalsacadiens.com
OCT. 14-15. Gumbo Cookoff. New Iberia. iberiachamber.org
OCT. 18. St. Martin Creole Farmers Market Chariot Parade. St. Martinville. stmartinville.org
OCT. 19-22. International Rice Festival. Crowley. ricefestival.com
OCT. 21. Boudin Cook-Off. Lafayette. boudincookoff.com
OCT. 21. Shake Your Trail Feather Festival. Breaux Bridge.
OCT. 28. Sweet Dough Pie Festival. Grand Coteau. sweetdoughgc.com
OCT. 28. Harvest Moon Festival. Franklin. franklin-la.com
Central
SEPT. 10. Living on a Spare Youth Rally. Alexandria. fourseasonsbowlingcenter.com
SEPT. 16. Le Tour de Bayou 2017. Alexandria. bikereg.com
OCT. 7. Friendship House Annual Pig Roast Fundraiser. Alexandria. friendship-house.net
OCT. 19. United Way Wild Cook-Off. Alexandria. uwcl.org/wild-cook
North
SEPT. 2-3. Powerboat Nationals Grand Prix of Louisiana U.S. National Championship. Shreveport-Bossier. shreveportbossiersports.com
SEPT. 3. Red River Margarita Pour Off. Shreveport-Bossier. redriverpouroff.com
SEPT. 9-10. Centenary College Book Bazaar. Shreveport.
SEPT. 16. Highland Jazz and Blues Festival. Shreveport. highlandjazzandblues.org
SEPT. 21-23. PRCA Rodeo. Springhill. (318)469-6358.
SEPT. 30-7. Red River Revel Arts Festival. Shreveport. redriverrevel.com
OCT. 13-14. Springhill Lumberjack Festival. Springhill. 619-988-6941
OCT. 26-12. State Fair of Louisiana. Shreveport. statefairoflouisiana.com
OCT. 31. Boo at the Boardwalk. Shreveport. louisianaboardwalk.com
Plantation Country
SEPT. 13. Behind Enemy Lines. Baton Rouge. chabadbr.com
SEPT. 22-23. National TLSM Single Mom's Conference. Baton Rouge. thelifeofasinglemom.com
SEPT. 22-23. Hot Air Balloon Festival. Gonzales. ascensionballooning.com
OCT. 6. Brew at the Zoo. Baton Rouge. brzoobrew.org
OCT. 21-22. Boo at the Zoo. Baton Rouge. brzoo.org
OCT. 28-29. Boo at the Zoo. Baton Rouge. brzoo.org
---
Festivals Acadiens et Creoles
Oct. 12-15 One of Lafayette's premier festivals, Festivals Acadiens et Creoles is highlighting Cajun music in it's 43rd installment, Oct. 12-15. The free festival held in Girard Park will see more than 60 live bands, two dozen food vendors and 70 artists from across Louisiana. This year you can download a handy pocket guide to ensure you have all the need-to-know information right at your fingertips.
---
FESTIVAL SPOTLIGHT
Oct. 21
NOLA Mac N Cheese Festival
It's not a New Orleans festival if it doesn't involve food. The inaugural Mac N Cheese Festival is bringing a new spin to a food festival. More than a dozen local restaurants will be serving up their best mac 'n' cheese while you get down to the tunes of Grayson Capps and Susan Cowsill.
Sept. 3
Red River Margarita Pour Off
The best restaurants, bars and other businesses around the Shreveport-Bossier area will compete in the 3rd annual Red River Margarita Pour Off. It's up to the attendees to taste, sample and vote for their favorite. Beer, tacos and additional margaritas will be on sale as Southern Roots provides the live music for the evening.
Sept. 22-23
Hot Air Balloon Festival
Soon Gonzales will be full of hot air when the annual Hot Air Balloon Festival takes flight Sept. 22-23. The whole family can enjoy the festival, which features a children's village, classic car show, barbecue competition and fireworks show. Due to the heavy flooding in 2016, the festival was cancelled, so show organizers are determined to come back better than ever for 2017.