Caroline Youngblood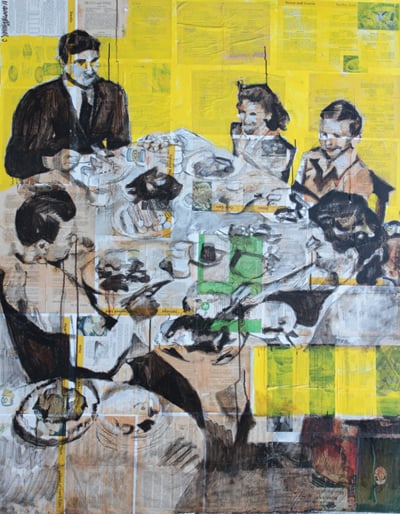 Monroe painter Caroline Youngblood lives with memories of long dead ancestors seemingly at ease in moments of normal family life. The walls of her studio and early 20th-century craftsman-style home in Monroe's Garden District are lined with her paintings of grandparents, great grandparents, great aunts and uncles, and her father as a child, scenes all taken from softly blurred home movies shot in 1937, almost a half-century before her birth. These faded images have shaped her life and art.
A walk through Youngblood's spacious but crowded studio where unfinished paintings are stacked against walls awaiting their turn on the easel reminds one of William Faulkner's thoughts about the past — "The past is not dead," he wrote. "It's not even past." To Youngblood, her family's past is still with her. It is always with her. These spectral images are direct links to her life growing up in North Louisiana at Breston Plantation on the Ouachita River near Riverton. Her great grandparents purchased the historic 1835 cotton plantation in 1900.
Youngblood has memorialized these long-deceased family members in two series of paintings, titled "Riverton, 1937" and "Riverton, 1937: Part 2," completed in 2012 and in 2016. She painted the first group during a three-month residency in France, an adventure underwritten by a grant from the Louisiana Division of the Arts.
"I opened a time capsule when I first viewed an 8mm family film shot on my family's farm in 1937," Youngblood says in an artist statement. "I got to peer into the lives of our ancestors enjoying their lives in a way that before I had only heard stories. As I began dissecting stills of this relic, I noticed that individual frames in the film looked like paintings; the grainy, faded nature of the old film has an appearance like that of a watercolor…The scenes are reminiscent of French Impressionist compositions that mirrored every day life of the Paris bourgeoisie in the late 19th century. But, the figures are not those of Parisian society; they show a glimpse into lives of Southern characters enjoying the riches of life in post-Depression Era North Delta, Louisiana."
Because the 1930s film was so fragile, Youngblood copied them to computer disks, which enabled her to stop and print individual frames.
"I got to know the personalities of these people by seeing them in motion," she says.
Youngblood, who was born in Monroe but spent most of her life at Breston Plantation, studied art at LSU in Baton Rouge before going on to her graduate studies in art at Syracuse University in Upstate New York. She transferred to Louisiana Tech in Ruston where in 2011 she received a Master of Fine Arts degree in painting and drawing. In recent years and with the help of grants, Youngblood has developed a keen business sense in marketing her art. As a result, her paintings have appeared on Louisiana Public Television and in numerous solo and juried group shows, including the Ogden Museum of Southern Art's 2015 "Louisiana Contemporary."
Travel also has become important in her work. In 2015 she spent time in India, studying Yoga. Since then, meditation each day at sunrise and sunset has become a vital part of her life and art.
"It calms my mind," she says. "I am more settled and open to God's energy. My motivations to paint are led by spiritual energy. I feel connected to God through my paintings and that energy flows through me. That meditation opens connections to my ancestors."
When Youngblood moved to her own home in Monroe late last year, she brought with her their spirits in the form of paintings. They stare out from walls throughout her house. She walks from room to room and talks about the people in each painting.
"I have strong connections to my ancestors because I grew up in the family home," she says. "Most of these people I never knew, but I grew up with those spirits. I want to preserve the way I felt when I was in that home. When I moved up here, I had to bring them with me to protect me. I am keeping their energy alive." She points to a couple of paintings. "This was my great grandfather and this was my great aunt who drowned in Bayou DeSiard. Nobody ever talked about her, but my grandmother kept this huge portrait of her in the living room."
Other large and colorful paintings incorporate recipes, scraps of paper and fabric, and records that her grandmother, Carrie Josephine Hill Youngblood, had saved and stored away during the 1940s and '50s. Several paintings depict magazine advertisements for kitchen appliances and family gatherings. Others include old family settings that she found in color Kodachrome slides taken in the 1950s and '60s. To these images she often collaged pieces of yellowing letters and old plantation store receipts for goods such as candy, recipes, soft drinks, food and an old bloodhound sold to plantation workers. All are memories of a place, a way of life and loved ones present now only in her imagination and paintings.
"My grandmother never threw away anything," Youngblood says. "These things were valuable for me. I started using things she left behind for my art work."
In 1998, Youngblood and her grandmother were in an automobile accident in which her grandmother was killed.
"When I got out of the hospital," she says, "my grandmother was gone. I feel that these paintings are unresolved issues. I believe she left all of these things for me to go through."
In recent years, Youngblood has created several new series that depict, in large, colorful paintings, stems of cotton, oyster shells or pelicans. These images are not meant to be clichés but iconic symbols of life in Louisiana and the South. Her paintings of cotton bolls, for instance, call to mind her early life on a cotton plantation.
"My great-grandfather farmed cotton and my grandfather farmed cotton," she said in a 2015 public television interview. "I've always had a connection with cotton, the smell of cotton, watching the process of it, watching the farmers plant the seeds, watching it grow into a flower, the harvesting."
Faulkner was right. Youngblood's family past is not past at all, but lives on in her paintings.
For more information about Youngblood and her art, visit carolineyoungblood.com.

(Left) "Cotton on Rainbow Quilt" by Caroline Youngblood. In recent years, Youngblood has created several new series that depict in large, colorful paintings, stems of cotton, oyster shells or pelicans – all iconic symbols of life in Louisiana and the South. Her paintings of cotton bolls over collaged, early 20th-century plantation store receipts call to mind her early life surrounded by cotton fields on Breston Plantation near Riverton in North Louisiana.
(Right) "Couples in Front of the Bentley Hotel, Alexandria, La., 1947"
(Bottom) "Aunt Georgia, 1928"
In June 2011, Youngblood began working on "Found in Riverton," a series of large and colorful paintings created after she found in her family home at Breston Plantation recipes and other ephemera that her grandmother had saved during and after WWII. Youngblood used these artifacts to create geometric collaged abstractions beneath painted images from magazines and family photographs.
---
Exhibitions and Events
New Orleans through May 21
New Orleans Museum of Art, "A Life of Seduction: Venice in the 1700s." Through magnificent 18th century paintings and objets d'art see the grandeur and pageantry of life and celebration in Venice, Italy, during the 1700s, City Park, 1 Collins Deboll Circle, 504-658-4100, noma.org
Shreveport through Nov. 11, 2018
R. W. Norton Art Gallery, "Enlist! Art Goes to War, 1914-1918." See what life was like in Shreveport and Caddo Parish during World War I and how artistic posters were used to urge men to enlist, women to become nurses and join the Red Cross, 4747 Creswell Ave., 318-865-4201, rwnaf.org
Lafayette through Aug. 12
Paul and Lulu Hilliard University Art Museum, "Spiritual Journeys: Homemade Art from the Becky and Wyatt Collins Collection." An impressive encyclopedic survey of Southern self-taught, outsider, fold and visionary art, 710 East St. Mary Blvd., 337-482-0811, hilliardmuseum.org
Alexandria June 2 through Aug. 26
Alexandria Museum of Art, "Painting a Nation: Hudson River School." These singularly American Hudson River School landscapes explore the romantic and idyllic glory of rural 19th century America, 933 Second St., 318-443-3458, themuseum.org
Monroe through July
Masur Museum of Art, "54th Annual Juried Competition." This annual competitive art exhibit showcases contemporary artists from throughout the United States, 1400 South Grand St., 318-329-2237, masur-museum.org
Baton Rouge through Sept.
LSU Museum of Art, "When the Water Rises: Paintings by Julie Heffernan." Allegorical paintings depict alternative and imaginary human habitats in response to environmental disasters,100 Lafayette St., 225-389-7200, lsumoa.org
Lake Charles April 6 through May 12
Shearman Fine Arts Center, McNeese State University, "30th Annual McNeese National Works on Paper Exhibition." The annual juried show features art works on paper created by artists from across the nation, 4205 Ryan St., 337-475-5060, mcneese-artonline.org