Carving a Niche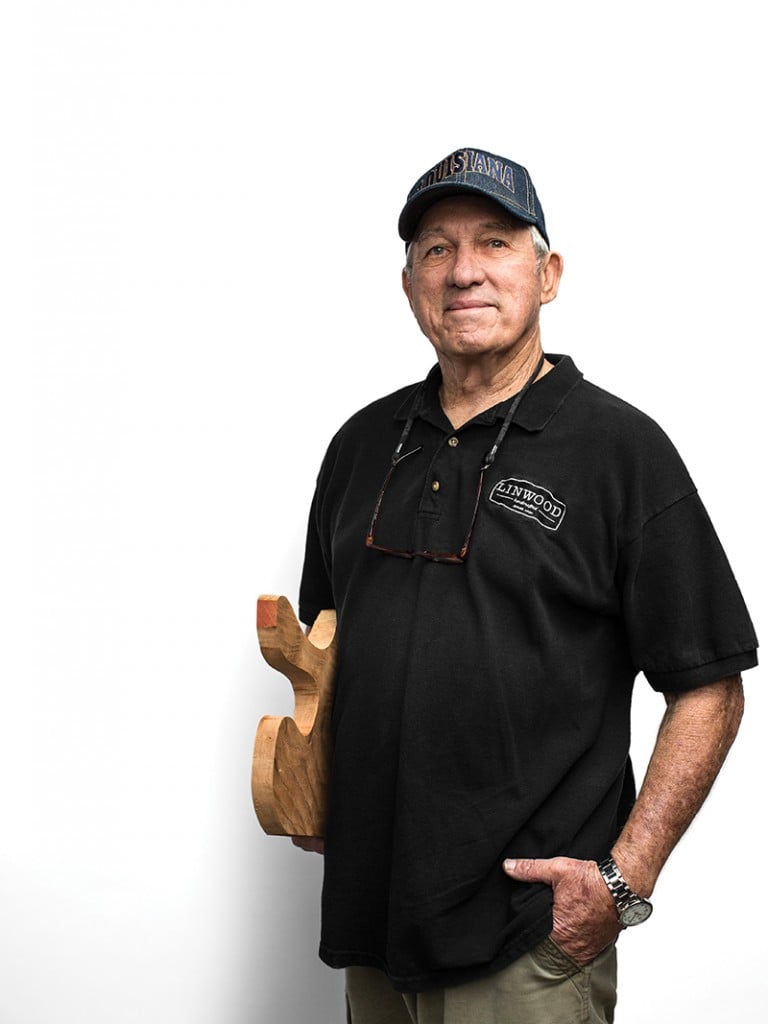 Glimmers of a December sun reflect wildly off the wet ground, a slick, dark floor of fallen leaves and mud left by last night's rain. A hatchet that looks like it has earned its rust leans across a thin handrail on the porch, and a wood-carved crucifix towers over everything in the front yard.
Past a path of planks, a door opens to a rustic, farmhouse space studded with lawn equipment, deer antlers and a thicket of angular slices of lumber.
Wearing a black Patagonia parka with the Twitter bird logo on its sleeve, wood craftsman Lin Babb toys with his Christmas present, a small welding machine. Its fire-engine red veneer shines in stark contrast to the well-worn patina of the rest of the workshop.
"Believe it or not, I got it cleaned up right now," Babb says with an easy smile and grandpa eyes. "Ever watch that show 'Hoarders?' I could be on that show. I don't throw anything, any piece of wood away."
Since 2013 Babb has put it all to good use. After an early morning start — eschewing coffee for a mug of hot chocolate and cream — he trudges out to his shop to pull raw walnut, cherry and maple and begin their evolution into handcrafted cutting boards, bowls and serving pieces that look and feel like works of art pulled from Mother Earth and given back to her people. His process is laborious, so he makes just a few each week. And no two pieces are the same.
"I'm really not good enough to make two of these devils just alike," Babb jokes. "But that's the great thing about it. You can go to Walmart and get a cutting board, but it won't be handmade."
Babb has been working with wood since he was in high school in Alexandria.
"It's very relaxing," Babb says in a gravelly-sweet voice just as likely to say aw-shucks as it is to quote organic farming advocate Robert Rodale. "And when you're done, it's pure joy looking at it, and knowing 'I made that. I accomplished something.'"
He's tried his hand at some furniture-making and even started a hand-carved sign business, but nothing really stuck. After 40 years in the public school system in Baker where he taught pysical education and coached volleyball and softball — and met his wife Terrie — he retired.
That's when daughter Mattie Babb Zito decided her Christmas present to her father in 2012 would be using her marketing savvy and web skills to launch a business with him.
"Handcrafted work was just coming back into more mainstream conversation at that point, and I wanted dad to see that he could do this, that with a creative approach he could turn his lifelong hobby into a real business as a maker," says Zito, who works in the marketing department of Twitter's San Francisco headquarters.
If she's the brains of the operation, as Lin describes, then he's the hands.
Each board begins with an outline sketched in pencil right on top of the grain of locally-sourced wood. Then Babb hand cuts and planes it. Next, the rough board is sanded, dunked in water, dried and sanded again. Babb repeats that process five or six tim
es —"til it feels like glass," he says.
A run of steel wool and hand-rubbed coats of mineral oil and beeswax finish each piece.
Linwood Co. has received shout-outs from Garden & Gun and Anthropologie, among other Southern tastemakers. Babb and  his wife Terrie keep their newspaper and magazine clippings and photos of their boards emailed by customers in a huge scrapbook in their den. Though some people hang them untouched on the wall like exhibits, Babb hopes his boards are cut on and used for family meals, then passed to future generations like an heirloom. "Of all things I wish I had my grandmother's cutting board," he says.
Since 2013 Babb has shipped boards to nearly every state and dozens of countries. At 76, every sale excites him still.
"Sending them all over the world really inspires me," he says. "That dad-gum internet, I tell you what."
Nature not only provides Babb with his source materials, but Lin and Terrie's country home off a narrow gravel road north of Baton Rouge reveals the wild inspiration he finds in the outdoors daily.
His ideal day off is sitting with Terrie in a deer stand in the middle of the quiet woods. Lately, he's begun experimenting with hunting knife designs, but wants to perfect his work before selling those.
"Everything I do is tied to fishing and deer hunting and then cooking them up for dinner," says Babb. "It's all about good Louisiana living."