Central Louisiana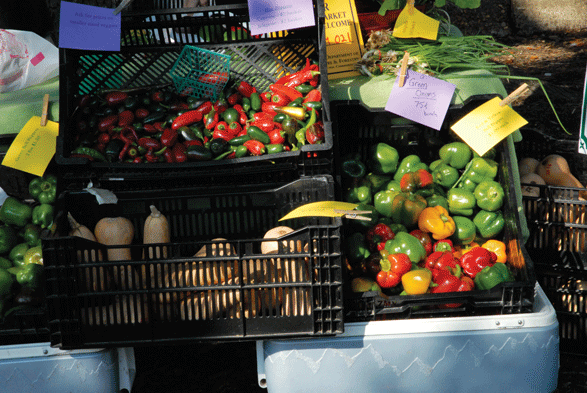 NEWS BRIEF
The young sleuths
It was almost like the board game of Clue come to life: Sixth graders at Phoenix Magnet Elementary School in Alexandria recently participated in solving a mock murder as part of their end-of-school-year learning experience. Their mission, which was to find the fictitious slayer of the school principal, whose "corpse" was discovered by plucky school resource officer Keshunda Allen, took them into an actual mobile crime lab unit of the Rapides Parish Sheriff's Office.
Maddy Daugherty, one of the approximately 70 students who participated in the mock investigation, told reporter Karina Donica of the Town Talk that her favorite television series was CSI. She was excited to enter the mobile crime lab after receiving instructions from Detective Keith Fennell of the Sheriff's Office.
"I like mysteries and stuff like that, and I think it would be cool for homicides and burglaries to find out who did it," she said.
These kinds of hands-on experiences are the brainchild of teacher Sandra Goldich, who is always looking for ways to keep students interested in learning after high-stakes testing and prior to the summer break. "These are my keep-them-learning, keep-them-busy [activities] for the last days at school," she said
Parent volunteer Sean Megison is an enthusiastic supporter. Speaking to the Town Talk, he said: "Usually, hands-on is better than … reading about it. If you get a kid to watch it actually happening or getting involved with it, they pick it up faster."
The scholarly sleuths toured the crime lab, and Fennell introduced them to his most-used instruments: camera, fingerprint equipment and bullet trajectory kit. The students were divided into teams of five, with one team working the perimeter of the crime scene while other teams busied themselves in the evidence tent. The teams wore gloves to prevent tainting any evidence. Their little gray cells were working hard and fast as theories based on scientific deduction filled the air. One young detective thought the death was actually a suicide, but this was challenged by student Jacob Kessler, who was certain the school janitor had done in the principal. Their assignment was to submit the solution to the crime after they had carefully studied the crime scene and pored over both evidence and testimonies of "witnesses."
Goldich is original in her choice of hands-on learning assignments: The week before the mock murder, the students were involved in a game of survival as they role-played an assortment of wild animals among predators.
FORK IN THE ROAD
Green grocers
On the riverbanks of downtown Natchitoches, each Saturday until July 25, natives and visitors alike can saunter through the edible and not-so-edible finery of the Cane River Green Market. Managed by the Natchitoches Main Street Program and coordinated this year by Rita Brockner, this delightful open-air market is filled with tables laden with fresh fruits and vegetables, plants and fresh farm eggs. Added to this colorful and vibrant milieu are gleaming jars of jellies and jams, briny homemade pickles, raw honey, fresh herbs and baked goods fresh from the oven.
The handiwork of artisans is also offered at the Cane River Green Market each Saturday morning –– stained glass, jewelry, soap, pottery and artwork. Participants in the green vendor portion of the market include Abba's Organics, Anderson's Produce, Farmer's Kitchen and the Gansville Herb Co. Vendors such as Barking Mad Organic Dog Biscuits and Cowtown Concessions join the tamales, barbecue and cracklins of Uncle Waine. In the crafts department, birdhouses, Native American jewelry and crochet items tempt you almost as much as the fresh-baked bread. Looking at the downtown riverbanks of Natchitoches, one can easily draw the conclusion that nothing could make it more beautiful than it already is, but once you've seen it dressed in all the happy colors of the green market, you might change your mind.
Vendors are always welcomed to show their wares at the market but must first pass a close scrutiny by the Cane River Green Market Jury Committee, composed of community leaders and patrons with a vested interest in the success of the project. They carefully consider each application before issuing an invitation to join.
The market turns 10 this year, sustaining its goal of presenting alternative ways of food production and consumption that are friendly to both humans and the environment. Anyone interested can download an application from canerivergreenmarket.com.
The market makes a brief appearance again later in autumn and offers harvest items.
Cane River Green Market, 750 Front St., Natchitoches, (318) 352-CRGM
LOUISIANA-GROWN
Yucca
The grounds of what is now 200-year-old Melrose Plantation were once covered with clumps of green spiked yucca trees. This member of the Agavacae family flourished in the well-drained sun-soaked soil of the Cane River region and needed hardly any water in what seemed like a magical countryside.
Born a slave in the household of Louis Juchereau St. Denis, the first commandant of the Natchitoches Post, Marie Therese Coincoin was sold to Claude Thomas Pierre Metoyer, for whom she bore 10 children. Metoyer freed her and the children and gave them 68 acres of land in the area known as "Isle Brevelle" on the Cane River 17 miles from Natchitoches. The Metoyers became recipients of a number of land grants that eventually comprised the sprawling acres of the plantation they named "yucca" for the proliferate spiny plants that covered their land. They also became downright filthy rich, with only a few white planters having more money than they possessed.
Interspersed among the trees, Marie Therese and her sons built the Yucca House, the original main house of the plantation; the African House, which now exhibits Clementine Hunter's murals; and other outbuildings. The Big House was built in 1833. This cotton and pecan plantation passed out of the Metoyers' hands, was renamed Melrose and eventually was purchased in 1899 by Cammie and John Hampton Henry. Cammie started an artists' colony on Melrose Plantation, and the old Yucca House acted as a guest lodging for the likes of William Faulkner, Lyle Saxon, Gwen Bristow, Harnett Kane and Rachel Field as they created under its roof at various times. Cammie had a cook named Clementine Hunter, and from the seemingly blessed and inspired air of Marie Therese's old Yucca Plantation, an American folk art legend was born.
Wild and exotic, yucca suits Louisiana. Related to lilies, yuccas were once said to be planted beneath windows to ward off peeping Toms and burglars. Native Americans used them for soap by rubbing their clothes with a piece cut from the plant. Fibrous threads found on the leaves were made into rope. Its thick roots form shoots that, when cut off and transplanted, sprout into new yucca plants. The beautiful crown of white flowers only appears from early to midsummer. Strong and wild, mysteriously dark-green like bayou water, yucca can be planted at any time of the year, in full sun to light shade, and needs only one dose of fertilizer in the spring. Yucca has also been called "bear's grass."
Melrose Plantation, 3533 Highway 119, Melrose,
(318) 379-0055.