Charming Covington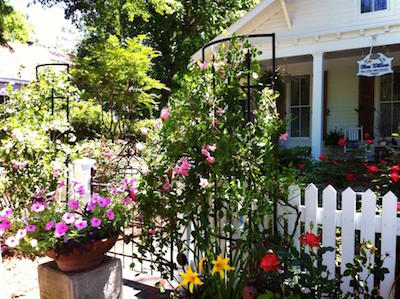 There is something storybook-like about downtown Covington, Louisiana, which oozes Southern charm. From its age-old cottages filled with treasures to its picket fences and moss-draped trees, it can feel as though you've been dropped into the cinematic scene of "Steel Magnolias," only you are 40 miles from New Orleans.
But don't let this sleepy backdrop fool you, because downtown Covington is a perfect marriage of country and city living – a charming safe haven with 21st century appeal. While your cares will melt away as you stroll through this quaint escape, it won't let you down with a myriad of offerings sure to appeal to even the most discerning visitor.
Downtown Covington has everything you could want and more: luxury lodging, award-winning cuisine, one-of-a-kind shopping, spas and quality live entertainment. Oh, did I mention the historic and lush Bogue Falaya Wayside Park is here and the tranquil Bogue Falaya River traverses through this picture perfect scene?
To begin your unforgettable experience, reserve a room or suite at the Blue Willow Bed and Breakfast, a longtime standard for those seeking refuge amid all this character and charm. Longtime owners Tom and Maureen Chambless make sure your stay is comfortable and private. This house and its adjoining loft building is a true immersion of Covington, a true escape as native plants and trees along with charming gardens caress your cozy and quaint accommodations. The Blue Willow is in the heart of the historic district, and places you within walking distance of all that downtown Covington has to offer.
For solitude at its best, check into the very private Orleans Suite, which, while not inside the home, is in an adjoining building on the second floor and has a large private porch perched high amid the oak trees – a great place for rest and solitude in this tranquil setting. This suite also has a fireplace, a half- kitchen, and sitting area. (Tip: The kitchen is stocked with complimentary snacks, homemade Southern pastries, coffee and more.) Another great choice is the Plantation Suite or the Heritage Suite, both located inside the house, which has its own private courtyard.
After checking in at the Blue Willow, head to the shops on Lee Lane, which are vintage cottages full of clothing, handmade jewelry, antiques and unique finds. On Columbia Street, you will find art galleries and the St. Tammany Art Association, which exhibits some of the region's best artists. While on this street, don't miss the quirky Smith HJ & Sons General Store and Museum, which has been an institution since 1876.
Need a break after all the shopping and sightseeing? One of the best ways to relax and rejuvenate in downtown Covington is with a Southern Hotel Signature Massage. Make sure you book a reservation for this remarkable massage with Kelly Townsend, a master at her craft. Your troubles and cares of the day will melt away with this massage, which incorporates Swedish, deep tissue, pressure point techniques and much more.
Guaranteed to be hungry, tempt your taste buds at Del Porto Ristorante, adjacent to the Southern Hotel. Del Porto is one of those restaurants where locals celebrate special occasions and enjoy the creations of married chef team David and Torre Solazzo, three-time James Beard Award nominees. Be sure to try the mouthwatering Crudo del Giorno, the white bean and artichoke puree and beef carpaccio appetizers, and any house-made pasta entrée. Quench your thirst with one of Del Porto's seasonal martinis like the fresh blueberry or freshly squeezed grapefruit martini, or try their popular lemon and mint bellinis made with house-made lemon sorbetto.
After a good night's rest at the Blue Willow Bed & Breakfast and coffee on the large private balcony amid the trees, take a walk to Oxlot 9 for one of the best Gulf-inspired Southern brunches in St. Tammany Parish. Award-winning Chef Jeffrey Hansell operates this eatery, which was named for the town's historic ox lot areas. Start with a brunch cocktail like a refreshing Ramos Fizz, Bloody Mary with house-made Bloody Mary mix, or a mimosa made with fresh squeezed Cara Cara orange juice. The deviled farm eggs and fried LA oysters are "must try'' appetizers, and the Desayuno and OL9 Boudin Benedict are the most popular brunch entrees – after one bite you'll know why.
There is way too much to uncover in downtown Covington alone, so a couple days stay is highly recommended – even after that you will long to return to this charming destination. There are so many wonderful places in to visit in downtown Covington, that we will be sure to revisit!
For more information go to: