Charming Details
Good bones, thoughtful renovation and interior design that plays to those strengths are a winning combination for a 1930s Baton Rouge cottage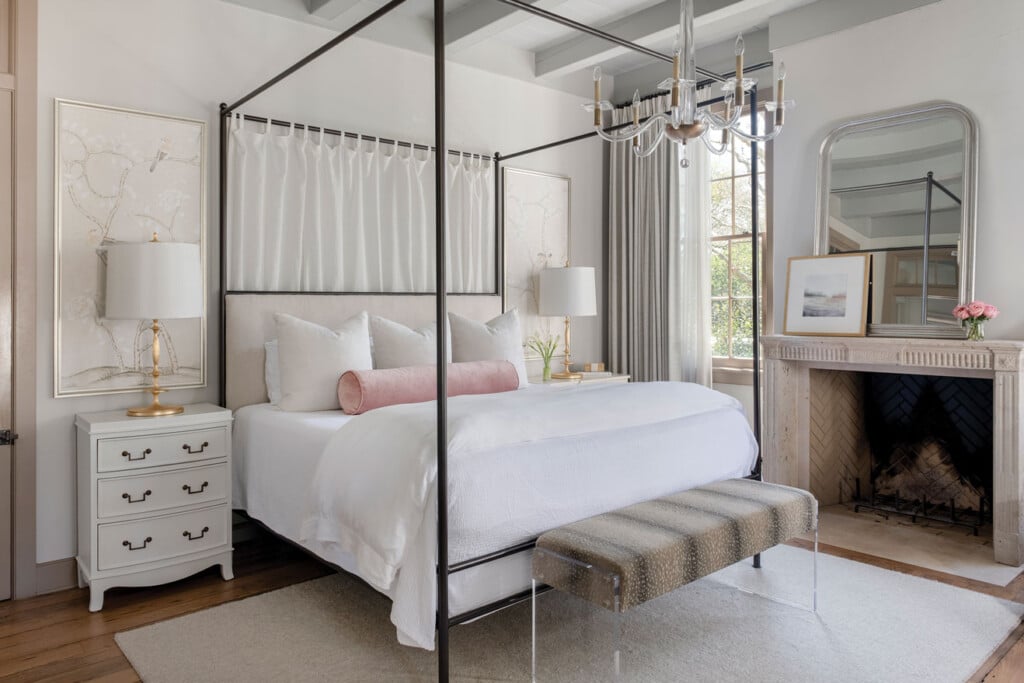 Architect of addition
William Sonner
Interior Design
Jillian Freiberg
Square footage
2,500
Outstanding features
Eighteenth-century French hardware in master addition, antique salvaged glass windows, original oak floors, herringbone floors added during a renovation, French doors, abundant natural light, antique fireplaces
Original Architect
Lewis A. Grosz
First-time homebuyer Hillary Anderson was on her way to meet her realtor when she spotted a charming cottage with a for sale sign.
"This house screamed New Orleans to me," says Anderson, who is from New Orleans. "It surpassed every other house I'd seen. Its charm and detail spoke to me."
Upon viewing the listing, Anderson fell in love with the property and quickly made an offer. The house had already been thoughtfully renovated by a previous owner, whose grandfather built it, and its turnkey condition was a huge plus for the busy attorney.
"Every addition and modification is still in keeping with and respecting its original intent," says Anderson. "You can tell the love that went into this house."
The neighborhood's old oaks and the cottage's cypress picket fence, original wood floors and antique hardware were just a few of the things that checked Hillary's boxes along with the home's modern amenities. Naturally, Anderson, who has a keen appreciation for design, wanted the interior to complement the architecture. When her mother's research into interior designers led to Baton Rouge native Jillian Freiberg, Anderson knew she'd found a like-minded talent.
Anderson lauds Freiberg's deft handling of the project, which beautifully combines classic and unexpected, old and new, painted and unpainted, and which coincided with the supply delays of the pandemic. Freiberg praises Anderson's research and clarity in presenting what she wanted.
"She has a great collection of interior design books," says Freiberg. "She was so specific and detailed in what she liked. I typically have a presentation, then tweak it per the client's feedback. She loved all the options, so we took elements from each and made them work together. I think I nailed her aesthetic because of the homework she did."
Among the things that Hillary knew she wanted were a mostly neutral foundation with pops of color (she loves pink), some foundational wood pieces that she'd adore for years to come (burled wood is a favorite), and a dining space flexible enough to be used for more than one purpose. One thing Anderson did not know when she bought the house was that she'd meet and marry a neighbor, Jordan Anderson, a Baton Rouge area professional. They married in December, making the cottage a home for two.
Despite the supply chain issues of the last few years, Freiberg worked mostly through trade sources, many of which she finds by going to the High Point Furniture Market annually and was able to complete the project in about a year. She also customized the décor with creative thinking. In the dining room, she accomplished the client's wishes by combining a round neoclassical-inspired dining table that expands with one or two leaves and outfitting the room with seating that can be added to the table when needed. Both the custom pink settee and the pair of powder blue faux leather side chairs flanking the painted Gustavian buffet can be moved to the table for that purpose. In the master bedroom, Freiberg retrofitted a reproduction French-style writing desk for use as a vanity by removing the filing system in the drawers and replacing it with organized spaces for personal care items. When she couldn't find the right tabletop mirror for the vanity, she gave the elegant ensemble a unique twist by pivoting to a wall mount mirror layered on top of a series of framed nudes.
The finished house is detailed, but also appropriately restrained so the couple can add or replace art as they find it and so the cottage's special attributes retain their importance.
"You can go simple on the furnishings when you have a house with great bones," says Freiberg. "It leaves room for the architecture to shine."