Chasing the Light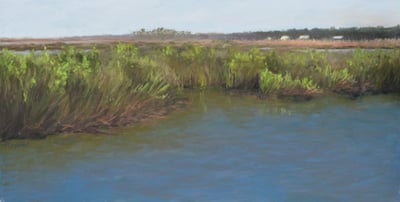 Abita Springs artist Mary Monk has spent the last two decades exploring and painting the back roads, marshes, rivers and city streets of Southeast Louisiana for that compelling intersection of light, mood and place. For the landscape painter, few other places exist where those three elements come together so beautifully. Talk to any landscape painter or outdoor photographer in Louisiana and they speak almost reverently about the seemingly mystical atmosphere of South Louisiana.
"Light is the most important aspect of my paintings," explains Monk, who was born in New Orleans but now resides and works in Abita Springs north of Lake Pontchartrain. "The second most important thing to me is the mood of a painting. The purpose is to capture that moment so well that viewers feel like they are there. Louisiana is most definitely full of mood. I love the country roads. There is something so wholesome and comforting about an old crooked dirt road that disappears into the distance. It's so hopeful and serene. The old paths also make you see the presence of humanity. The worn path has seen thousands of feet walk on it or had tractors roll over it time and again. Also present are the telephone poles which remind us that the technology and the hustle and bustle of life is never far away even on an old country road."
Like most Louisiana painters, Monk is also drawn to the region's coastal marshes. "Sunsets over the marsh do spectacular things to the marsh grasses," she explains. "I paint about 90 percent of the time in the late afternoon to sunset. The wetlands are the most beautiful at this time. The colors are completely different each time. Weather translates to mood in a painting, so I love painting the different conditions. Some of my paintings feature these strange phenomena. I love the rain. It's such an illusive subject for artists. It's very difficult to portray."
In addition to the drama of stormy marshlands, Monk enjoys painting gritty streets in New Orleans, old places that reflect the passage of time and moody scenes along the Mississippi River. "I have so many childhood memories of sitting by the river with my parents when I was young," she says. "It always calmed me. The wind that comes off the river is so strong it seems to blow away all the sound in the world except the sound of the water. It makes you feel alone in the world but strangely content and peaceful at the same time. I always loved watching the Mississippi River. I could sit for hours and stare at it."
Monk's interest in art began early in life. "My mother had six children, and being the last of six meant she was good and tired of being stuck at home every weekend," Monk recalls. "We often spent Saturdays or Sundays walking in and out of the many antiques stores in the French Quarter. As a treat for my good behavior, my mother let me watch the pastel artists in the Jackson Square paint portraits. The pastels seemed like magic crayons to me. I was amazed that how quickly and accurately they painted. It was also my first experience with painting from life."
Though mostly self-taught, the Abita Springs artist did have some formal training while attending Archbishop Chapelle High School in Metairie. "I took the class because I thought it would be a fun and easy class," she says. "The first day of class, I found out I was wrong. I loved it from the beginning even though it was one of my most demanding classes. It was a serious class that taught classical drawing. We learned by copying master paintings and drawings as well as modern subject matter."
With that foundation, Monk developed her natural abilities and passion for the Louisiana landscape through the works of earlier masters such as Rembrandt, John Singer Sargent, Edgar Degas and Toulouse-Lautrec. Though Sargent's brushstrokes and Rembrandt's dramatic light set the stage, the French Impressionist painters, and their emphasis on painting outside on location, or en plein air, have had the most lasting influence on Monk's approach to painting. "Plein air is my favorite method of painting and many of the challenges are the same today as they were back then," Monk says. "The immediacy of their paintings, their obsession with the effects of light and the changing of the season have also become my own driving force. It is what makes me want to paint. Plein air isn't really about speed but more about focus, understanding and capturing the light and the effect that light has on the landscape."
Though Monk occasionally paints in her studio, especially during inclement weather, she decided early on that she works best on location. "The effects of light are nearly impossible to capture with a camera as they truly appear in reality," she says. "The human eye is much more able to discern the nuances that get discarded in the translation from reality to print." A great plein air experience, she continues, is "a balance of one's observations of nature and a clear translation of one's own emotional response to the subject. It is very peaceful and cathartic painting outdoors. It is a luxury to have this time to yourself to be able to study your subject matter and figure out why you react to it the way you do."
Monk recalls the story of her first real effort at painting outdoors. "I was invited to participate in a new exhibit that was to be shown at the Abita Springs Museum," she says. "It was to be curated by Auseklis Ozols, the founder of the New Orleans Academy of Fine Art. Of course I said yes. I headed out to paint the town of Abita with lots of enthusiasm and confidence. Nature quickly gave me a solid slap of humility. I was thoroughly disappointed in my efforts. I crawled into bed thinking I would never do that again and that I had no idea how loud insects were when there was nothing but the sound of nature around. The next day, however, I looked at my painting and was amazed at the difference in my plein air work. It was obvious that even on my most disappointing plein air day, my work was 10 times better than my best day in the studio."
Painting on location comes with many distractions and, to say the least, nuisances. "I have plenty of stories of scary bugs, stray dogs, snakes, alligators, sun burn, ruined shoes, flat tires and the most dangerous of all to the pastelist – the sideways rain which frequents Louisiana and melts pastels like cotton candy," she says. "Despite all of these things, your consciousness of nature overrides the inconveniences of external conditions. You become more aware of subtle nuances in nature that reflect that stronger sense of mood and reality. Plein air caused me to continue to grow in my art and face the challenges with the knowledge that my art is better for the adversity."
Monk's paintings can be seen at Three Rivers Gallery in Covington, The Elizabethan Gallery in Baton Rouge, and the New Orleans Academy of Fine Arts in New Orleans.

For More Information
For additional information about Mary Monk, visit marymonk.com