Chef Al Mahfouz and his Redfish Dupuy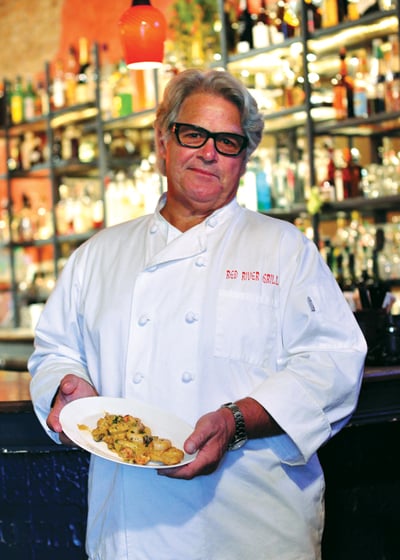 Al Mahfouz's career as a chef has taken him all over Louisiana – and beyond.
A native of Lake Charles, he began his restaurant career in Baton Rouge under the guidance of Jake Staples of Bob & Jake's and The Place. Mahfouz opened his first restaurant near LSU in 1975 and has been a restaurateur ever since.
He and his family moved to Santa Fe, N.M., in 1988 and opened the nationally acclaimed restaurant Pontchartrain. It was here where he received his unique culinary education. Cooking with Roland Richter from the Cordon Bleu School in Paris and Pietro Petrussini from Lake Como, Italy, these two talented chefs have been the major influence in Mahfouz's cooking style.
After moving back to Louisiana in 1994, Mahfouz opened the Bamboo Grill in Bunkie.
In Bunkie, he established a reputation as the premier chef in Central Louisiana. Because of the recognition he received from Gourmet magazine and Southern Living, he soon outgrew the small restaurant in Bunkie and opened the Red River Grill in 2001 in downtown Marksville.
Red River Grill has claimed its place among the noteworthy Southern culinary establishments and is a favorite of locals and visitors alike. Mahfouz consistently surpassed the expectations of a culture that prides itself on knowing what good food is all about. Red River Grill serves fresh Gulf seafood, prime steaks and exotic game in a relaxed, creative environment.
---
Redfish Dupuy
• 2 teaspoons of Creole seasoning
• 1 cup all-purpose flour
• 2 medium eggs, lightly beaten
• 1 cup milk
• 4 (6-ounce) redfish fillets
• 1/2 cup of clarified butter
Dupuy sauce
• 1/2 cup seafood stock
• 12 ounces crawfish tails
• 12 ounces 30-count shrimp
• 6 tablespoons butter
• 1 cup cooked sliced artichoke hearts
• 1 cup fresh mushrooms, quartered
• 3 cloves garlic
• 1/4 cup minced green onions
• 3/4 cup white wine
•1/2 cup heavy cream
• Pinch of cayenne pepper
In a mixing bowl, combine seasoning and flour. Beat eggs and milk until well blended.
Dredge the fish fillets in seasoned flour, then in egg wash and then again in flour. Set aside.
In a large skillet over medium high heat, heat the clarified butter.
Add the fillets and sauté quickly until golden brown on both sides only once. Remove fillets and keep warm.
Sauce: Melt half the butter in a sauté pan. Add seafood stock, artichoke hearts, mushrooms, garlic, green onions, wine.
Simmer and reduce liquid by half. Add shrimp and crawfish tails, and cook for 2 minutes or until shrimp are done.
Add cream and cook for 2 minutes on low heat, gently stirring.
Finish with 1 tablespoon of butter and cayenne pepper, until butter is melted and sauce is creamy.
Place fillet and sauce on warm plate.
Garnish with fresh parsley.