Chef Owen Hohl Wins 16th Annual Louisiana Seafood Cook-Off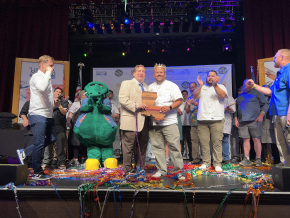 LAKE CHARLES, La (press release) – Chef Owen Hohl of Hot Tails in Prairieville is the 2023 King of Louisiana Seafood beating 11 other chefs to win the 16th Annual Louisiana Seafood Cook-Off presented by the Louisiana Seafood Promotion and Marketing Board. For the first time, the event happened in Lake Charles inside the Golden Nugget Grant Event Center in conjunction with Chuck Tastes Restaurant Night and Visit Lake Charles. To win the crown, Chef Hohl prepared a plantain scaled grouper highlighting his creativity and the superior quality of the seafood that comes from Louisiana's shorelines and vast waterways.
Hohl graduated from Grace King HS in 2007 with a certificate of achievement from the National and Louisiana Restaurant Associations Education Foundation in ProStart – a 2-year culinary arts and restaurant management curriculum in 60 high schools in Louisiana. He then went on to study at the Louisiana Culinary Institute in Baton Rouge. He then became executive chef at Hot Tails Restaurant in New Roads. Hot Tails recently opened a second location in Prairieville.
"There's a lot of great chefs in this year's competition. I looked at all their dishes. They looked awesome. I was nervous but I was excited with what I put out. I think it came out great. Sure enough it did. I prepared a plantain scalloped grouper over a sweet potato and yucca puree with a coconut and crawfish foam over top," said Chef Owen Hohl of Hot Tails Restaurant in Prairieville and 2023 King of Louisiana Seafood.
"What a great time we had for our first Louisiana Seafood Cook-Off in Lake Charles as we crowned our newest King of Seafood Chef Owen Hohl," said Lieutenant Governor Billy Nungesser. "I look forward to working with Chef Hohl over the next year. This event really is about highlighting the great chefs around our state who add their own flavor to the task of bringing people to Louisiana. It is such a great celebration of all our chefs do in each of their restaurants every day. This is going to be an exciting year for Louisiana as we showcase our fresh, Gulf seafood to the country and world."
The first duty for the 2023 King of Louisiana Seafood Chef Owen Hohl is to prepare to represent the state in the 19th Annual Great American Seafood Cook-Off in New Orleans on Saturday, August 5. Additionally, Chef Hohl will serve as a Louisiana Ambassador for seafood for the next year promoting all the great dishes in our state that will Feed Your Soul.
Closely behind Chef Hohl in second place was Chef Ashley Allen of Coconuts Bar and Grill in Vidalia. And, coming in third place was Chef Blake Jackson of Looosiana Seafood Market in Shreveport. Chef Owen Hohl, Chef Ashley Allen, and Chef Blake Jackson are all first time competitors in the Louisiana Seafood Cook-Off.
Some of Louisiana's most seasoned chefs and food lovers served as judges, scrutinizing every detail of each dish. Our 2023 Louisiana Seafood Cook-Off judges included Chef Meg Bickford, Executive Chef at Commander's Palace in New Orleans; Chef Sophina Uong, Chef/Owner of Mister Mao New Orleans; Larry Avery, Owner of Big Easy Foods in Lake Charles; and, Jillian Corder, Assistant News Director and Anchor at KPLC-TV in Lake Charles.
The competitors for the 2022 Louisiana Seafood Cook-Off were:
– Ashley Allen, Executive Chef, Coconuts Bar and Grill; Vidalia
– Winston Chase, The Overpass Merchant; Baton Rouge
– Stephen Coblentz, Executive Chef, Charthouse; Lake Charles
– Ben Fidelak, Executive Chef/Owner, Mariner's Restaurant; Natchitoches
– Greg Gizzaffi, Executive Chef, Landry's Seafood House; Lake Charles
– Owen Hohl, Chef, Hot Tails; New Roads & Prairieville
– Blake Jackson, Executive Chef, Drake Foods LLC – Looosiana Seafood Market, Drake Catering, Whisk Dessert Bar; Shreveport
– Karlos Knott, Chef/Owner, Bayou Teche Brewery; Arnaudville
– Chris Motto, Executive Chef, Jubans; Baton Rouge
– Chad Phares, Executive Chef, Hurricane Hole; Grand Isle
– Amy Sins, Chef, Langlois; New Orleans
– Christopher Vazquez, Executive Chef, Redfish Grill; New Orleans
Those inspired by the chefs' culinary creativity and looking to bring the state's best seafood dishes to their own kitchen can visit LouisianaSeafood.comfor recipes of each competing dish. To keep up with Louisiana Seafood throughout the year, follow @LaSeafoodBoard on Instagram and Twitter and on Facebook.