Christmas Cajun Style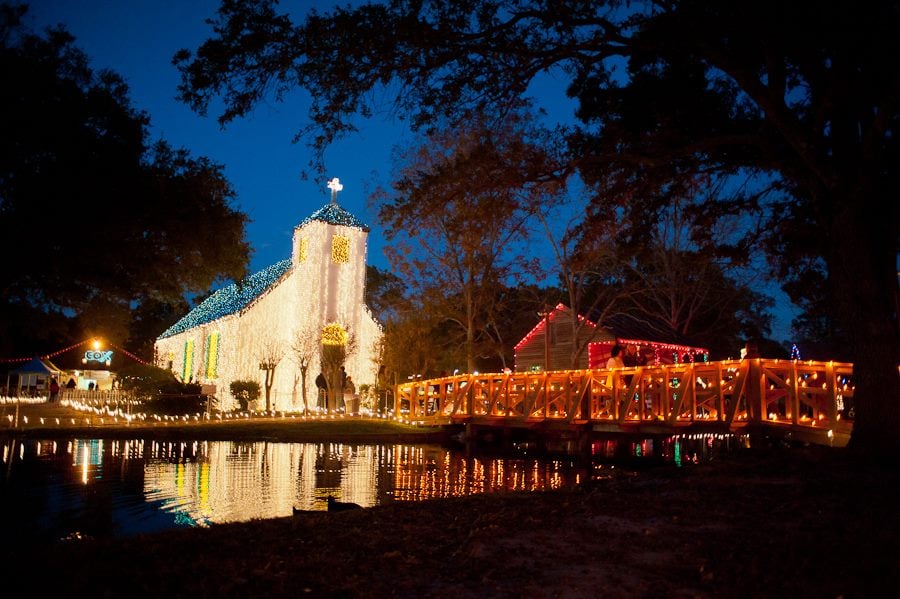 There's something magical about walking through the winding pathways of an 1800s Acadian Village all aglow with more than half-a-million Christmas lights. In Lafayette, Louisiana, you can do just that at Noel Acadien au Village – a seemingly timeless place where several impeccably preserved 200-year old Acadian structures are dripping with twinkling lights and Christmas displays. The village's Acadian chapel, blacksmith shop, bayous and grand trees are also all lit up across the 32-acre site, and this year there are new stunning displays on all the Acadian porches.
Acadian Village's Christmas display has become a longtime tradition for families and couples in Acadiana. "Everyone's face lights up when they walk through here," says Thomas Gott, director of Acadian Village. "People are able to relive the Christmas season of Acadiana's 19th-century culture and heritage."
This award-winning Christmas event does more than make a truly magical Christmas for thousands of attendees. Proceeds benefit LARC, a local 501c(3) non-profit organization, the mission of which is to support people with intellectual and developmental disabilities. "It's the largest fundraiser for LARC, and we've had a crippling cut of 1.3 million dollars by the state," adds Gott.
Kids and the kids at heart look forward to all the carnival rides at the event, which ends Dec. 23. All of the rides have Christmas-themed names like "Santa's Sleigh" and "Arctic Blast," and many are decorated for the holidays courtesy of Cajun Rides. (Tip: Ride tickets are not included in the admission price.) Favorite rides among the little kids are the Christmas train and the traditional carousel. Children of all ages love the sleigh ride, pirate ship and bumper cars.
Of course, there's always Cajun cuisine in the heart of a Cajun country Christmas event. Homemade Lafayette-style mouthwatering gumbo, jambalaya, and red beans and rice are served on the weekends, and during the week concession foods are available. (Tip: Be sure to try the hot chocolate, which has a secret ingredient to make it creamier.)
Christmas music fills the air at Noel Acadien au Village thanks to choirs and soloists from around Acadiana. Santa Claus is also on hand to take photographs and talk to the kids to make sure they have a memorable time.
Make sure you do your Christmas shopping at the General Store (Le Magasin), where you will find one-of-a-kind Cajun crafts, local artwork, holiday décor and kitchen wear. "There's a kids' gumbo pot, which is basically a mock gumbo set for kids with fake crawfish and corn, and it has been one of the hottest selling items along with our wide variety of Cajun Christmas books," says Gott. Another hit this year is a two-sided tasting spoon, which allows the taster to take a sip without burning his or her tongue.
(Tip: While you can purchase tickets at the door, you can also save two dollars and get advance tickets at select Shop Rite locations in Acadiana. Tickets at the gate are $10.)
For more information:
www.acadianvillage.org/noel-acadien-au-village