Christmas in Texas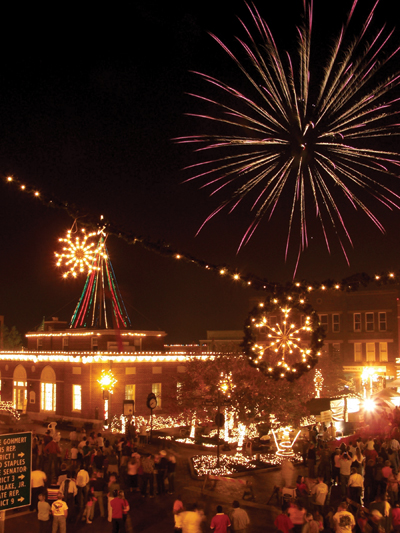 It's beginning to look a lot like Christmas everywhere you go in the Lone Star State, and as you go about checking items off of your holiday wish list you can enjoy shopping spree experiences that will make this December the most wonderful time of the year.


HOLIDAY FESTIVAL SHOPPING
Across Texas, towns big and small celebrate the season not only with special lighting displays, visits by Santa and holiday parades, but also with special shopping opportunities. From unique crafts to Texas-made jewelry to Lone Star barbecue sauces, you'll find something for everyone on your list at these festive events:
• Start your Christmas season off on the right track as you travel through the pages of author Chris Van Allsburg's contemporary classic children's tale on a trip aboard The Polar Express. Every weekend beginning in mid-November, the seasonal journey pulls out of the station at the Texas State Railroad depot in Palestine. After spotting Santa and his elves at the "North Pole," you can check off items on your Christmas wish list at the holiday gift shop.
• The sounds of "Stille Nacht, Heilige Nacht" and "O Tannenbaum" will provide a seasonal soundtrack as you purchase presents at the Tomball German Christmas Market, Dec. 13-15. The three-day outdoor Weihnachtsmarkt is complete with sightings of Kris Kringle, servings of Stollen and other European-influenced edibles, strolling performers and more than 175 vendor booths brimming with items that celebrate the city's German heritage.
• A Yuletide trip to Galveston will take you on a journey back in time at the annual Dickens on the Strand Festival, which takes place during the first weekend in December. A Victorian era-inspired vision that could put a smile even on Ebenezer Scrooge's face, street merchants in period costume will sell their handcrafted wares as you enjoy 19th-century carols, blaring bagpipes and jolly jugglers. Galveston's Moody Gardens welcomes winter with their annual Festival of Lights from mid-November through early January. The festival includes an arctic ice slide, 100 animated light displays and, on Thanksgiving weekend, the chance to mull over the merchandise at the holiday gift market. You can also wrap up your Christmas shopping at the Galveston Island Market at Beach Central. On the third Saturday of each month (excluding July and August) area artisans showcase wares ranging from scented, handcrafted soaps to cozy quilts in the open-air market.
• A stroll down the aisles of the Armadillo Christmas Bazaar in Austin has become a holiday tradition among Central Texans who are on a quest for one-of-a-kind creations. From mid-December through Christmas Eve live music will keep the mood merry inside the Palmer Events Center as festive shoppers file past more than 160 vendor booths displaying jewelry, sculpture, pottery, glassware, photography and much more.
• In the words of the Christmas classic, "There's no place like home for the holidays," and when it comes to purchasing holiday presents there's no place like McKinney's Home for the Holidays … A McKinney Christmas. Taking place the final two days of November, candlelight shopping will have your eyes all aglow as you dash in to many of the more than 100 apparel shops, art galleries, bookstores, antique shops and boutiques stocked with everything from stocking stuffers to special gifts for that certain special someone. Many merchants will also keep their doors open for extended hours periodically throughout the month of December.
• Strolling through the "City with a Vision," visions of sugarplums will dance in your head after celebrating the season at A Dickens' Christmas in Lockhart. Every first Saturday in December, you can find unique keepsakes among the arts and crafts booths, then stay to watch costumed performers, horse-drawn carriages and floats file by like ghosts of Christmas past during the illuminated Night Parade.
• "The Oldest Town in Texas," Nacogdoches offers weeks of good, old-fashioned family fun at the Nine Flags Festival, which will include market shopping at the Nacogdoches Civic Center during Holiday in the Pines on Nov. 22 and 23 and the Holiday Open House on Dec. 6, when downtown merchants will welcome customers during special extended hours.
• Painting a mental portrait of holiday happiness in the "Best Art Town in Texas," Salado is aglow with luminaria and twinkling lights during the annual Christmas Stroll, where carolers will serenade you as you shop late into the evening in the city's antique stores. Held the first and second weekends in December, the stroll winds past the city's many specialty boutiques.

---
HOTEL PACKAGES
Houston's Royal Sonesta Hotel is rolling out the red (holiday) carpet for Louisiana visitors with its "Neighbor to Neighbor" package. Available now and throughout the holiday season, the package offers 20-percent discounted stays for guests with valid Louisiana IDs. Royal Sonesta Hotel Houston is a sister property of New Orleans's famed Royal Sonesta Hotel and is the first Sonesta-branded hotel in Texas. Located in Houston's Uptown district, the hotel is just steps from some of Houston's best holiday shopping areas including the Galleria mall and the trendy shops on Post Oak Boulevard. Complimentary shuttle service is provided to Highland Village with its collection of upscale boutiques amid festive holiday lighting that has become a Houston seasonal tradition.
www.sonesta.com/RoyalHouston
Dedicated shoppers will love the Holiday Shopping Package offered by The Westin Galleria Dallas. The package, available for weekend stays (Fridays or Saturdays through Sundays), includes accommodations at the posh property as well as gift cards that can be used at more than 200 shops and restaurants at the nearby Galleria Dallas shopping mecca. Holiday Shopping Packages are available in two price options: a $550 package that includes a $500 gift card or a $1000 package that offers a $1000 gift card. Both packages include one night's accommodation and valet parking at the hotel. You can shop till you drop, then enjoy some serious pampering in one of Dallas' premier hotels.
www.thewestingalleriadallas.com/dallas-shopping-packages.
---
MALLS AND CHRISTMAS STORES
Joining in the hustle and bustle of a mall is a holiday tradition for many shoppers, and you'll find some truly Texas-sized malls to make those Christmas dreams come true.
• Macy's, a store that has become synonymous with holiday shopping, is just one of the more-than-150 stores in the Beaumont's Parkdale Mall, where you can find everything from treasured jewelry at Gold Time to trendy teen fashions at Forever 21 and unconventional stocking stuffers at Spencer Gifts.
• In Dallas, Highland Park Village holds the title as the nation's first shopping center. It's still ultra-elegant with boutiques featuring everything from Chanel to Jimmy Choo. More glitz can also be found at the Galleria Dallas where the Galleria's red-suited, Santa-inspired parking directors direct the way into the mall's parking area. Inside, the mall's ice rink boasts the country's tallest indoor Christmas tree. Shopping options include Michael Kors, Louis Vuitton, Tiffany & Co., Gucci and American Girl.
• Houston has long been synonymous with shopping and nowhere is that more true than The Galleria, visited by over 26 million shoppers every year. Texas's largest shopping center spans over 2.4 million square feet and is a destination in itself.
• Outlet shopping tops many wish lists and Texas's largest metropolitan areas have numerous options. In the Dallas area, Grapevine Mills spans 1.6 million square feet for shoppers Near the Bayou City, Houston Premium Outlets offers 145 shops in Cypress while Katy Mills tempts with over 200 outlet stores. Between Austin and San Antonio, San Marcos Premium Outlets not only offers more than 140 stores but also features architecture inspired by the Piazza San Marco in Venice.
• A stroll down the aisles of Ye Olde City Antique Mall in Tyler is a walk down memory lane for visitors who want to add a touch of nostalgia to their Noel as the smile of a vintage Volland Raggedy Ann doll or the sparkle of a Trifari brooch beckons buyers to make items from yesteryear a part of their present. Also in Tyler celebrating the season each year since 1978, from Labor Day weekend through mid-January, shoppers can search for holly, jolly goods to deck their halls at The Christmas Store, which carries an array of collectibles ranging from whimsical theme figurines and ornaments to reverential nativity scenes hand-painted in Italy.
So, grab your list, hitch your reindeer to your sleigh and head over to Texas for some seriously fun holiday shopping. Tis the season, y'all!
---
ABOUT THE AUTHORS:
Paris Permenter and John Bigley are a Texas-based, husband-wife team of travel writers. The authors of 30-plus guidebooks, their most recent work is DogTipper's Texas with Dogs (Open Road Guides).
---
FOR MORE INFORMATION:
Texas State Railroad Tomball, www.texasstaterr.com
German Christmas Market, www.tomballgermanfest.org/christmas-market
Dickens on the Strand Festival, www.galvestonhistory.org/Dickens_Overview.asp
Moody Gardens, www.moodygardens.org
Galveston Island Market, www.galvestonislandmarket.com
Armadillo Christmas Bazaar, www.armadillobazaar.com
McKinney's Home for the Holidays…A McKinney Christmas, www.mckinneytexas.org
Lockhart's A Dickens' Christmas , www.lockhart-tx.org
Nine Flags Festival , nineflags.visitnacogdoches.org
Salad o's Chri stmas Stroll , www .saladotx.gov
Dallas' Highland Park Village, www .hp village.com
Galleria Dallas, www.dallasgalleria.com
The Galleria, Houston, www.simon.com
Grapevine Mills, www.simon.com
San Marcos Premium Outlets, www.premiumoutlets.com
Beaumont's Parkdale Mall, www.parkdalemalltx.com
Tyler's Ye Olde City Antique Mall, www.oldcitytyler.com
---