Classic New Orleans with a Twist
Mia and Minor Jahncke looked to architect Davis Jahncke to build a house that seamlessly combines classic period details with a contemporary edge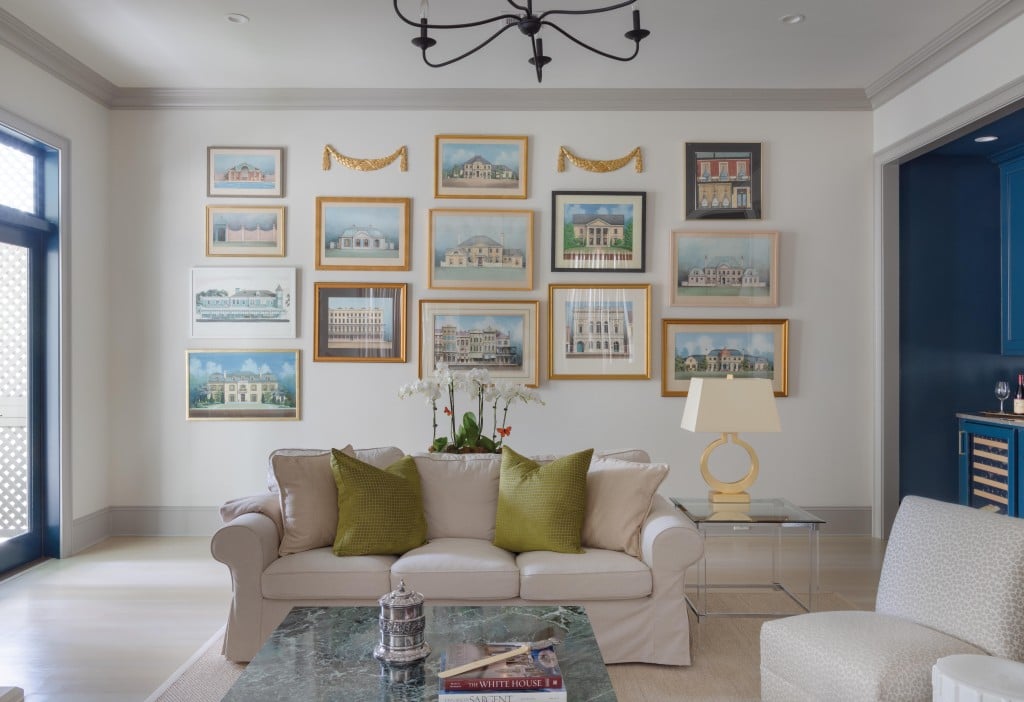 This house began on a napkin," said Mia Jahncke, referring to the initial drawing by her father-in-law, New Orleans architect Davis Jahncke, who designed the house as his last project before retiring from a career of more than a half century.
"Davis noodled a front elevation concept," said Minor of the casual pen-to-napkin start that soon gave way to a two-year project in which every detail of the new 3,400-square-foot residence was thoughtfully considered and executed.
According to Mia, father and son thought through every aspect of the house from furniture placement and paint colors to fixtures and hinges.
The couple had looked for a house for more than a year when the Irish Channel property — a lot with the partial remnants of a shotgun (later refaced with an arts and crafts façade) that had burned down, was put on the market in 2018. In fact, Minor, who grew up in the nearby Garden District, had written a letter to the owner inquiring about the house, but never heard back. The couple bought the listing with the plan of building a new house that paid homage to the historic nature of the surrounding houses and included classic period details, but also had a contemporary edge and was "future-proofed" with durable materials, energy efficiency and security.
Having carved a niche in historic preservation and renovations through the years (his New Orleans work includes updates of residences, Trinity Church, Galatoire's, Commander's Palace and Antoine's), Davis was the ideal architect for the project. The Jahnckes knew that in addition to giving the house historic character and modern convenience, Davis would design a floor plan that maximized square footage (while still proportionally compatible with neighboring houses) and met the needs of their young family. The couple (Minor leads the Global Treasury Team at Freeport-McMoRan, Mia is an in-house attorney for Houston-based McDermott International) had one son at the time and found out they were expecting another the day they moved in.
"[Davis] is adamant about creating 'true living spaces,'" said Minor. "He likes big rooms and truly functional spaces."
While staying on budget was important, the couple said Davis's insistence on a certain level of quality and on subtle but important details where others often cut corners, was worth the extra time and expense.
The design called for features with historic precedents such as roof tiles, "rooster cone" roof finials, Dutch drop siding and solid ironwork outside; French doors, high ceilings and brass hardware inside. At the same time, contemporary materials such as Hardie board and double-paned windows ensure longevity.
When the HDLC required that there be a door and steps at the front-most part of the house, which was at odds with the designated parking area, Davis cleverly designed French doors that look like windows and a porch with hidden steps to accommodate the stipulation without giving up the more efficient design of a front door placed at the farther end of the driveway with a brick pathway highlighting and leading to the entrance.
Such ideas were driven by the site and the design of the house. Others, according to the couple, were drawn from Davis's repertoire of "go -to" favorites. For instance, as he often does, he placed the electrical outlets in the baseboards, where they are less noticeable. He also had the crown moldings installed upside down, included a built-in wet bar with a glass-front cabinet for displaying glassware, and created continuity with a limited palette of colors and repetition of motifs, such as the ornamental arch introduced in the foyer and replicated in the master bath.
"Some things were not even on our radar," says Minor, pointing to specifications such as using a piece of molding under a gutter and using round downspouts. "But they make a world of difference."
Minor, who often accompanied his father on job sites as a child and is interested in real estate development, designed the landscaping to complement the house and be simple enough for easy maintenance. The back "lawn" is made of artificial turf that stays green all year and is safe for children. Minor also enjoyed getting to know craftspeople with whom his father had long-established relationships.
The interior design was mostly a mix of Davis' and Minor's decisions along with the timely arrival of some inherited pieces that made their way from both Minor's and Mia's families. The latter includes an unusual custom marble and brass dining table was used as a conference table in Davis' office and an antique daybed and portrait paired together the same way they were in Mia's grandmother's house.
The casual observer might not readily know whether the Jahnckes' house is a renovation of an old house or a new construction. The lines between past, present and future are deftly blurred in a timeless New Orleans classic loved by its owners.
"I knew how beautiful Davis's work is and Minor is very talented too," said Mia. "I trusted in them. They took a lot of time to make decisions, but they make fabulous decisions. It was worth it."
At a Glance
Architecture
Davis Jahncke
Interior Design
Davis Jahncke, Mia and Minor Jahncke
Square Footage
3,400
Outstanding Features
Large kitchen with wall of storage and hidden pantry; flex room that can be a formal living room or den with pocket doors, turning space along with the powder room and hidden shower into a private guest suite; custom wooden starburst above the dining room chandelier; ornamental arches in the foyer and master bath; electric vehicle charger.