Common Ground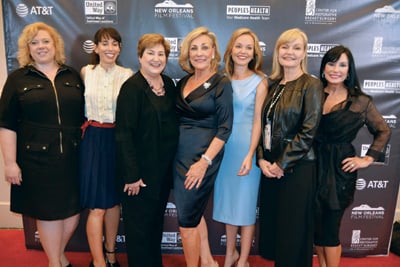 The start of a new calendar year brings the promise of change. Beyond the classic New Year's resolutions leading up to our Fat Tuesday excesses on Feb. 28, those inclined to repent during Lent are searching for ways to get involved with a worthy cause.
Supporting non-partisan organizations with universal appeal can often bridge the gap and bring people together at a grassroots level. It certainly worked in Louisiana, thanks to a couple of New York-based filmmakers who created "Five Awake," an award-winning film chronicling the work of five fearless Louisiana women who stormed the legislature in 2014. They managed to push through an historic legislative package of bills that radically changed domestic violence laws in Louisiana. Further efforts are planned for the upcoming 2017 legislative session.
"Louisiana now ranks second in the United States for the number of women being killed by domestic violence," says attorney Kim Sport, who is featured in the riveting 37-minute documentary that won Best Louisiana Feature during the 2016 New Orleans Film festival in October.
"We've moved up from fourth place to second place."
"Five Awake" was also voted Best Documentary Short at the Los Angeles Independent Film Festival prior to its critical acclaim at the Louisiana Southern Screen Film Festival in November. More film festival screenings throughout the U.S. are currently underway. Advocacy organizations have been making requests for the documentary directed by Susan Willis, managing partner of the NYC-based, award-winning post-production company Cutting Room Films and activist Donna Dees.
"The most remarkable aspect of making a film based on Louisiana women changing laws was the amount of connectivity and care within communities and the ability for people in the different parishes to pull together and act as one," says Willis. "It shows how you can really get things done when people care."
The five women who came together to change history are United Way of Southeast Louisiana's COO Charmaine Caccioppi, attorney and United Way Public Policy Chairman Kim Sport, state Rep. Helena Morena, Louisiana Coalition Against Domestic Violence Executive Director Beth Meeks and New Orleans Family Justice Center Director Mary Claire Landry. Footage was taken during actual legislative sessions. The new laws were passed unanimously, in both the Louisiana House of Representatives and in the Senate. Inspired by their efforts, other states are now following suit.
In mid-December, the five women were featured on Harry Connick Jr.'s new unscripted variety series, "Harry," syndicated by NBC Universal.
"We were in New York City filming the 'Harry' show on Election Day," says Sport, referring to the U.S. presidential elections in November. "We were staying near Trump Tower. By Wednesday morning, there was an absolute gridlock. As we were getting ready in the Green Room to go on Harry's show, we were all in a state of disbelief that we'd gotten this much attention for our efforts. The project has taken on a life of its own."
The sole lawyer on the team, Sport wrote the bills that the group collectively spearhead.
"You can now sue your abuser for punitive damages in civil court," she says. "This is huge. There were a lot of people who said we couldn't achieve this. I think we surprised them because of the comprehensiveness of what we were doing, and the fact that we were with United Way. Before this bill passed, you could sue somebody but you couldn't get punitive damages. Also, domestic abuse is now a factor that has to be considered in awarding spousal support."
"Five Awake" is also slated to screen at universities nationwide, thus amplifying the educational reach of the film to help pave the way for future political advocacy.

---
Forward Momentum
The increased penalties for domestic abuse in Louisiana now include firearm prohibition for offenders (up to 10 years), granting an immediate divorce for victims, punitive damages for victims (up to 1/3 of the abuser's income), guidelines for domestic abuse intervention programs, expedited transmission of protective orders to the statewide law enforcement database, prohibition of release on recognizance for violation of protective orders and the creation of the Domestic Violence Prevention Commission. More than 50 provisions of law regarding domestic violence are being enacted over a three-year period. Louisiana Domestic Abuse Hotline: 888-411-1333.
---
Goodbye Ducks, Hello Sugar
One of the biggest reality TV shows in the history of basic cable, "Duck Dynasty" ends after five years when the current season wraps on Jan. 18. After a small break, the final seven episodes will air from March 1 to April 12. The Robertson family and A&E are planning holiday specials to follow.
The popular Louisiana-shot "Queen Sugar" TV series, which is based on the book by the same name, on Oprah Winfrey's channel OWN has received critical acclaim, high ratings and was renewed for a second season. Its first season's captivating 13 episodes wrapped on Nov. 30, 2016. The heart-wrenching drama, produced and directed by Ava DuVernay with Winfrey (the two women also collaborated on the critically acclaimed 2014 film "Selma"), centers on three siblings who move back to Louisiana to sort out their inherited sugarcane farm. The two-night debut of "Queen Sugar" was the highest in the network's history, with 2.42 million viewers.
---