Cool Eats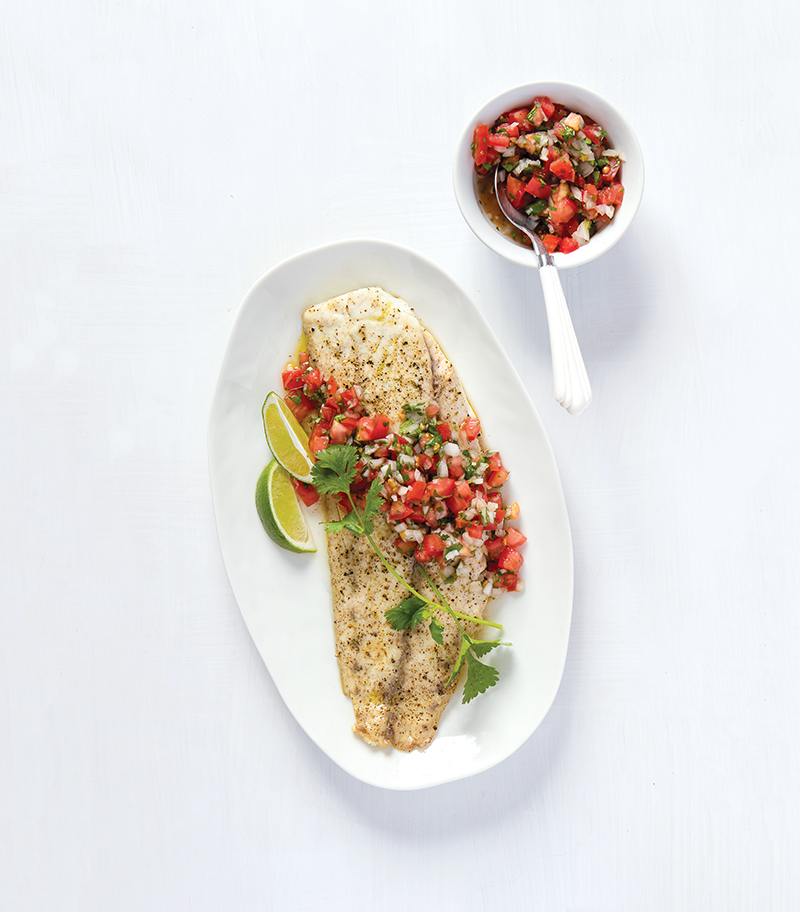 The heat is on us now and it's likely to be here for a while. The best time of day is early, before dawn, keeping company with the birds. During the morning, through the afternoon and into the evening, our energy wanes and appetites flag. Eating out or bringing home foods prepared by someone else suddenly seem like great ideas.
But even that can get old. For those of us who like to cook and want to eat well, it's never too hot to turn on a stove or light a grill. As much as we enjoy eating out, doing so frequently is not only expensive, but it's ultimately unsatisfying. Just ask anyone who does it all the time, even if they're eating in top restaurants, and they'll tell you that what they really crave is a home-cooked meal.
When we cook in the summer we favor quick meals that go well with chilled wines or iced beer. This month's recipes fit the bill. Broiled or grilled fish with fresh salsa is not only simple to prepare, but the cool, fresh salsa packs enough punch to momentarily cut through the humid air.
Anyone with a garden knows how prolific zucchini is in the summer. So much so that we sometimes run out of ways to prepare it. For something different, try zucchini hash browns either at breakfast or as a vegetable accompaniment later in the day or in the evening. It's a quick and simple preparation that packs loads of flavor.
Chicken wings, which are always popular, can be prepared any number of ways. This recipe, which combines soy sauce with cane syrup and cane vinegar, has a distinctly south Louisiana accent.
Salads are a mainstay during the summer, often serving as the main course of a meal. For a change of pace, make a grilled salad: grill a variety of vegetables, cut them up, combine and dress with olive oil and vinegar. This recipe calls for onion, bell pepper, summer squash and zucchini, but other vegetables could be substituted or added.
All of these recipes can be adapted and reworked to fit your personal preferences and style. That's what recipes are for, really, just to provide a guideline, a map, if you will, of how to proceed.
Take the roadmap analogy: two people are given the same map and told to go from Point A to Point B. Since there is more than one way to get there, each follows a different route. As a result, they have different experiences and the accounts of their trips vary greatly. Similarly, give two people a written recipe and the results will be different.
---
Broiled Redfish With Fresh Salsa
Other saltwater fish, such as black drum, speckled trout or freshwater catfish, can be prepared the same way. The cooked fish and salsa can also be tucked into corn tortillas to make tasty tacos.
Fish Preheat broiler. Rub 4 redfish filets with 1 tablespoon extra-virgin olive oil and season with coarse salt and freshly ground black pepper. Broil until flesh flakes easily.
Fresh Salsa An all-purpose fresh salsa that can be eaten with chips, used as a sauce to enliven meats, fish, poultry, and eggs, added to mashed avocado to make guacamole, or stirred into a bowl of beans.
Combine ½ cup diced tomato, ½ cup diced onion, 1 jalapeño pepper (or to taste), diced, ¼ cup chopped cilantro, 2 teaspoons freshly squeezed lime juice and coarse salt to taste and let flavors meld for 30 minutes before using. Makes about 1½ cups.
To Serve Divide filets among serving plates and top with salsa.
Makes 4 servings.
---
Grilled Salad
This is one of my favorite summertime salads and another way to make use of seasonal vegetables.
1 large onion
2 medium zucchini
2 medium summer squash
1 large red bell pepper
3 tablespoons extra-virgin olive oil
4 teaspoons red wine vinegar
½ teaspoon dried thyme leaves coarse salt and freshly ground black pepper
2 tablespoons parsley, chopped
1. Peel onion and cut into thick slices. Trim ends of zucchini and summer squash and slice lengthwise.
2. Rub onion, zucchini and squash with some of the olive oil and grill on both sides until nicely browned. Grill bell pepper until charred, then place in sack or covered container. When cool enough to handle, peel away blistered skin and remove seeds.
3. Cut all vegetables into bite-sized pieces and combine in a bowl. Add olive oil, vinegar and thyme and toss to combine. Season to taste with salt and pepper, add chopped parsley and toss. Serve at room temperature.
Makes 4-6 servings.
Grilled Chicken Wings
This recipe calls for cooking the whole wing. An alternative is to separate the wing into three sections before marinating and grilling.
Sometimes wings are available already sectioned.
½ cup soy sauce
6 tablespoons cane syrup
1 tablespoon cane vinegar
1 teaspoon chipotle chili powder
2 cloves garlic, minced
½ teaspoon freshly ground black pepper
12 chicken wings
1. Combine all ingredients except chicken wings in a bowl and whisk to combine.
2. Make a few cuts in each wing and place chicken wings in a non-reactive flat container. Pour over marinade and turn wings to coat thoroughly. Cover and refrigerate for six or more hours, turning wings every few hours.
3. Grill until cooked through. Check for doneness by making a cut in the thickest part of the wing.
Makes 4 servings as an appetizer.
---
Zucchini Hash Browns
This simple preparation can be served to accompany broiled or grilled meats or poultry. It is also delicious as a stand-in for potato hash browns at the breakfast table.
Trim ends from 1 pound zucchini and peel 1 medium onion. Coarsely grate both using a box grater, food processor or mandoline. Combine grated zucchini and onion with ¼ cup freshly grated Parmesan and ¼ cup Panko bread crumbs in a mixing bowl and season to taste with coarse salt, freshly ground black pepper and cayenne. Add 1 egg (beaten) and toss to combine.
Heat 2 tablespoons extra virgin olive oil in a large nonstick skillet over medium-high heat. Add zucchini mixture and cook, stirring and tossing, until browned, about 5-7 minutes.
Makes 4 servings.