Covering Lots of Ground
London-born artist Shaun Watson designs Louisiana-inspired blankets to aid coastal restoration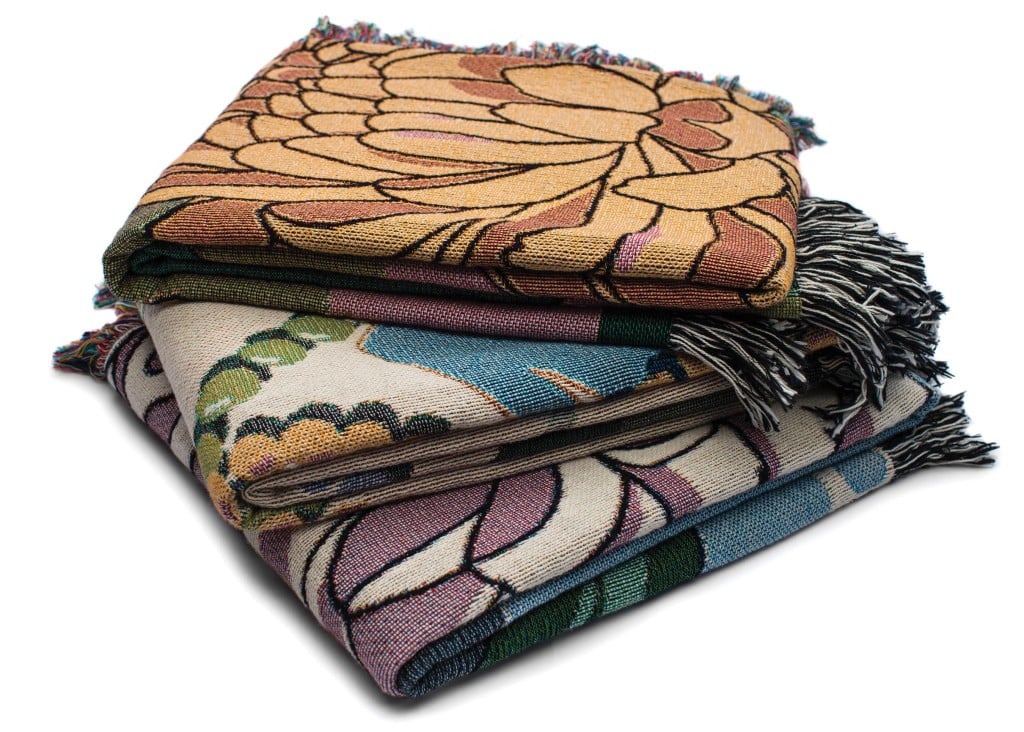 At A Glace
Hometown
London
Age
27
Occupation
Illustrator, product designer
Website
Wemightbeonfire.net
Instagram
@wemightbeonfire
It's not all that common to find a New Orleanian slowly roaming the French Quarter, camera in hand and enthralled with every curve of age-old architecture, or patch of rust on wrought iron, or splash of quirky plastic like the most energetic of first-time tourists might be. But then, Shaun Watson is by design a stranger in a strange land.
Five years on, the artist still explores the cultural port of Louisiana with only a memory map of how he first dreamed of it growing up in the heart of London.
"I always had this obsession with the South as this magical wild place," Watson says. "London is so grey and drab by comparison with little connection to nature. I thought the South was the coolest thing ever when we moved here."
Spending his high school years in Florida, and stints in New York City and Chicago, Watson studied psychology at the University of Wisconsin-Milwaukee and did not choose art as his full-time job until moving to New Orleans in 2017.
"People told me it wasn't a good idea when I was young, so I thought, 'I'll prove everyone wrong,'" Watson recalls. "My family is a lot of accountants and financial advisors. But I wanted to make a living with something I loved, something I was good at."
Surrounded by sketches of palms and chrysanthemums on the walls of his upstairs studio, Watson works every morning till late afternoon.
Whether it's traditional ink-to-paper or digitally rendered on his iPad, making T-shirts with two beaming daisies, floral-patterned risograph prints or pun-driven bumper stickers, he releases it all under the alarmingly charming banner We Might Be On Fire!
Years ago, an independent zine of his work was to be called We Might Be Alright when a typo autocorrected "alright" to "on fire." He loved it so much, the name stuck.
"It's the same with Bourbon Street designs, and gift shops and plastic bags — I like some humor in design." Watson says. "I like to make people smile."
Though he admits David Hockney is like a god to him — especially the English-turned-Californian artist's recent digital work — Watson stays focused on the physical inspirations that surround him daily. "That really helps me engage with my own work better than looking at other artists," he says.
Watson leaned into tangible work in 2021 when he struck on the idea of turning his illustrations into blankets.
"It was an egotistical way of thinking, 'How can I get my images as large as possible in homes for people to use a lot?'" Watson says. "Turns out that blankets are reasonable to produce and can be ethically made."
With a five-color weave, Watson's blankets are manufactured in North Carolina using recycled cotton to create an engaging canvas for his monsteras and magnolias, and a chance to wrap oneself in the comfort of an otherwise imposing gator skull.
Ace Hotel and Miel Brewery were early hosts of his blanket pop-up markets.
"It's not often that artists feature their work on blankets, but I immediately loved his unique product," says Janice Montoya, co-owner and creative director at Miel Brewery. "Our beer garden is filled with tropical plants, and seeing Shaun's plant-filled work immediately resonated with us."
The natural landscape of Louisiana has so deeply resonated with Watson, he uses his work to inspire conservation. A portion of all proceeds is donated to Healthy Gulf, the New Orleans-based organization providing research and tools for combating the exploitation of the Gulf's resources and coastline.
"There are infinite great causes, but I just decided to bring attention to this one issue, because I'm passionate about it, and it's local, and it's so important," Watson says.
That's where studying the French Quarter like a tourist comes in. Watson's attempt to meld his love for nature with his interest in quirky, touristy designs is birthing a convenience store style pop-up concept for the fall. He plans to stock it with his designs and blankets, plus a new line of sweaters he's creating now.
"Just visually, this is such a beautiful place, so looking around is endlessly inspiring," Watson says. "The way nature really breaks through modernity or cracks in old architecture, it's amazing. I could never run out of ideas in Louisiana."
Q+A
There are a lot of unique birds in Louisiana and the Deep South. Why choose the egret for one of your blankets? What is it about that particular bird that you like so much? I just find them so beautiful. It is exciting to me that these animals that are so stunning are also so common down here — and often overlooked. The actual answer, though, is that the egret just happened to be the first Louisiana bird I chose to represent. I have a few more in the works!
With your English heritage, are you a tea drinker? I am not a tea drinker — coffee all the way! My partner works for French Truck so we are always drinking good coffee at home. Also, shoutout to Whatever Coffee inside of Stein's. That was my favorite spot when I lived in the neighborhood, and it still is.
Do you remember your first real vivid experience with live music in New Orleans? Like most people who moved here from other places, I think it would be the first time I visited the city — just walking around Frenchmen Street and listening to the music coming out of all the venues, feeling the energy of the city.
How would you describe your upcoming clothing designs? What's the vibe going to be? It's going to be a continuation of the Louisiana-centric work. Florals, nature scenes. I want to make things that are really pretty and encourage people to feel how I feel about the landscape.