Crawfish Craze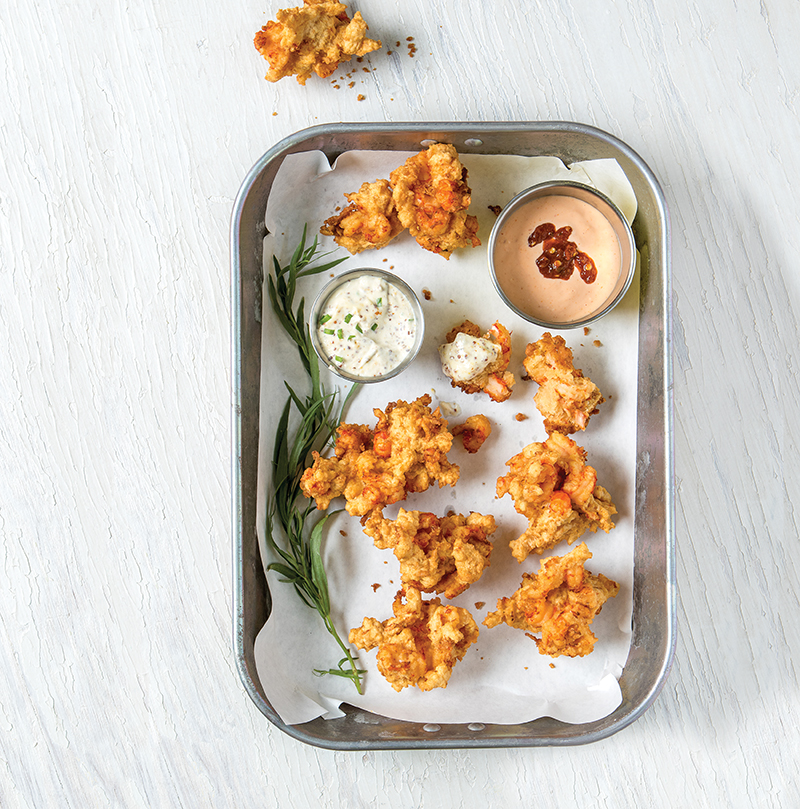 Crawfish have been available sporadically since Thanksgiving, but now it's high season for the popular mudbug. I've lost count of the many ways to prepare crawfish, but it's never too late to add to the list, particularly as demand peaks during Lent and our favorite freshwater crustacean shows up on tables everywhere. Since Easter comes early this year, there should still be a good supply of crawfish after the holiday, when prices usually decline.
Crawfish tails are available frozen in the off-season, and they are good, but somehow it's never quite the same as having fresh ones.
If there are any crawfish left after a boil they typically go into the refrigerator, and it's true that cold crawfish eaten straight out of the fridge are a great treat. Other times the leftovers are peeled, the fat is saved, and both are used to make something scrumptious, such as a bisque, étouffée or stew.
If you would like to take a different tack, the recipe for crawfish with Creole escargot butter might be tempting. Despite the name, it isn't made with snails; it is a seasoned butter packed in escargot shells, along with the escargot, prior to baking. The butter is probably the best thing about escargot, and aficionados use crusty French bread to soak it up. The butter is equally delectable with crawfish, especially when it is enlivened with Creole seasoning. This preparation is a good choice for entertaining, since the ramekins can be filled in advance with crawfish tails and butter and then refrigerated until needed.
There are also recipes this month for fried crawfish and crawfish fritters, as well as suggestions for three quick sauces that can be served with them. To round out the offerings, we have a recipe for a crawfish jambalaya, which can be made with or without tomatoes, as your preference dictates.
Crawfish Fritters
Serve with one or more of three quick sauces
Heat vegetable oil in a fryer or deep pot.

Combine 1 cup all purpose flour
1 teaspoon baking powder
1/2 teaspoon salt
1/8 teaspoon cayenne pepper in a bowl
Add 1/2 cup milk
1 egg (beaten) and stir to combine
Add 1/2 cup cooked crawfish tails and stir
When oil reaches 375 degrees, working in batches, drop batter by the spoonful into oil. Do not overcrowd fryer. When fritters are brown on the side, turn and brown the other side. Remove cooked fritters with skimmer or slotted spoon and drain on absorbent paper.
Makes about 16 crawfish fritters
Fried Crawfish
Serve with one or more of three quick sauces
Heat vegetable oil in a fryer or deep pot. While oil is heating, put 1 cup corn flour in a shallow bowl and season with 1 teaspoon Cajun/Creole seasoning. Combine ¼ cup spicy brown mustard with 4 teaspoons water in another shallow bowl. When oil has reached 375 degrees, dredge ½ pound cooked crawfish tails in mustard mixture, then in seasoned corn flour and fry, in batches, to a golden brown. Remove fried crawfish with a skimmer or slotted spoon and drain on absorbent paper.
Makes 4 servings as an hors d'oeuvre or appetizer.
---
Crawfish Jambalaya
If you don't like tomatoes in your jambalaya (and some are adamant about this), omit them and increase chicken stock or broth to 4 cups.

¼ cup olive oil
1 medium onion, chopped
1 rib celery, chopped
1 bell pepper, chopped
2 cloves garlic, minced
1 pound crawfish tails
1 (14.5 oz) can diced tomatoes in juice
3½ cups chicken stock or broth
1 bay leaf
1 teaspoon coarse salt
½ teaspoon freshly ground black pepper
1 large pinch cayenne pepper
2 cups long grain rice
¼ cup chopped parsley
¼ cup chopped green onion tops
1. Heat olive oil in a heavy, medium-sized pot. Add the onions, celery, bell pepper and garlic and cook until vegetables are softened, about 10 minutes.
2. Add crawfish, tomatoes with juice, chicken stock or broth, bay leaf, salt, black pepper and cayenne pepper. Bring to a boil.
3. Add rice. Stir, reduce heat to low, and cook, covered, for 10 minutes. Stir and cook, covered, until all the liquid is absorbed, about another 10 minutes.
4. Remove from heat and allow to sit for 10 minutes. Fluff rice with fork. Adjust seasonings, add the chopped parsley and onion tops.
Makes about 6 servings.
Ramekins of Crawfish with Creole Escargot Butter
This compound butter (minus the Creole seasoning) is the type restaurants use for escargot. If you have crawfish fat, add it to the butter for additional flavor.

8 tablespoons butter, softened
2 tablespoons minced shallots
1 tablespoon minced garlic
1 tablespoon chopped parsley
2 teaspoons freshly-squeezed lemon juice
Creole seasoning
½ pound cooked crawfish tails crusty French bread
1. Mash softened butter in a bowl, along with shallots, garlic, parsley and lemon juice. Season assertively with Creole seasoning to taste.
2. Pack 4 (8-ounce) heatproof ramekins with crawfish tails. Divide escargot butter among the ramekins, smoothing the tops. Refrigerate at least until butter hardens. (Dish may be prepared ahead to this point and refrigerated.)
3. Preheat oven to 400 degrees. Place ramekins on a sheet pan and bake until butter is sizzling and beginning to brown, about 8 minutes. Serve with plenty of crusty French bread for sopping up the butter.
Makes 4 servings as an appetizer.
TIP:
The shallots called for in this recipe are the small brown-skinned bulbs, not green onions, which are often called shallots in Louisiana.
---
THREE QUICK SAUCES
When you're rushed for time and want to fix something tasty to serve with fried or boiled seafood, use a good quality mayonnaise (either commercial or homemade) and season it to taste with (1) ketchup and hot sauce, (2) spicy mustard or (3) horseradish. If you'd like to go a step further, you can add other ingredients, such as chopped parsley, fresh herbs, capers and/or chopped green onion tops, as your taste dictates.