Cream of the Crop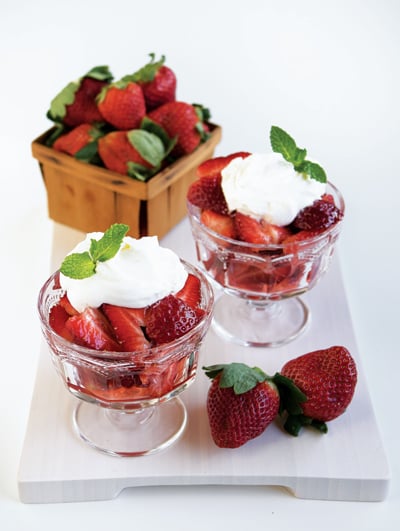 This is the time of year when both crawfish and berries are in season. I'm already anticipating a weekend lunch of boiled crawfish followed by a bowl of Louisiana strawberries. In the past, I would have put cream on my berries, but recently I discovered the joy of mascarpone combined with cream and a little sugar. Now I'm too spoiled for plain old cream. Mascarpone is a soft, Italian cream cheese best known for its starring role in tiramisu, but it can be enjoyed in many other ways. It won't be long before we have local blackberries and blueberries, and mascarpone is also delicious with them.
If you're near a pick-your-own berry farm, a trip there with family or friends is a delightful way to spend a few hours. Feel free to sample a few of those luscious blueberries while you pick them, but beware that a purple mouth will give you away if you gobble more than your fair share from the field. One time a friend was eating so many she was afraid she might be arrested. If your conscience bothers you, you can always fess up and offer to pay extra.
Blackberries can be had gratis from roadside ditches and bayou banks. A boat, canoe or kayak will let you get to blackberries that are only accessible by water, and often that is where you can find the biggest hauls. The hitch is that if you know where there are plentiful berries, you can be sure that other people know, as do the animals and birds. To get your share, you have to monitor the site and strike at the right time. It's such a letdown to get there after the berries are gone.
As much as we all love to eat berries out of hand, we also crave desserts such as strawberry shortcake, blackberry cobbler, blueberry muffins, pancakes and pies. Then there are the ice creams, sorbets, jams and jellies berries can yield. Fresh berries can also be incorporated in salads and enjoyed in less obvious ways. Try strawberries with balsamic vinegar and freshly ground back pepper, for example.
The recipes this month are all built around berries. A bread pudding is lightened for spring with a mixture of berries and a crème anglaise (English custard cream) sauce. A blackberry coffee cake is a cinch to make and will be a great accompaniment to your coffee or tea. Strawberries with mascarpone and cream are like the essence of spring in a bowl. What about strawberry ice cream? Strawberry ice cream speaks for itself.
---
Strawberries With Mascarpone and Cream
I have always loved strawberries with cream or whipped cream, but this combination is even better.
16     ounces strawberries
¼     cup sugar, or to taste
8      ounces mascarpone
¾     cup heavy cream
mint leaves (optional)
1. Hull and wash strawberries.
2. Slice berries and combine with 2 tablespoons sugar, or to taste.
3. Combine mascarpone, cream and 2 tablespoons sugar in a small mixing bowl. Beat with an electric mixer until smooth.
4. Serve strawberries in individual bowls with a generous amount of the mascarpone cream. Garnish, if desired, with mint leaves.
Makes 4 servings.
---
RECIPES……………
---
Mixed Berry Bread Pudding
Use any combination of blueberries, blackberries and raspberries, but avoid strawberries, which give off too much water.
4     cups French or Italian bread
torn into small pieces
¼     cup melted butter
2     large eggs
½     cup sugar
2     cups whole milk
1     teaspoon pure vanilla extract
2     cups berries (blueberries,
blackberries, raspberries)
1. Preheat oven to 350 F. Butter a 9-inch by 9-inch pan. Add bread and drizzle with melted butter.
2. In a mixing bowl, add eggs, sugar, milk and vanilla, then whisk until smooth. Transfer bread to bowl and press down to saturate. Fold in berries.
3. Pour mixture into pan, smooth top and bake in preheated oven until a tester inserted in the center comes out clean, about 30 minutes.
4. Remove to a rack to cool. Serve room temperature or cold with crème anglaise (recipe follows).
Makes 6-8 servings.
---
Crème Anglaise
If you would like alcohol in the sauce, add a small amount at the end in place of the vanilla. A fruit-based liqueur would probably work best with the berries.
2     cups whole milk
6     egg yolks
¼     cup sugar
1     teaspoon pure vanilla extract
1. In a heavy saucepan, bring milk to a boil.
2. In a mixing bowl, beat egg yolks and sugar until creamy and slowly add hot milk while whisking.
3. Return mixture to saucepan. Cook over low heat, while stirring constantly, until mixture thickens and coats the back of the spoon. Strain into a bowl.
4. Add vanilla and place the bowl in a larger bowl filled with ice and water. Stir until sauce cools. Cover and refrigerate.
Makes a little more than 2 cups.
---
Blackberry Coffee Cake
An easy and quick treat to enjoy with your morning coffee or afternoon tea.
½     pound butter, softened
1¼     cups light brown sugar
4     large eggs
1     tablespoon pure vanilla extract
¼     teaspoon salt
1     teaspoon baking soda
2     cups all-purpose flour
¼     cup plain yogurt
2     cups blackberries
powdered sugar
1. Preheat oven to 350 F. Butter a 9-inch by 9-inch pan.
2. Using an electric mixer, beat the rest of the butter until creamy. Add sugar and beat until light and fluffy. Add eggs, one at a time, beating well after each addition. Add vanilla.
3. Combine salt, baking soda and flour. Add flour mixture to batter in two additions, alternating with the yogurt. Do not over-mix.
4. Fold in blackberries. Turn batter into prepared pan and smooth top with a rubber spatula.
5. Bake in preheated oven until a tester inserted in the center comes out clean, about 40 to 50 minutes. Remove pan from oven and place on a rack for about 10 minutes, then invert on another rack. When cake is cool, dust with powdered sugar.
Makes about 8 servings.
---
Strawberry Ice Cream
There's just enough orange liqueur in this recipe to accent the flavor of the berries.
16     ounces strawberries
¾     cup sugar
1     cup milk
1     cup heavy cream
2     tablespoons orange liqueur,
such as Cointreau
1. Hull, wash and slice strawberries. Place strawberries, sugar and milk in blender and puree until smooth. Add cream and orange liqueur.
2. Refrigerate until cold, then process in ice cream maker according to manufacturer's instructions.
3. Transfer to plastic container(s) and freeze until firm.
Makes about 1¼ quarts.
---