Cree McCree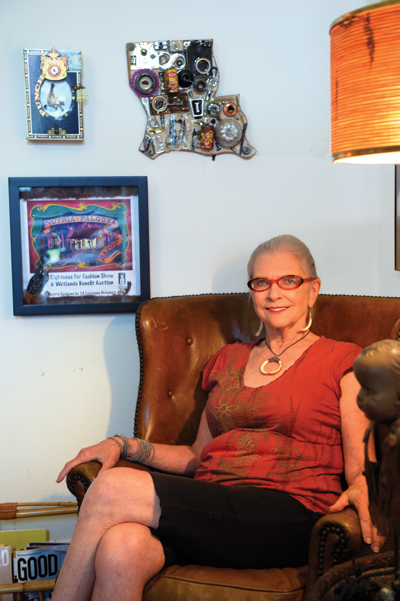 The minute she set foot in New Orleans, Cree McCree knew the city would eventually become her home.
"The first time I stepped off the plane I knew I wanted to live here some day," says the artist, writer and flea market maven. "There was something about the way the humidity just kind of enveloped me."
McCree made her first trip in the late 1980s for a Jazz Fest visit and relocated from New York in 2001 with her husband, Donald Miller, a musician and visual artist.
But McCree's talents paint her more as a native than a transplant. She's made a name for herself as a "thrift-shop fashionista" and creator of costume art for Mardi Gras and Halloween. She wrote a book called Flea Market America: The Complete Guide to Flea Enterprise discussing bargain hunting and transforming discarded items into saleable treasures, which she's been doing herself since the late 1970s. Her pieces stand out for their quirk and creativity – in true New Orleans spirit. She names her fashion lines as creatively as the pieces themselves, dubbing them with plays-on-words: "Cree-ations" and "Haunt-couture."
Among the many hats she wears is that of a writer; McCree has a recent essay in the Oxford American. McCree also runs the Piety Street Market in the Bywater and hosts an annual "Red, White, and Book" sale at her Laurel Street home, where she sells Red Dress Run dresses, White Linen Night garments and vintage clothing. Her husband contributes with used books.
McCree says she has an eye for the potential in someone else's discards.
"What I do is spread out all the stuff I've collected over the past few months and just take a look at what I've got," she says. "I look around the room and see things jumping onto hats and such and they sort of create themselves." McCree says she doesn't make any items from scratch, calling herself "an assembly artist."
"Inspiration comes from the materials themselves," she says. "I'm not a seamstress, but I do a lot of hand-stitching, and I'm pretty mean with a glue gun. I've got the blisters to prove it. I have a great way of seeing things that are going to be put together. Bang, zoom, you've suddenly got a new thing."
McCree has also found value in another overlooked item: the nutria. She's created a fashion line called "Righteous Fur," a contemporary jewelry and clothing made from nutria fur and teeth.
"It is actually a very lovely fur and when it's sheared it's just so soft and velvety," she says. "People are just amazed."
She's held Righteous Fur fashion shows, called Nutria-palooza, in New Orleans; Austin, Texas; Atlanta, and even New York City, which garnered coverage from the New York Times. Nutria-Palooza Sur La Coulée will take place in Lafayette, just before Festival Acadiens on Oct. 7. Righteous Fur will also be featured in an upcoming documentary about Louisiana's nutria problem, Rodents of Unusual Size, due out next year.
A portion of the proceeds from Righteous Fur sales benefit wetland preservation – "fashion with a conscience," she says, given the nutria's status as an invasive species laying waste to Louisiana's precious wetlands.
"The nutria are destroying the wetlands. They're being killed anyway, and the state pays $5 a tail in the Coast Guard Nutria Control Program. It's been quite successful but there's still more to be done," McCree says. "My feeling was it was just really criminal that all these animals were being killed and 98 percent of them were being thrown back into the swamp. This way it's a win-win."