"Creole New Orleans, Honey! The Art of Andrew LaMar Hopkins" opening in November at the Cabildo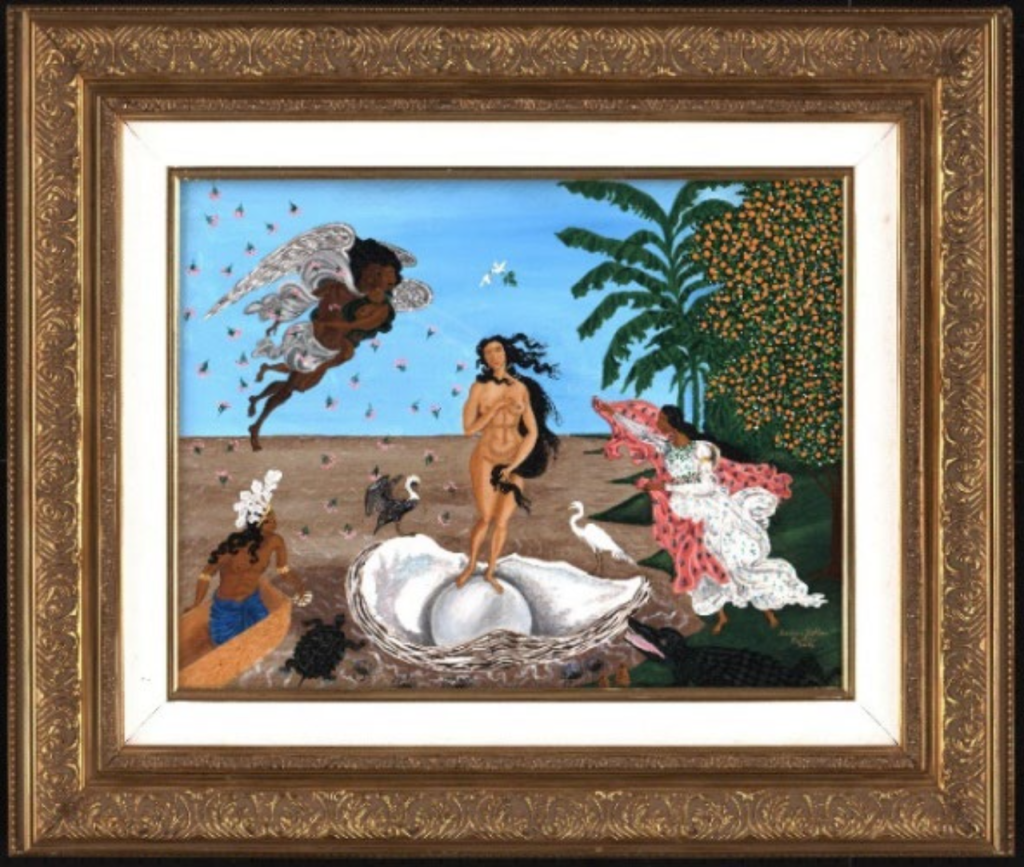 BATON ROUGE, La (press release) – On Friday, Nov. 18, Lieutenant Governor Billy Nungesser and the Louisiana State Museum will unveil Creole New Orleans, Honey! The Art of Andrew LaMar Hopkins, a new exhibition at the Cabildo. The first solo museum exhibit of paintings by Andrew LaMar Hopkins, this show presents more than seventy of Hopkins's unique paintings alongside the artifacts from the Louisiana State Museum that inspired some of them.
A Mobile native and longtime New Orleans resident, Andrew LaMar Hopkins is a self-taught artist who brings nineteenth-century New Orleans Creole culture to life with his stunningly detailed and colorful paintings. Hopkins draws inspiration from his Creole heritage and in-depth knowledge of antiques, apparent in his elegantly painted scenes that showcase the period's lavish architecture and interior styles.
"On behalf of the Louisiana State Museum, we are honored to present Andrew LaMar Hopkins's first solo museum exhibition. He's an incredible talent and we are thrilled with the efforts of the Louisiana State Museum and the Louisiana Museum Foundation to bring our state's fascinating Creole culture to life through this exhibition," said Lieutenant Governor Billy Nungesser.
Hopkins's paintings generally depict the upper crust of Creole society and celebrate the elegance and beauty of the world they created. Though his subjects include white Creoles, his focus is on mixed-race and Black Creoles in the 1820s and 1830s. "You know, I paint everybody from that period," Hopkins told New York Magazine. "But my main focus is the free people of color, because their voice has been forgotten."
Informed by extensive research on nineteenth-century Creole architecture, material culture, and daily life, Hopkins's paintings evidence a minute attention to detail, capturing the intricate crease of a tignon, the delicate inlay of a Louisiana armoire, the mahogany figuring of an Empire pier table, and the finely painted veining of a marble floor.
Hopkins's work has attracted considerable attention over the past few years. He has been profiled by the New York Times and Wall Street Journal and had his work featured in numerous major publications and exhibitions. Recently, he was profiled by John Berendt, acclaimed author of Midnight in the Garden of Good and Evil, for the one-hundredth anniversary issue of Antiques, which featured one of Hopkins's paintings on the cover of its January/February 2022 edition.
The artist's passion for history and decorative arts inspired him to volunteer at the Louisiana State Museum during his early adulthood. Works in the museum's collection, including paintings by José Francisco Xavier de Salazar y Mendoza and rare Louisiana decorative arts and furniture, directly shaped Hopkins's painting style and subject matter. Some of these artifacts, among the most important items in the Louisiana State Museum collection, will also be on display.
Curated by Polly Rolman-Smith, director of furniture and decorative arts at Neal Auction Company, and Joyce Miller, historian at the Louisiana State Museum, the exhibition is divided into five sections. One focuses on the complex nature of Creole identity and changing definitions of the word "Creole." Another focuses on Hopkins's representation of Creoles, which ranges from well-known historical figures such as Marie Laveau, the Baroness de Pontalba, and John James Audubon to fictional belles and dandies going about their everyday lives. A third thematic area explores Hopkins's lavish interiors, while a fourth considers his representation of Creole architecture. The final section investigates the way Hopkins's work challenges conventional conceptions of gender and sexuality, particularly through the inclusion of his alter ego, Désirée Josephine Duplantier, in some of his paintings.
An exhibition catalog will deepen readers' understanding of Hopkins's work and the complex history of Creole history, art, and architecture in Louisiana.
The Louisiana Museum Foundation will commemorate the opening of the exhibition with three events in the Cabildo. On Friday, November 18, a Patron Party from 6:30 to 7:30 p.m. will be followed by the Founders Ball, an Empire-period costume party, from 7:30 to 10:30 p.m. The celebration continues on Sunday, November 20, with Le Goûter with Désirée, a French afternoon tea with Miss Désirée from 2:00 to 4:00 p.m. Sponsorships, tickets, and information are available online at thelmf.org or by calling 504-558-0493.
Creole New Orleans, Honey! The Art of Andrew LaMar Hopkins will be on display from November 18, 2022, through mid-September 2023, in the Cabildo, located at 701 Chartres Street on Jackson Square. The Cabildo is open Tuesday through Sunday, 9:00 a.m. to 4:00 p.m. Admission to the museum is $10 for adults, $8 for students, seniors, and active military, and free for children 6 and under. Visit LouisianaStateMuseum.org for more information.