"Crimestoppers Carnivale" Gathers Supporters for Proactive Crime Programs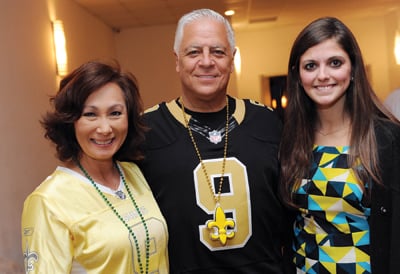 Angels, devils and Saints players convened at Mardi Gras World Eastbank to fight crime. Mardi Gras came early with the "Crimestoppers Carnivale," themed "Saints and Sinners" on Saturday, November 10, 2012.
A patron party was held at the Mardi Gras World mansion, where emcées newscaster Eric Paulsen and Kenner Police Chief Steve Caraway charmed the crowd. The Joey Winters Trio serenaded 175 guests who dined on heavenly libations from local restaurants and caterers, including Barreca's, Joel's Catering and Clancy's.
The main event, chaired by Pam Schafer and Susan Coco, was attended by more than 600 supporters who enjoyed an open bar and delicacies from a multitude of local purveyors, including Acme Oyster House, Commander's Palace, Creole Creamery, Drago's, Mr. John's Steakhouse and Pascal's Manale. The Philip Manuel jazz band set the mood.
A Funtastic Fhoto Booth gave memories to the decked-out guests. More than 70 volunteers worked the event, many of whom were youth from Crimestoppers' Teen Ambassadors Leadership program and Brother Martin ROTC.
Live and silent auction items included a Pink Guitar signed by LeAnn Rimes and a private party for 75 at Pat O'Brien's.
Since 1981, Crimestoppers has solved more than 12,000 felony crimes. Proceeds from this event will benefit their many proactive crime programs, such as Teen Ambassadors Against Crime Leadership program, Safe School Program, and the new Barbers Cuttin' out Crime. Administration of the hotline will also benefit. In 2012, the hotline helped solve just under 400 cases, including 13 homicides.
---
Event at a Glance
WHAT
"Crimestoppers Carnivale," benefiting Crimestoppers
WHEN
Saturday, November 10, 2012
WHERE
Mardi Gras World Eastbank