Cruisin' the Crescent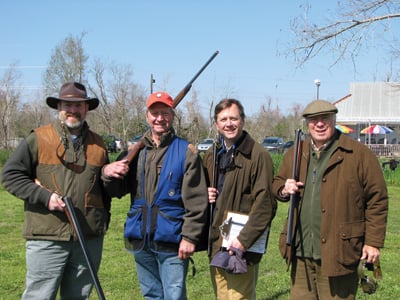 We identify many things that come with Carnival season. Parades, beads and King Cakes all come and go, but one thing stays with us: crawfish. In New Orleans, Mardi Gras is also the time crawfish season starts and we can begin the long tradition of the crawfish boil. Here, a crawfish boil is more than just cooking crawfish; it's an event that reflects our culture and the traditions passed on through generations. Locals know to always wear a white shirt when eating crawfish, as you can bleach the stains you're sure to get out of it. We know to always have plenty of paper towels and beer on hand, and rain or shine you'll most likely be eating them outside. I love crawfish, but what I love more than crawfish is watching non-locals at a crawfish boil.
To us a crawfish boil is part of an afternoon; to them it's an exotic experience. First they have to get past that they're not called "crayfish," then they have to learn how to peel them. But the funniest part of witnessing an out-of-towner's first crawfish experience is the face they make when they see someone suck the head. It is a mixture of amazement and disgust – and it's hilarious! Now after that passes, the newcomer will probably try it themselves, but this is probably because the beer and spice has hit their bloodstream. What is great about it that there's always someone there to share peeling tips around the steaming table.
Crawfish, like many other New Orleans foods, bring people together. It is a social meal with everyone standing around a table; when you get full someone else takes your spot and a new conversation begins. I have some wonderful memories around the crawfish boil table, and I'm excited to make more this season!
---
The Chartwell Center held its annual clay shoot fundraiser at Highpoint Shooting Grounds in Belle Chasse. The shoot raised money for the school, which serves children with autism and related disorders. Whitney Bank sponsored several teams, and Highpoint donated their grounds for the event. Sidney and Norwood Thornton donated a gun for the raffle that Charles Perez won, and the Plaquemines Parish Sheriff's department provided a delicious barbecue lunch. Although it was cold, several teams participated in the shoot.
---
This year the Rex Mart held their annual "Ladies Day," where they invite the members' wives to preview the floats and purchase Rex merchandise. Everyone was anxious to attend, not only to see the new throws but also to see the newly renovated den. Rex volunteers spent the year before Mardi Gras pouring their blood, sweat and tears into the den's transformation, and it certainly showed. The den is not only more beautiful but also more user-friendly. It now has a hurricane-proof room to store the archives, and the King's room is adorned with old Carnival pictures, crowns and costumes in a display case. Among the items to be purchased at the mart was a 2013 Proclamation in which artist Shelley Hesse created and reflected the organization's 2013 theme "All Creatures Great and Small."
---
Heard something interesting for "cruisin' the crescent?"
If so, please send it to:
St. Charles Avenue
110 Veterans Blvd., Ste. 123, Metairie, La. 70005 or
email: Shelby@MyNewOrleans.com