Culture Club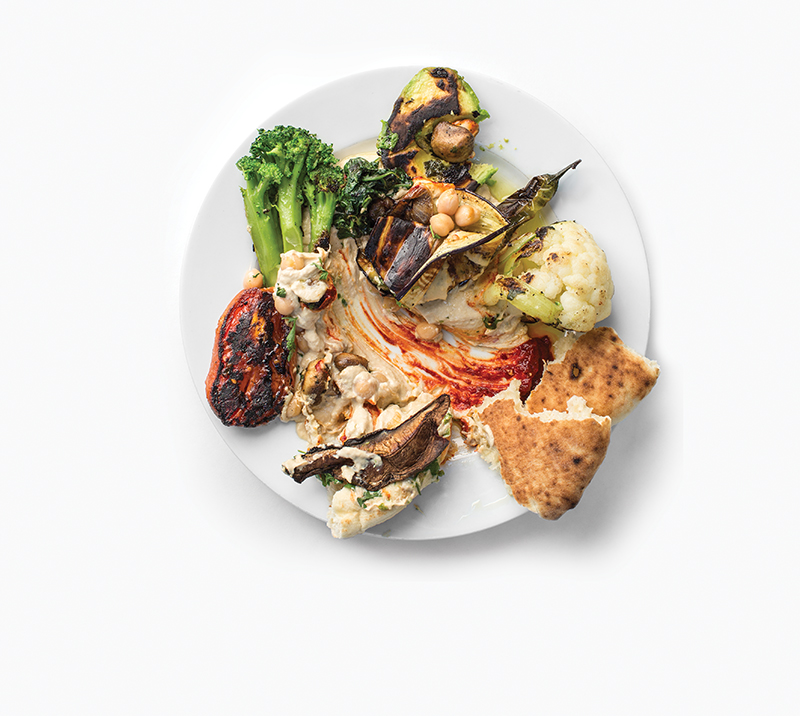 Tal's Hummus and Grilled Veggies
---
Over the course of its history the people of seven nations — Native Americans, French, Spanish, Germans, English, Italians and enslaved Africans — were the most significant contributors to Louisiana's Creole cuisine. The foodways of these cultures amalgamated to birth a culinary identity Louisiana alone can claim.
However, people from numerous other cultures have built their lives here, too, bringing their traditions with them and often leaving their marks as restaurants celebrating their native cuisines.
In Baton Rouge the humble Atcha Greek & Lebanese Café, serves Greek and Lebanese foods at value prices. Beef Fatera consists of flakey dough topped with hunks of grilled beef for $1.99. Atcha hummus is of a decadently creamy variety topped with dried tomatoes and feta cheese for $4.99. The combination plate (chicken and gyro served with hummus, feta salad, and rice) is large enough for two or three to share for $10.99.
Right next door La Salvadoreña takes its inspiration from another continent but does so at the same kind of bargain prices with delicious results. Start your day with a Baleada — a large flour tortilla filled with scrambled eggs, refried beans, cheese, avocado and crema for $4 or add grilled beef for $6 and you can forget hunger pains for the rest of the day.
Though celebrated for its Creole cuisine, the New Orleans area thrums with ethnic dining choices. Located inside of a gas station, Shawarma on-the-Go boasts lines out the door for its thriftily priced Middle Eastern fare. Excellent carved-to-order gyro meat is piled up on hefty sandwiches and the chicken shawarma plate is fresh and plentiful. Two can dine lavishly for $20.
A few blocks up the street Tal's Hummus is a bit sleeker and a bit pricier but offers a number of vegan and otherwise healthy choices. The finely minced Israeli Salad of cucumber, tomatoes, parsley and lemon and the creamy hummus swirled around a pile of flavorful grilled vegetables are personal favorites. The former will set you back $9, the latter around $14. Both are well worth it.
In the Central City neighborhood 14 Parishes, named for the 14 parishes of Jamaica, the Blake family serves up authentic renditions of the cuisine of their native homeland. Look for classics like beef patties and jerk chicken paired with sides like sweet plantains and cornbread. The Portland stew of jerk chicken, rice, peas and callaloo will throw you off of your game if intensely spicy food is not your jam ($14.50). Cool things down with a Bobsled cocktail (hibiscus tea, ginger and white rum).
At Luvi, Chef Hao Gong's elegant, exotic, playful Asian hybrid cuisine draws on elements of his Shanghai upbringing, stints at restaurants around the U.S., and his decade-long career as the head sushi chef at Sake Cafe. Some dishes, such as spicy Szechuan Dan Dan Noodles and Mala Holla (razor thin slices of beef shank in ghost chili oil) hearken to Asian traditions. Others, like the Monkey Snack — raw salmon, sesame-crusted banana and a spicy-sweet sauce — are his own mischievous creations. It's not cheap, but also not a bank buster and it's worth every penny.
---
Atcha Greek & Lebanese Café
3221 Nicholson Dr.
Baton Rouge
225-383-7482
atcha-greek-lebanese-cafe.business.site
14 Parishes
1638 Clio St.
New Orleans
504-605-4453
14parishes.com
La Salvadoreña
3285 Nicholson Dr.
Baton Rouge
225-227-0141
facebook.com/lasalvadorenarestaurant
Luvi
5236 Tchoupitoulas St.
504-605-3340
luvirestaurant.com
Shawarma on-the-Go
3720 Magazine St.
New Orleans
504-269-6427
shawarmaonthego.com
Tal's Hummus
4800 Magazine St.
New Orleans
504-267-7357
ordertalsonline.com
---
GOOD BETS
In celebration of Commander's Palace's 125th anniversary and New Orleans' Tricentennial, the Commander's Family of Restaurants will host a day-long discussion about the past, present, and future of food and hospitality in America on Sept. 17, 2018 at The New Orleans Orpheum Theater. The event is a resurrection of the American Cuisine and Hospitality Symposium that Commander's Palace matriarch, the late Ella Brennan, hosted in 1983. For tickets and information visit achsymposium.com.
---