Cut and Dried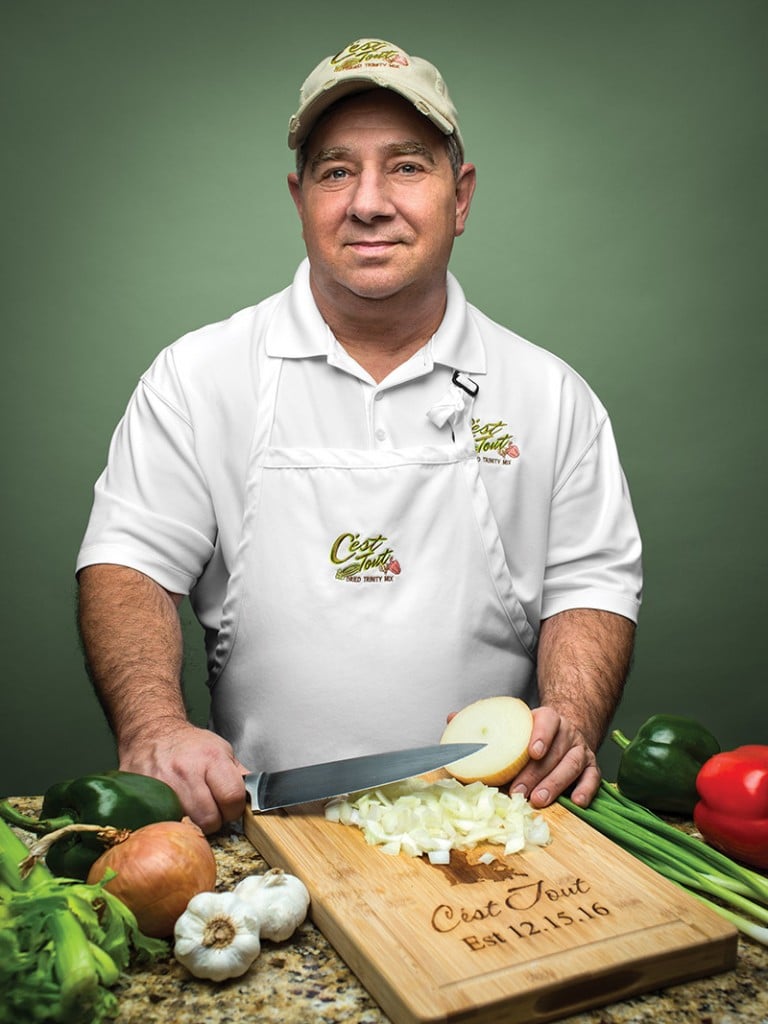 Belief in the resurrection runs deep in Dreux Barra's life, and as it turns out, in his gumbo pot, too.
The Youngsville-based food entrepreneur's holy trinity mix — that's bell pepper, celery and onion, for those unbaptized in the wild ways of traditional Louisiana cooking — "comes back to life, just like you chopped them yourself," as he likes to explain at the many markets and cooking demonstrations he attends throughout Acadiana.
Barra's C'est Tout (French for "that's all" and pronounced "say-too") is jars of chopped and air-dried trinity mix that when added to water, stock or right into the gumbo pot, flowers with a savory, aromatic edge that fills the room and conjures memories of family gatherings and holidays past; of hot Saturday nights with the Tigers on the tube; of pots full of hot food and arms full of warm embraces; of invitations signed, sealed and delivered with a simple "y'all come."
"I'm not a chef, I'm a Cajun cook," says the Lafayette native and veteran of the private security industry. "No degree. No culinary institute. Just the joy of being in the kitchen and years of making delicious food with my family."
Barra grew up one of six in a large Roman Catholic family. Summers were spent at his grandmother's home in New Orleans' 9th Ward where he was usually at her side in the kitchen watching and learning.
"The smell of cut onions immediately brings me back to her house," Barra says. "My mom taught us all how to cook, but my grandma really introduced Creole cooking. She was always working with rice and what we now know as the holy trinity. When adding garlic, it's holy trinity 'wit da Pope.'"
Barra, now 57, refers to himself as his brand's "Chief Chopping Officer." Years ago he used to make large batches of beef jerky to donate to the local men's shelter and give to the neighbors. In late 2016, he had a particularly expansive largesse of vegetables in his pantry and began experimenting with cutting and air drying them like he had his thin strips of beef.
"I was raised in a 'cook what you catch and kill,' family, a 'never throw anything out family,' so I thought there was something that could be done with these vegetables," he says
After six months of experimenting he walked into a meeting with a marketing agency and walked out with their confidence. "That put a little grease in my gear."
It also put his product into stores. More than 50 retail outlets, mostly mom-and-pops, carry C'est Tout products, and a handful of restaurants are cooking with it in their jambalaya and etouffee now, too.
"With the pandemic, I think people are spending more time in their kitchens and wanting to expand what they can cook themselves for their families," Barra says.
As long as it is stored inside and kept dry, C'est Tout can last for years. He's produced more than 6,000 jars to date, all while maintaining his full-time job.
"I never planned on being an entrepreneur," Barra explains. "This is a hobby business for now, but it's growing."
Barra lives in Acadiana with his wife Monique, two yellow labs and two rabbits. He served in Desert Storm and has lived all over the country working in private security for Home Depot and Procter & Gamble. He has investigated the Russian mafia, arsons in Brooklyn and gangs in Los Angeles and when he finally returned to Louisiana, he decided he wanted to give back to the warm home he never stopped loving.
"This product has really humbled me in so many ways," Barra says. "I really appreciate Louisiana so much more now."
While he's negotiating a deal with a larger food retailer to expand his business further, Barra uses C'est Tout for his weekly Bible studies. Every Thursday night he cooks for a group of men from his church. Duck gumbo is a favorite.
This is a new kind of family, one building memories, too, and around a pot of Louisiana food all the same.
"I try to let things happen as they happen — trust God," Barra says. "It's hard to explain, but I'm happy to share something that helps people make fewer runs to the grocery, that helps people in the kitchen to make delicious food for the people they love."
What has been the biggest challenge as a food entrepreneur during COVID-19? The inability to do cooking demonstrations in stores and at farmers markets. It has been good to see that more people are cooking at home though and trying new things.
You're a problem-solver and you don't like to waste anything. What's behind that ethos? Waste not, want not. Growing up with six kids taught us that we all needed to do our part to get the most from all things. With two older brothers, I don't think I got my own brand new pair of jeans until I bought them myself!
When not working, what do you love to do? Fishing the Basin and in Vermilion Bay. While I don't get a ton of opportunity, duck hunting has been a big part of my outdoor adventures.
For Yankees out there, what is it about Cajun and Creole cooking that makes it special? To me, it's more than just mixing ingredients. It's about the group you are with when preparing and eating. When I am preparing dinner for my men's group, I am usually not quite finished cooking when everyone shows up. Everyone gathers in the kitchen and just catches up on life; great conversations happen.