Cymbal-ism
Broussard-based designers Roz LeCompte and Collin Galyean drum up jewelry with a strong musical lineage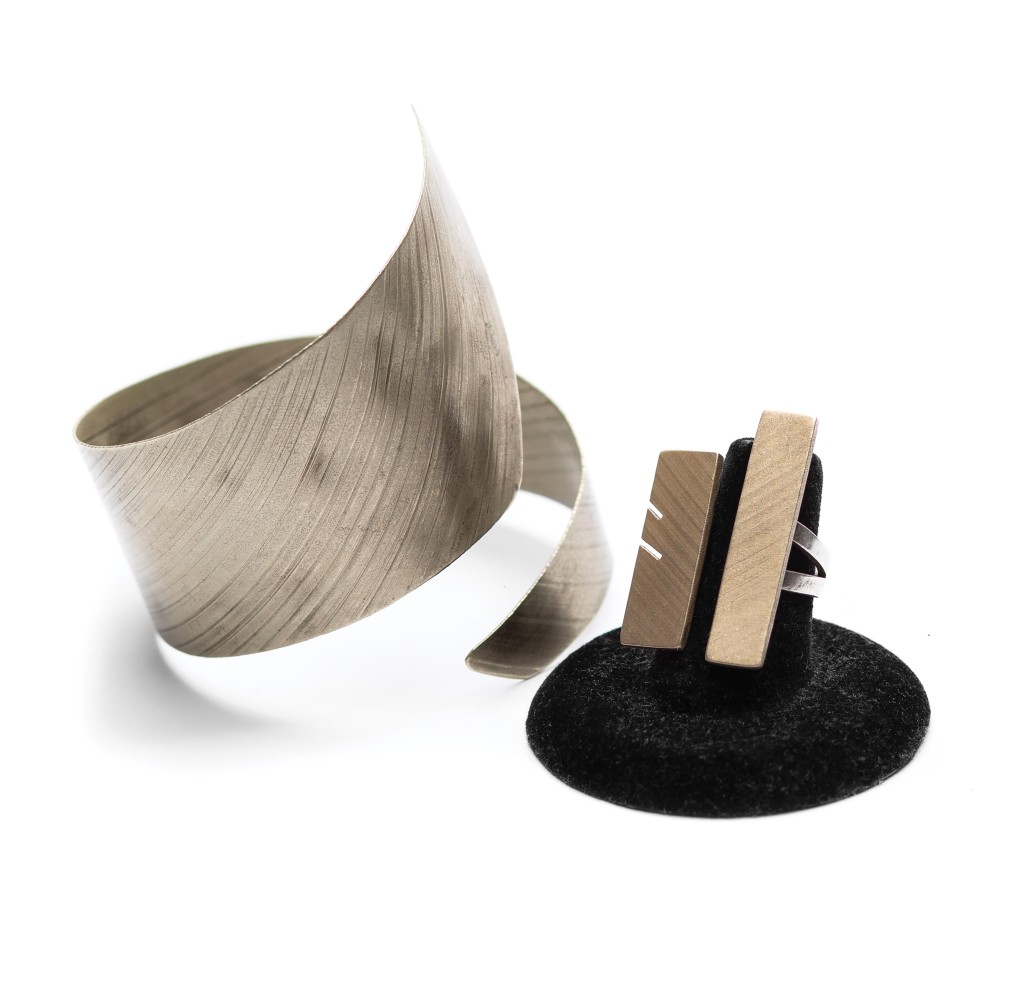 At A Glance
Hometown
Dallas, Texas (Collin), and Broussard, Louisiana (Roz)
Age
Collin is 46, Roz is 44
Occupation
Jewelry designers
Web
secondlinejewels.com
@secondlinejewels
When Phil Collins and his band Genesis need another batch of designer dominoes for the merch tables on their lavish and long-awaited The Last Domino? reunion tour, they don't realize the vendor supplying these custom metal keepsakes is not a big chain or a fancy factory, but a two-person handcrafted company living out a passion for music and jewelry design in the heart of Acadiana.
Off a country lane in bayou-adjacent Broussard, and down a gentle slope, sits a modern-angled minimalist home, airy with white walls populated by bold, almost Hockney-esque pandemic paintings.
A workshop, fashioned from a shipping container, towers out back among the gray brush and bramble that frames the lawn in late November. There too is a tired school bus, now rooted in the yard, a still golden monument to a past life of nomadic adventures and winding paths of wonder from gig to gig, one wild memory made after another.
The bus is an old echo that reverberates loudly even now for Roz LeCompte and Collin Gaylean, founders and makers behind Secondline Jewels, their brand that upcycles the alloy of discarded drum cymbals into nearly a hundred chic styles of necklaces, rings, bracelets and unisex pieces, each with an iconic music-inspired stage name. There's the crown-shaped Prince necklace, the electric Bowie Bolts earrings and the curvy Twisted Sister ring.
Iconic drummers like Roger Taylor of Queen and Nick Mason of Pink Floyd and stars like Jon Bon Jovi are just some of their more famous clients and collaborators in this unique take on heavy metal.
While working as the roadie, driver (yes, of the school bus) and merch director for Lafayette band GIVERS a decade ago, in the whirlwind of the band blowing up with MTV and Jimmy Fallon appearances and a sold-out Dirty Projectors tour, Collin took a cymbal that the band's multi-instrumentalist Tif Lamson had smashed and replaced, using it to fashion his first piece of drum jewelry. This gave LeCompte, a long-time jewelry-maker and painter, an idea.
"Then the light bulb went off," LeCompte says. "I thought, 'Why am I not using this material that I've been surrounded by my entire life?'"
The daughter of a percussionist and organist, she had worked for years as a massage therapist while trying to launch her passion as a jewelry business to no avail. Suddenly, one creative gift from Galyean, and she knew they had a brand-defining concept. Secondline Jewels was born.
"The first year I used the cymbals I sold more than I had in the 20 years before that," LeCompte says. "So, I really knew 'this is it.'"
The duo started with all handcrafted unique pieces, a process that tested the limits and muscles in Roz's hands and arms, even with her years of massage experience. Now they use power tools, and that precision has helped define their range of character-rich designs found at Dirty Coast and Zele in New Orleans.
GIVERS singer Taylor Guarisco helps sell at markets.
"Roz's dexterity and her vision is insane, she is so good," Galyean says. "I'll get back there and get super dirty working with metal. I'll never be a hand model again."
Like Dylan going electric, using garbage-bound cymbals is a bold act of sustainability in a culture of fast fashion that is often hurting the environment.
"I love that we are recycling," LeCompte says. "Not adding to the problem of fast fashion is a lot of fun."
That creative joy was tested in 2020 as the pandemic almost threatened to pull the plug on live music.
"We were all still blessed because we had to get creative again, in new ways, and we were lucky to have the Genesis project, that gave us something to hold onto," Galyean. "The amount of hours we spent in the backyard working hard in the middle of uncertainty was intense."
For LeCompte, the ultimate reward is playing a part in the connections that music and creativity build among the people who share them, whether that's by a band on stage playing to a joyous crowd, or from someone gifting a well-made piece of wearable art to a friend.
Their jewelry is a past life in a new form, a new attitude.
Another echo.
"It never gets old because of the stories and meaning this metal holds," LeCompte says. "It's all about the vibrations for me."
Q+A
Do you enjoy listening to music while you work? If so, what do you listen to? Roz: We can always agree on jazz and lately LCD Soundsystem, but sometimes we listen to the band we are making merch for while making their merch. Cheesy but fun. Collin: It solidifies the dream becoming reality.
What's the most common question you get at markets? Collin: 'Made out of what?!' or 'Recycled what?!' is usually heard right after our explanation of the product.
You have fun with the names of the pieces, inspired by artists or songs. How do you know what name suits the piece best, and what's your favorite name you've come up with? Roz: It's a game, really, like naming children. When you know, you just know. Collin: Our collective favorite is the 'Mr. Mac' cufflinks named after Roz's infamous grandfather, and also a tip of the hat to Dr. John — Mac Rebennack.