Cypress Bayou Casino Hotel Celebrates 25th Anniversary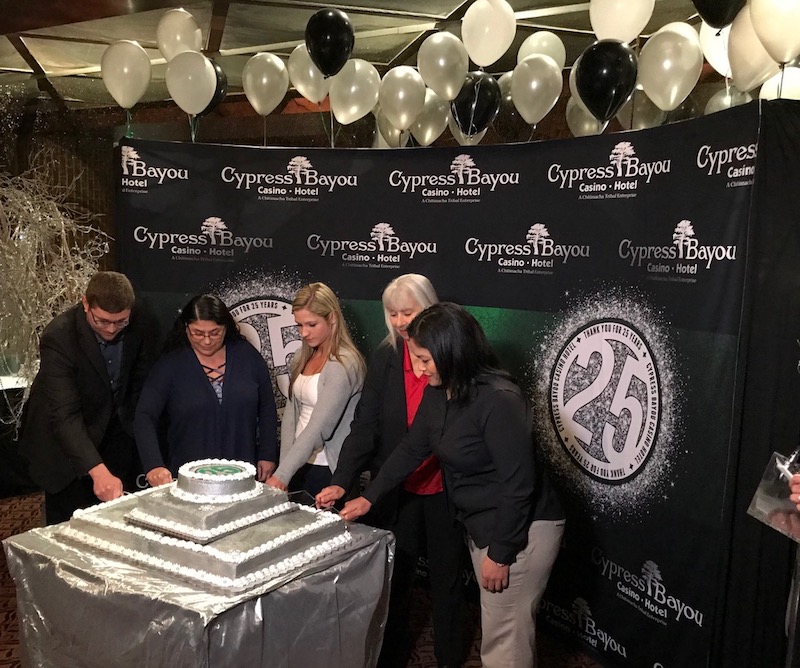 Like many Louisiana organizations, the Chitimacha Tribe of Louisiana looked to raise money and started small, opening the Chitimacha Bayouland Bingo. In December 1993, the tribe took things up a notch, transforming the bingo establishment into Cypress Bayou Casino, the first Louisiana land-based casino.
This past December, the tribe celebrated its 25th anniversary but today the complex in Charenton includes so much more. There's a 102-room hotel, several restaurants including the award-winning Mr. Lester's Steakhouse and, of course, monthly bingo. The expanded gaming offers more than 1,000 slot machines and more than 30 tables including Blackjack, Mini-Baccarat, Mississippi Stud and 3-Card Poker, to name few. Over the past 25 years, it's estimated that the property has had an economic impact of nearly $1 billion dollars on the region, has supported tribal government and community services, plus donated millions of dollars to local charities.
What you'll find at Cypress Bayou
In addition to gaming, Cypress Bayou offers several restaurants appealing to various tastes. Café Delphine offers inexpensive dishes with weekly specials, such as the boiled shrimp dinner on Wednesdays. Locals rave about Loco Mexican Grill and Cantina, claiming it's one of the best Mexican restaurants in the area. Those who enjoy gambling with more than their money may want to try the "6 Pound Diablo Burrito Challenge." The giant burrito cost $26, but if you can finish the dish in 20 minutes, it's free.
Mr. Lester's Steakhouse, chosen as one of the top restaurants in Acadiana by Acadiana Profile magazine, provides the region with excellent steaks and seafood, not to mention an impressive cigar and wine selection, all in an elegant ambiance. Even if you don't like gambling, Mr. Lester's, helmed by Chef Willie Gaspard, makes for a perfect date night restaurant.
The casino offers entertainment, as well. Martha Reeves and the Vandellas, for instance, perform Jan. 31 in the casino pavilion.
Cypress Bayou Casino Hotel is located in Charenton, off U.S. Highway 90 at the Baldwin Exit. For more information, call 1-800-234-4386 or visit www.cypressbayou.com.