Daily Life in Ruston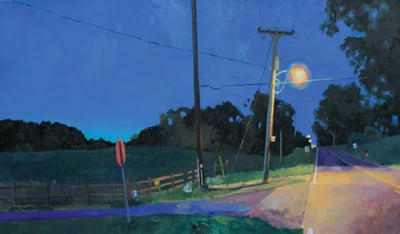 Pablo Picasso once proclaimed that art "washes away from the soul the dust of everyday life." Ruston artist Julie Crews knows exactly what that means. Her art is in the "dust of everyday life." In her warm, painterly roadside images of North Louisiana, she captures the beauty and peace she finds in the ordinary day-to-day tasks as a mother and homemaker. Painting is a natural extension of that life.
"My work concentrates on the very scenes of domestic life that take me away from the studio," says Crews, reflecting upon how those routine and mundane chores that lay before her each day find their way into her paintings. "When I am in the studio I escape certain domestic tethers momentarily. Yet, on canvas, scenes of my life lay before me – unmade beds, dishes stacked by the sink, and waiting in the elementary school car line. How areas of the home are treated, the traffic and landscapes encountered while running errands, and the moods of people engaged in banal tasks influence my life, and therefore, art. Recreating these scenes give permanence to the undervalued. I give the viewer an intimate glimpse into my personal life, exposing the delicacy of monotony and repetition regarding domestic life."
In those "intimate glimpses," we see food cooking on the stove, clothes hanging in a closet, cars waiting at a Ruston stoplight or clapboard houses in a neighborhood in a nearby town. Others glimpses reveal a cotton field off to the side of a north Louisiana road or two weathered trailer homes in a weedy trailer park just outside town. In another, we see the dark form of an interstate highway overpass silhouetted against a warm setting sun.
---
---
Many of these "glimpses" are snapshots captured on her cell phone camera as she goes about her day, running errands, driving the kids to school or going to the grocery. They later reappear in her studio as visual memories of a moment or place. Sometimes the mood created by the image is more important than the scene itself. "I generally work from snap shots taken during the course of my week," Crews explains. "I take a lot of photos of seemingly boring landscapes or interiors or people in my life doing mundane things. An image that becomes a painting is never an orchestrated still life or the product of a requested portrait sitting. Rather, the idea for a painting finds me later in the stacks of slapdash photos I have taken." As Crews says, her paintings give "permanence to the undervalued."
Knowing something of Crews' early life, one can better understand her appreciation of the ordinary and mundane. It has been a remarkable journey, one that has taken her from the hills of North Carolina to Northern California, South Carolina, Idaho, Utah and now Louisiana. Born in 1977, Crews spent the first decade or so of her young life in North Carolina. Although her father and mother were unable to be with them at the time, Crews describes a happy and bucolic childhood, living in the mountains with her brother and sisters and a great aunt. She recalls dreamlike, carefree days picking cherries and playing in the creek below the old family homestead. When she was 8, her father remarried, and six years later he moved the family to California in search of work. Not long after, they returned to North Carolina.
After high school, Crews bought an old Datsun for $300 and hit the road. For several years she traveled across the country, working odd jobs as a maid, a professional roller skater, delivering newspapers, and held a stint as a paper counter and measurer in a dusty paper factory. She took a train trip across the United States and deep-sea fished in the Gulf of Mexico. Then in 1999 she met Niel while white-water rafting back in North Carolina. They later married and eventually had four children. In 2008, they moved to Ruston when Niel took a teaching job at Louisiana Tech University. "None of my adventures or travels is more precious or beautiful to me than what I have now," she says, recalling those years on the road and the routine life she now lives.
Crews' interest in art began at an early age. "When I was in the third or fourth grade," she recalls, "I said I wanted to write and illustrate children's books." By the late 1990s, her interest in art turned from illustration work to studio art while studying art at Brigham Young University in Idaho. Since moving to Ruston, she has continued from time to time to take art courses at Louisiana Tech University. During these years, she has developed her style of painting, which she describes as "quick and direct." It is an impressionistic technique many artists use to capture an immediate and spontaneous response to a particular scene or subject.
For Crews, art has been a counterbalance in her personal life. "Painting about my life teaches me about my place in this world as an artist, wife and mother," she explains. "When I work, my personality develops more fully. I cannot think of anything that promotes and facilitates my personal, artistic and professional growth more than that of simply painting." In a 2011 interview with Louisiana Public Broadcasting (LPB), Crews she said painting landscapes, still lifes and portraits "permeates my entire life being able to explain what is beautiful, what is interesting, what isn't beautiful but can be portrayed as beautiful." It is often a way, she says in a later interview, "to express the inexpressible things in life."
Crews describes painting as a personal and singular experience. "There are few instances in life that are truly intimate," she said during the LPB interview. "One of those is the space between an artist and the canvas. No one else shares that space. It's such a solitary thing and yet you do it, I do it, to share. So it is an extremely personal endeavor that has a lot of social implications. People will come to you and say, 'What is your art all about and how does your art define you as a person?' It's often times unexplainable because there's such a thick space between an artist, the canvas and the what's going on."
Reflecting upon her paintings and life in Ruston with her family, Crews sums them up with a sigh of satisfaction – "I guess I'm living the dream." Picasso was right.
Julie Crews' paintings can be seen at the FW Gallery in Baton Rouge and the Agora Borealis in Shreveport. For more information about Crews and her work, visit juliecrews.com