Danneel Harris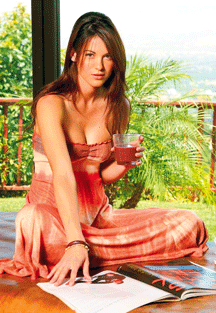 Danneel Harris often joined her friends in making the drive from Baton Rouge to New Orleans.
She was a student at Louisiana State University and enjoying the college experience. Harris and her friends would go out and attend the New Orleans Jazz & Heritage Festival or enjoy live music.
Harris (born Elta Danneel Graul) grew enamored with the city.
"I love the things that everybody loves," Harris says. "I love the food but also just the way the air smells."
Much has changed since Harris studied mass communications and rooted for LSU's football team inside Tiger Stadium.
Harris, now an actress finding her way in California, has remained tied to her roots with the merging of her past and present.
Born in Eunice, she enjoyed the filming of Harold and Kumar Escape from Guantanamo Bay in Shreveport, and she's currently in New Orleans filming the movie Mardi Gras.
The self-assured Harris grew up within the small town known as "the Cajun capital of the world" and gained an appreciation for life in the close-knit community.
"It's kind of like growing up with a bunch of different families," Harris says. "I was really close to all of my friends and really close to all their parents."
Harris grew up unafraid of being different than the norm. She wore what she wanted to school, whether her socks varied or she sported a funky hat.
One day, Harris recalls, she mimicked pop singer Debbie Gibson with the hat, the glove "and everything." She then went to a football game where older girls put mustard in her hat. "[They] smashed it on my head and told me not to dress like a freak," she recalls.
But she was unfazed: "I had no cares. I was one of those kids: 'If you laugh at me, laugh at me.' I don't have that censor, which is important in this business because you're constantly told: 'Gosh, you didn't look very good. You don't look pretty in that scene, or you didn't do that right, or you'd look so much better if your hair looked lighter.' You really have to have tough skin or you'd end up like a heaping, crying mess all the time."
Harris gained more acclaim for her role on One Tree Hill as Rachel Gatina, the bad girl in Tree Hill, N.C., who openly defied authority. The storyline advanced four years, and Rachel, always open about her desire to get out of Tree Hill, was written out of the script.
Harris returned for two episodes this season, when her character was discovered by her friend Brooke Davis (Sophia Bush) unconscious from a drug overdose. But even though Brooke helps her, Rachel struggles with her self-confidence and makes a quiet exit from Tree Hill in her second episode back.
Harris last appeared on the big screen in Harold and Kumar Escape from Guantanamo Bay as Vanessa in the follow-up to the cult-comedy hit Harold and Kumar Go to White Castle, which revolved around two stoners on a quest for burgers.
The Harold and Kumar movies bring a new look to the stoner comedy genre made famous by Cheech and Chong.
"I think they poke fun at it, and they give their audience a lot of credit," Harris says.
Harris developed her enthusiasm for acting from her mom, an energetic individual who directed several plays at the Eunice Players Theater and has remained busy –– whether it's teaching yoga or working at a bookstore.
Her father, a physician, and her mom, who handles her daughter's fan mail, have come to appreciate Harris' acting career.
"It truly is the industry of one in a million," Harris says. "It is not an easy thing to do, and I think they were really worried at first that I wouldn't be able to support myself doing it. I kept telling them: 'I'm going to be fine. I'll make it work.' And I did."
She has endured her share of difficult moments. She lived in New York when she landed the role of Shannon McBain on the long-running soap opera One Life to Live.
Harris, who says she made the move during one of New York's coldest winters, walked to work in a leather jacket more suited to California's warmer weather and often missed seeing the sun, which was hidden amidst the skyscrapers.
But despite the hardship, that role became one of her most memorable.
Harris, who currently lives in Studio City, Calif., thinks of her home as a community in a collection of cities making up Los Angeles. She knows her neighbors. She shops within her city and ventures out for acting gigs.
Speaking about her home away from Louisiana, she says, "It's pretty much like a neighborhood."