Delving into West Monroe's Dynasty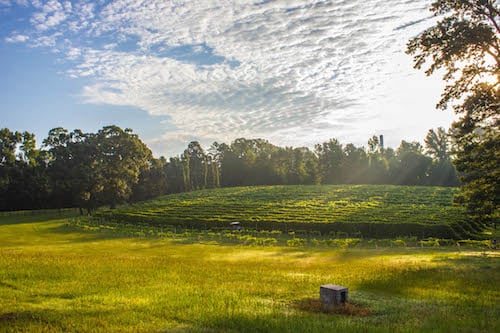 There's a lot more to West Monroe than being the home base of the famous American reality TV series "Duck Dynasty." While droves of "Dynasty" fans continue to make their way to this northeastern Louisiana town, the fact is the fan club hotspots are coveted treasures, even without a connection to the show and its sporting empire.
Amid 20 scenic acres in West Monroe's Hill Country is the family-owned and operated Landry Vineyards. The winery, which was highlighted in the "'Duck Dynasty' Sauvignon Beard" episode, is a labor of love for Jeff, his wife Libby and their four sons who love talking wine with visitors. (Tip: Be sure to indulge your palate with the wild Muscadine-based Redneck Red, Blackberry Merlot and their mouthwatering wine jellies.)
For just $5, you can have a sensory awakening when you taste all of the Landry wines, which are distinct to this region; whether you are a wine connoisseur or not, you will find their tours absolutely fascinating. (Fact: The Landry family opened the vineyard in 1999 and relocated from Folsom, Louisiana to West Monroe after Hurricane Katrina's wrath.) You can tour the vineyard, winery, cellar and crush pad and bottling facility on foot or opt for an awesome one-hour wagon ride tour. (Tip: Reservations are necessary for wagon, vineyard and bottling facility tours.)
Bring your lawn chair, blanket and picnic and enjoy outdoor concerts on the vineyard grounds, featuring local and regional musicians. It's the perfect venue for kicking back and relaxing, or getting up and dancing a bit, and whatever you need is only a few steps away. (Tip: You can purchase wine, cheese trays and Boudin – Cajun sausage stuffed with pork and rice – while attending the concerts.)
You can also tempt your taste buds at Debbie's Snowballs, where locals cool down in the summer heat. This place has some of the most delicious stuffed snowballs (shaved ice), strawberry shortcake sundaes, and twist cones. (Tip: Be sure to order Debbie's German chocolate cake sundae, which has a piece of German chocolate cake underneath the ice cream and all the fixings.) They make their own syrup and ice cream right here so that it's fresh every time, and you taste that attention to detail in each and every bite.
If you want more sweet treats, you can head to a local favorite Haskell Donuts, that was also featured on the A&E program when Uncle Si ate 32 donuts to win a new camper. Haskells is located in what looks like an abandoned gas station, but what's produced inside has quickly become legendary. The warm, fresh and gooey glazed donuts are made from scratch, but be sure to arrive before noon – that's when they run out of donuts and close up shop. Your taste buds, and the sweet tooth that goes with them, will not be disappointed. A return visit will be a must.
Fans also pour into the Duck Commander Warehouse, where the Robertson Family's empire began with the with creation of a quality duck call. Be sure to take a look at the World's Largest Duck Call inside the warehouse; while fans also visit to take numerous photos alongside an amazing collection of memorabilia and conversation pieces. With each step you take, there is something else that will grab your attention and get you talking (and snapping photographs).
Of course, the aforementioned does not include all of the "Duck Dynasty"haunts. For more information on The Duck Commander Hometown Tour go to: monroe-westmonroe.org/index.cfm and duckcommander.com/visit-west-monroe-louisiana