DENNIS PAUL WILLIAMS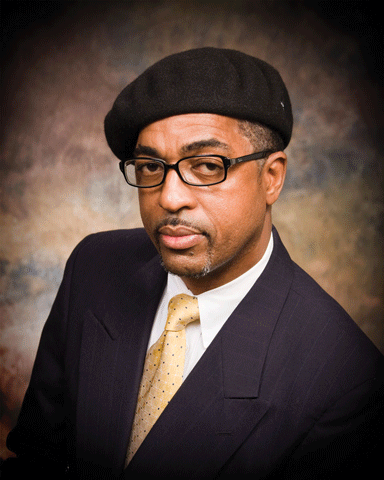 Anyone who meets Dennis Paul Williams will probably walk away with the impression that the 50-year-old St. Martinville native is different.
Yes, he's a musician.
Yes, he's an artist.
Yes, he's traveled the world and experienced other cultures firsthand.
Yes, he's even a city councilman.
But what makes him different isn't just the fact that he's of the creative class. That would be an oversimplification.
The way Williams sees it, his home, art and everything in the world that he encounters are all part of a life that has been charmed to an extent that doesn't surprise him because of his "perseverance and faith in God."
He explains: "I've been fortunate to run across spiritual markers [people who have helped him in his life]. Also, I believe in the energy that the body puts off, and I'm sensitive to it."
Born on Aug. 10, 1959, Williams is one of 10 children. He is known to many as the guitarist in his family's zydeco band, Nathan Williams and the Zydeco Cha-Chas.
His family's hard times worsened when their father died at the age of 38, leaving their mother the task of rearing a large family. Williams was 10 at the time.
As a child, Williams found himself on the fringes of society; his personal insecurities, fueled by the fact that he was not able to learn like other children in Catholic and public schools, made him quiet and withdrawn.
Drawing was his outlet.
Using crayons that his father gave him, Williams drew –– it was a natural talent. He continued to draw after his father died.
Even though he wasn't a good student early on, Williams found time for art.
In middle school, Williams thrived in art class but ran into trouble when his eighth-grade art teacher questioned his talent.
Williams gave up on art and took up guitar.
"At every roadblock, there's opportunity," he says.
Williams served in the United States Marines and was stationed in Japan. There, he read, drew and learned more about his spiritual quest. Once back home, he practiced varying art forms at the University of Southwestern Louisiana (now known as the University of Louisiana-Lafayette).
"I painted in the summers, did printmaking and all kinds of things," he says. "I drew with Elemore Morgan and Tom Secrest. I would walk or ride my bike from St. Martinville."
Williams also started performing in his family's band. Over the years, Williams has played music with or opened for the likes of Bo Diddley, Buddy Guy, James Brown, Chris Botti and a slew of other renowned musicians.
Even though he may not have known it, Williams was destined to be a mystic from the day he was born.
People who have seen him perform have asked if he's a preacher, and he refers to his visual art as "soul impressions."
"My art just happens," he says. "I've developed my inner voice. My vision is personal."
That inner voice also helps Williams make decisions on the St. Martinville City Council where he was initially appointed and then elected.
"I didn't even campaign;
I didn't even put signs up," he says.
Just listening to his personal philosophy on art, music and life is enough to make a person realize that, for Williams, being different has been a blessing.
"Be receptive," he says. "Be a good listener. Don't come to conclusions. Never compete. Never say 'better'; say 'different.' Train yourself to think openly, not recklessly. Keep your dignity. Guard your name with your life."
On his Web site, www.dennispaulwilliams.com, he is quoted saying of his visual art: "Each piece is more a prayer than an image. What I try to create comes from the heart. My art is like a lotus [that] rises from the dark bottom of a pond, stretching its petals toward the light to greet the calmness of the day. My art is a meditation."
Yes, Dennis Paul Williams is different. He knows that and accepts the reality. No matter what's written or said about him, the man is comfortable with himself, and that is evident in the art and music he shares with the world.