Desert Dreams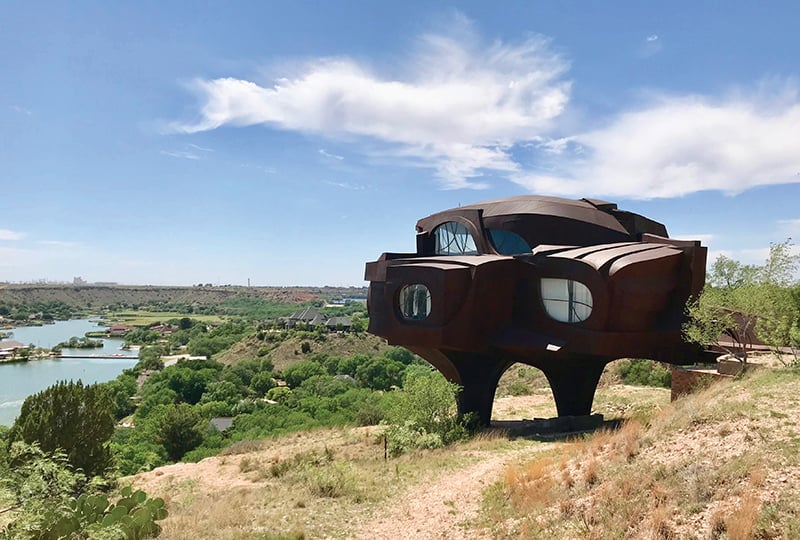 Bruno House
---
Lubbock might be the epitome of this column's title, being that it's one of the farthest flung cities in Texas. Flying into the flat, dry West Texas town, looking down on agricultural squares resembling a quilt of desert colors, it's about as far removed from Louisiana as the moon.
Yet, it's that dichotomy that makes it fascinating. That and its myriad attractions you'll not find anywhere else. There's also great food, friendly people and a vibrant arts scene.
If that's not incentive enough, the Lubbock area grows the majority of Texas grapes, helping make the state one of the top wine producers in the United States.
---
Buddy Holly
Buddy Holly Center You can't mention Lubbock without its famous resident, Charles Hardin Holley, a young man with such a big name his mother called him "Buddy." He created a rockabilly sound with The Crickets in the early years of rock 'n' roll that took the world by storm before he died in a tragic plane crash at age 22. Lubbock celebrates this legend at the Buddy Holly Center (he changed the spelling of his name when he published his first record) and includes memorabilia from Holly and other famous musicians.
J.I. Allison House Next door to the Buddy Holly Center is the home of Jerry Ivan Allison, drummer for The Crickets and cowriter of their hits, "That'll Be the Day" (which was written in this house) and "Peggy Sue." The Crickets practiced in the house as well, and above their drum set rests a New Orleans street sign stolen when the young boys took a road trip to Louisiana.
Buddy's Gravesite Devoted fans leave a variety of gifts, including guitar picks and high heel shoes, at Buddy Holly's grave in the Lubbock City Cemetery. His name is spelled correctly here.
The Unusual
Bruno House Texas Tech architecture professor Robert Bruno created a sculpture of a steel house in 1971, which is now on display on campus. The creation, however, inspired him to make a larger version — one he could live in. Bruno died in 2008 after more than three decades of work on the house and 110 tons of weathering steel. The Robert Bruno Steel House remains incomplete, but is open for tours. Note: The inside is as fascinating as the exterior.
Prairie Dog Town Visitors to Lubbock love catching a glimpse of the cute prairie dog, but residents aren't so fond of the pesky critters. They're akin to squirrels, although these dogs create burrows in yards. It's the reason K.N. Clapp created Prairie Dog Town in the city's Mackenzie Park, a way to protect what he feared might become an endangered species. Visitors can watch dozens of these dogs play, although they won't fetch sticks.
Ralph's Records Music lovers must save time for a visit to Ralph's Records, one of the largest record stores in Texas — and you know that has to be big. Visitors will find thousands of new and used CDs and vinyl, films, games, comics, toys and concert tickets.
Do
National Ranching Heritage Center Step back in time and learn about the Native Americans who lived on the prairies and how pioneers settled West Texas and the houses and ranches they occupied at the 27-acre Ranching Heritage Center. The structures moved to the property range from the years 1780 to 1950 and the museum offers seven exhibit galleries. The Center also features special events throughout the year.
First Friday Art Trail The first Friday of every month features a free, self-guided public art event in the Lubbock Cultural District. In addition to gallery openings and new museum exhibits, there's music and an assortment of food trucks.
Cactus Theater Numerous famous people have graced the stage at the historic Cactus Theater and their signatures grace the walls of the dressing room. The theater has been beautifully renovated and is now used for film screenings, local and touring concerts and other special events
---
Coming up
In the works is the massive Buddy Holly Hall of Performing Arts and Sciences,
scheduled to open in 2020 and become the home of Ballet Lubbock and the Lubbock school district's Visual and Performing Arts. The massive arts center will include a 2,200-seat main theater, a 425-seat studio theater, a 6,000-square foot multi-purpose room and outdoor performance areas.
---
ART
Tornado Gallery
The gallery offers a variety of local and visiting artists but back of house Tony Greer creates plasma/neon sculptures and Sandstorm Glassworks fires up unique glass pieces for weddings and special events. There's a patio for live e vents as well.
CASP
The Charles Adams Studio Project in the Lubbock Cultural District provides studio space for artists. Many offer classes to the public, including printmaking, monotypes and working a forge. CASP also features gallery space with revolving exhibits.
Texas Tech
One percent of construction budgets on campus must be spent on public art, which is why Texas Tech's sculptures have been named one of the top 10 public art collections in the United States by the Public Art Review. Self-guided and led tours showcase the more than 100 pieces on campus, including the Will Rogers statue at the school's entrance.
---
DINE
Cast Iron Grill
Teresa Stephens grew up in a family of bakers but she didn't veer toward desserts until she opened a restaurant in a spot once known for pies. Customers kept asking for pie and Stephens delivered. The Cast Iron Grill is now known for "boots, pies and chicken fry," not to mention the fun antiques and signs gracing the walls. Be sure and sample the buttermilk chess pie, her grandmother's recipe.
Flippers
Pub grub, including an eclectic variety of hot dogs, is on the menu here, but what'll turn visitor's eyes are the pinball machines that double as tables and artwork.
La Diosa Cellars
If ambiance is as important as a good meal, La Diosa Cellars has it in abundance. The walls are covered in fascinating artwork, many for sale, and comfy chairs and couches offer cool places to enjoy company, wine and the restaurant's Spanish tapas.
---