Direct Descendant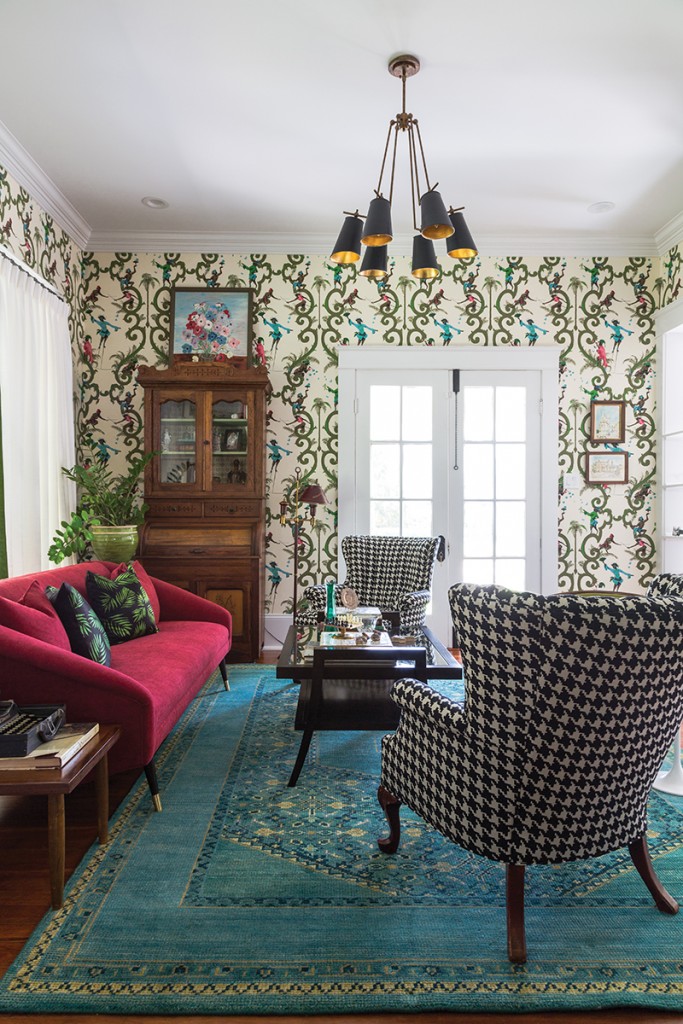 Hayley Taff's grandfather lived in the 1899 Hammond house she lives in today. So did her father. Hayley herself grew up in the house and dreamed of one day renovating it. Last year, she got her chance. Hayley, a certified health and life coach who now lives in the house with her husband Tom Taff and father Don Fellows, renewed what had become a faded vestige of a family's past into a fresh reiteration that thoroughly respects that heritage. (In addition to occupying the house for more than a century, the Fellows family is known for owning the Central Rexall Drugs in Hammond, which closed after 120 years of business in 2016.)
"The house was always very busy and full of life," says Hayley. "But, it had gotten dilapidated over the years from all the wear and tear."
According to Hayley, the house is said to originally have faced another direction and it went through updates in the 1920s, 1950s and 1970s. There was also a kitchen remodel in the 1990s. The latest renovation, which involved gutting the interior, was intended to make the house a cohesive blend of old and new. The cottage feel of the original architecture and craftsman elements — probably added during the '20s (such as cypress paneling in the dining room and den and a built-in cabinet in the dining room) — set the tone for the reboot.
Working with Pentek Homes and Adamick Architecture, both of New Orleans, Hayley kept those features, while modernizing the house with a current aesthetic. Structural repairs included shoring the foundation and adding support beams for the sagging second floor, while changes to the interior architecture included bumping out closets for a new office space, extending inner walls to the outer edges of several previously enclosed porches, as well as a new kitchen and new baths.
Hayley then teamed with mother and daughter designers Penny Francis and Casi St. Julian of Eclectic Home in New Orleans to create an interior where inherited furnishings and heirlooms meet new designs chosen to put the couple's own stamp on the house. Evidence that Hayley and the design team were well-matched came in the form of mood boards.
"Penny and Casi put together a mood board and I had done one and they were almost identical," says Hayley, who found inspiration in such things as the vintage look of the pre-renovation wallpapers added during the 1970s. "We were all sort of on the same page from the beginning."
Francis and St. Julian found a Schumacher wallpaper (for the living room), which Hayley describes as South Carolina Lowcountry meets Colonial India.
"That kind of set the color palette of blues and greens for the rest of the house," she says. "But I also wanted a red couch, that's where some of the red started to come in."
The challenge, according to Francis, was in editing the many pieces that Hayley had inherited.
"We had to figure out which pieces to incorporate and refurbish, so that they provided the function and the form that was appropriate to the design," says Francis, who is pleased with the final mix.
Homages to the family's history are found throughout the house — from the Dixie Beer, Tabasco and other framed local imagery that have been in the kitchen since Hayley's childhood to the depression era glass displayed in the dining room — and are the soul of the renovation, which is as much about honoring years gone by as it is heading into the future.
"I love history and I think it's important to know where we came from, so we know where we're going," says Hayley. "I wanted to make sure that was all incorporated into the house."