Doctors to Be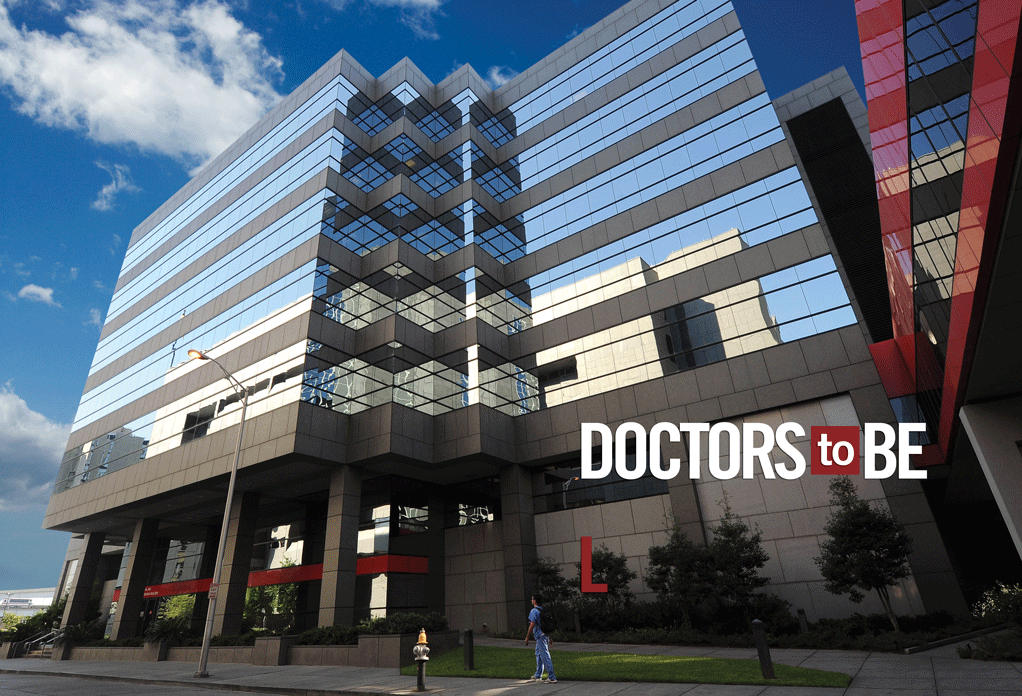 Louisiana is fortunate to have three top-notch medical schools that provide the state with a supply of well-trained physicians. LSU Health Sciences Center has a medical school in New Orleans and one in Shreveport, while Tulane University School of Medicine is located in New Orleans. Together, they supply many of the medical professionals who give care to thousands of Louisiana residents.
For more than 175 years, Tulane University School of Medicine has played an integral role in the health and welfare of Louisiana. But for Dr. Benjamin Sachs, dean of the School of Medicine, the present is every bit as important as the past. He's proud of the fact that for the second year in a row, the Association of American Medical Colleges ranked Tulane in the Top 3 medical schools in the country that have made a difference in their communities.
"We're competing against every other medical school in the country," says Sachs, who has been at his post for more than two years.
And the future looks equally bright. "We have over 10,000 applicants this year," Sachs says. In fact, of all of the medical school applicants in the country, one in four applies to Tulane. Of those, 185 will be accepted. After graduation, these new doctors disperse throughout the country to do their residencies, but a quarter of the class remains in Louisiana, providing the region with many of its finest physicians.
For prospective students, one of the draws is the chance to be a part of what could be considered a revolution. "Our mission is to reform the health care system in this city and state," Sachs says. The medical school has been at the forefront of a movement to do away with a centralized delivery system, under which thousands of poor and uninsured patients turned to a large charity hospital for health care. Emphasis now is on community-based clinics in such areas as eastern New Orleans, along with mobile health care and mental health units. Tulane has been recognized nationally for its efforts to deliver health care within the community, which makes for better continuity of care and more efficient delivery of services.
It's especially remarkable that Tulane has made such progress just five years after Hurricane Katrina. "When I first came, New Orleans and Tulane were still on their knees post-Katrina, with deep financial problems," Sachs says.
He had to recruit 21 senior physicians, including nine department chairs; renovate spaces; and rebuild the school's research base. He gives credit to the men and women who returned after the storm –– physicians, nurses, professors –– "incredibly courageous people who could have gone anywhere [but] decided to come back."
The medical school is also making radical changes in the way it teaches, Sachs says. The goal is to turn students into lifelong learners. In medicine, new discoveries make material obsolete so quickly that physicians have to be able to absorb new information at all points in their careers, he says. Too, doctors need to communicate well with their patients and educate them. The school is also undergoing a major renovation of its lab spaces.
Other new programs include the Tulane Rural Medical Education program to attract medical students who will practice in rural communities and small towns and the Tulane Accelerated Physician Training Program, a seven-year program that combines an accelerated two-year bachelor's of science degree with a year of service in AmeriCorps and then four years of medical school.
As newly passed federal health care legislation begins to affect his profession, Sachs remains optimistic about the future. Medicine remains a calling, he says, and health care reform will increase the demand for physicians.
LSUHSC School of Medicine – New Orleans
In response to the country's growing demand for physicians, LSU Health Sciences Center's School of Medicine in New Orleans has ramped up admittance from 165 to 200. Well over 1,000 candidates apply annually, says Dr. Sam McClugage, associate dean for admissions, about 650 of whom are Louisiana residents. More than half of those who graduated from the program in May 2010 elected to do their residencies in Louisiana. Many of them will take their first job within 100 miles of where they did their residencies, a major boon to the state.
New federal health care legislation is expected to pour between 30 and 35 million uninsured or underinsured Americans into the medical marketplace, McClugage says, stepping up the demand for doctors even more.
In addition to the traditional four-year program, the medical school recently added a M.D./Ph.D. program, which includes a degree in public health. The Rural Scholar's Track program identifies students who might be interested in practicing in rural parts of Louisiana and offers them tuition waivers in return for their commitment to practice for at least five years in underserved areas of the state.
Dr. Steve Nelson, dean of the medical college, says the school made a remarkable recovery from the aftermath of Hurricane Katrina, which saw hospitals like "big Charity" close and patients relocate. In November, the school received a full eight-year accreditation from the association that accredits medical schools. In addition, funding for research from the National Institutes of Health is higher than it has ever been and the school is attracting outstanding faculty members, Nelson says. At present, the school uses University Hospital, renamed LSU Interim Hospital, for training; a new 424-bed hospital is in the planning stages.
Nelson has been with the school for 26 years and became dean three years ago. He considers the school's primary function to be supplying quality physicians to the state of Louisiana and says the number of LSU grads who remain in the state to practice accomplishes that goal.
LSUHSC School of Medicine – Shreveport
LSU Health Sciences Center's School of Medicine in Shreveport graduated its first class in 1974. Students use the school's University Hospital as their teaching hospital, and about half of each graduating class elects to do their residencies in Shreveport. Dr. Andrew Chesson, dean of the school of medicine, says that small classes –– the school admits about 118 students each year –– result in close relationships among students and faculty. "We have a friendly, interactive medical school," he says.
During their final year, students at the Shreveport school learn to manage patient care using simulators. Students are also filmed as they interact with patients played by actors following a script. After watching the playback, students and professors discuss better ways of dealing with common scenarios –– telling parents their children are seriously ill, for example. Care is taken to teach students to become teachers themselves, Chesson points out, so they will be able to explain to their patients the best methods of dealing with chronic diseases such as diabetes and hypertension.
Like those from Tulane and LSU New Orleans, Shreveport graduates go into many fields, Chesson says. The hope is that more will choose primary care, although it generally pays less than such specialties as cardiology and neurology. Many parts of Louisiana could benefit from having more primary care physicians, and the Shreveport medical school also has a program to encourage students to practice in rural areas.
Chesson says class size will remain stable at the Shreveport campus, both because of space limitations and because the smaller size allows for lots of one-on-one interaction among faculty and students. Medical school comes with lots of pressure and an intense learning schedule, and having the opportunity to meet with your professors in small group settings can relieve some of the strain.