Dog Days Of Summer this Saturday at the Bossier City Farmers Market!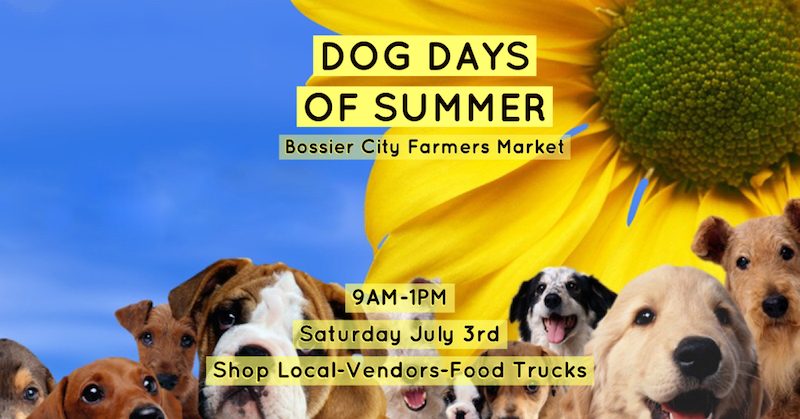 BOSSIER CITY, La (press release) – Open every Saturday thru Nov. 20 (no breaks) 9 a.m. – 1 p.m. in the south parking lot of Pierre Bossier Mall.
Bring your leashed pets to the market this Saturday and enjoy some summer fun! Ice and water pools, plenty of green grass, cooling tents, pet treat and pet vendors!
-75+ Vendors weekly with an abundance of local fresh veggies and fruits, food trucks, jams, salsa, honey, baked goods, street tacos, jellies, handmade soap, sweet corn, watermelon, pickles, flowers, bread, pies, tamales, kettle corn, candles, Cajun cuisine, BBQ, southern comfort foods, meatball hoagies, Venezuelan cuisine, fresh gulf shrimp and seafood, pet treats, handmade jewelry, art, crafts, shaved ice, fresh squeezed lemonade, real fruit smoothies, funnel cakes, and much more!
Enjoy fresh local produce and goodies, live music, and kids activities only found at the Bossier City Farmers Market, while shopping in a safe outdoor "Social Distancing" environment. Just pull up, park right next to the market, and start shopping. Easy!
-We will be posting maps and vendor information HERE weekly so you can make your shopping list before you arrive to save time.
-Please come support your local community, and invite your friends and family to come to the market and do some shopping. Don't forget we're Pet Friendly!
Located at 2950 E. Texas St. on the south side of Pierre Bossier Mall. (I-20 & Airline/ Airline & E. Texas). We look forward to seeing you there!
Brought to you by InstaGraham Events. www.InstaGrahamEvents.com