easy does it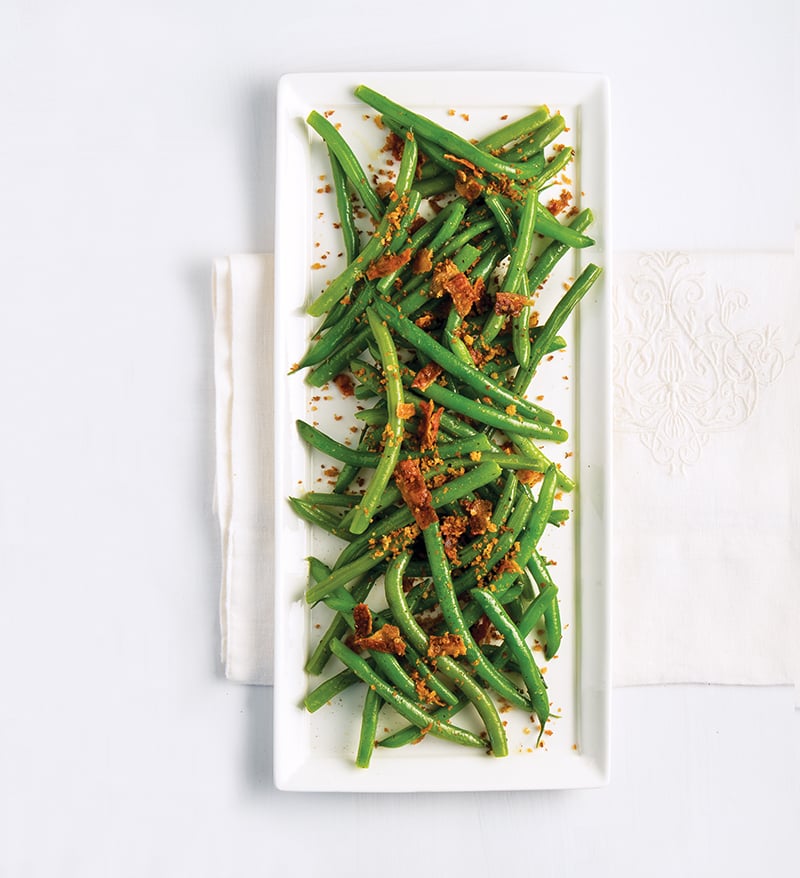 This time of year, home gardens and farmers markets are overflowing with vegetables, herbs, fruits and berries, creating a banner season for cooks. As spring changes over into summer, we reap the benefits of both seasons. Our cooking is becoming lighter, vegetables are assuming more importance and we tend toward meals that showcase our local produce without requiring long hours of cooking. This month's recipes are for several flavorful dishes that can be mostly prepared in advance and made with a minimum of effort.
Personally, I love preparations, such as sauces, that are simple to make and that can be used for a variety of purposes. Recipes for classic pesto vary, but they almost always include fresh basil and olive oil, garlic, cheese (Parmesan and, or Pecorino Romano) and pine nut. The recipe for Arugula and Anchovy Pesto that follows makes a more assertive sauce that will be especially appreciated by those who love strong tastes.
The recipes for Green Beans with Bacon and Zucchini au Gratin feature two of summer's favorite and most prolific vegetables.
Both are a snap to make. For a simple dessert, try the Blackberries with Maple Syrup recipe. It's a revelation how the maple syrup, used in place of sugar, heightens the taste of blackberries. Top the berries with cream and mascarpone or yogurt, and you have a delightful summer sweet. To gild the lily, you can also serve some thin lemon cookies.
> The initial preparation can be done in advance, if desired; the final turn in a skillet takes only minutes.
Green Beans With Bacon
The bacon and breadcrumbs provide both crunch and flavor.

Bring a large pot of salted water to a boil. Trim and wash 1 pound green beans. Add to boiling water and cook until just tender, about 3-4 minutes. Drain in a colander and refresh under cold running water. Drain, then dry in a clean kitchen towel.
Meanwhile, cook 4 slices thick-cut bacon until crisp but still slightly chewy. Drain on paper towels. Chop bacon.
Melt 3 tablespoons butter in a large skillet over medium-high heat. Add beans and bacon and cook for a few minutes, stirring frequently. Add 2 tablespoons Panko breadcrumbs, stirring to coat beans, until browned. Season to taste with coarse salt and freshly ground black pepper.
Makes 4 servings
---
Blackberries With Maple Syrup And Whipped Mascarpone
This is indulgent, but the richness of the cream and mascarpone and the sweetness of maple syrup show off the berries to good advantage.

1 pint blackberries
½ cup heavy cream
½ cup mascarpone
4 tablespoons maple syrup
1. Wash blackberries and pick over. Dry on paper towels. Divide among 4 dessert dishes.
2. Whip cream until it begins to thicken. Add mascarpone and whisk until just combined. Place a dollop of whipped mascarpone on each dish of blackberries and drizzle with maple syrup. Serve with lemon thins.
Makes 4 servings
TIPS
for the blackberries with maple syrup and whipped mascarpone:
If desired, use a variety of berries, such as blackberries, raspberries and blueberries. If you wish to reduce calories and fat, substitute plain, unsweetened yogurt for the heavy cream and mascarpone.
for the lemon thins:
This dough can be frozen and defrosted when you're ready to make cookies, but don't let it soften too much or you won't be able to slice it.
---
Arugula and Anchovy Pesto
This robust sauce can be used in a variety of ways. Serve it with pasta, with boiled or roasted new potatoes, with hard-boiled eggs, combined with a can of drained and rinsed cannellini beans or chickpeas for a quick salad or spread on a sandwich.
1 cup arugula (torn and packed), 4 cloves garlic (minced), 4 anchovy fillets packed in oil, 1½ cups grated Parmesan and/or Pecorino Romano cheese, 1 cup extra virgin olive oil and ½ teaspoon freshly ground black pepper in a food processor and pulse until combined.
Makes about 1 cup
---
Lemon Thins
These little cookies are light and bright with lemon flavor.
¼ pound butter, softened
1 cup sugar
1 egg
2 tablespoons freshly
squeezed lemon juice
1 tablespoon finely grated
lemon zest
¼ teaspoon salt
1 teaspoon baking powder
1½ cups all-purpose flour
1. In a mixing bowl, cream butter, add sugar and beat until fluffy. Add egg, lemon juice and zest and mix well. Add salt and baking powder and mix well. Fold in flour with a rubber spatula.
2. Divide the batter in half and, using a rubber spatula, transfer each half to a length of wax paper. Using the sides of the wax paper, shape each into a cylinder about 1½ inches in diameter. Roll wax paper around the dough and refrigerate until firm.
3. Preheat oven to 375 F and grease a cookie sheet. Slice chilled dough into rounds about ¼-inch thick and place on greased cookie sheet. Bake until brown around the edges, about 8 minutes. Remove from oven and let cookies cool on cookie sheet.
Repeat with remaining dough.
Makes about 40 cookies
---
Zucchini au Gratin
Gardeners need a large repertoire of zucchini recipes in order to keep up with the prodigious yields from their plantings.
Preheat oven to 350 F. Wash and trim ends of 2 large zucchini (about 1 pound total). Cut lengthwise into thin slices. Lightly coat a large cast iron skillet and an 8-inch baking dish with extra virgin olive oil.
Place skillet over medium-high heat and add enough zucchini to cover the bottom. Cook until browned, then turn and cook the other side. Transfer zucchini to baking dish, season with coarse salt and freshly ground black pepper and sprinkle with freshly grated Parmesan (½ cup total for recipe). Repeat with remaining zucchini until all are cooked, adding a little oil to skillet, as needed. Combine 1 clove garlic (minced), 2 tablespoons chopped parsley, and 3 tablespoons breadcrumbs and sprinkle over the zucchini. Drizzle with remaining olive oil. Bake until top is browned, about 15 minutes.
Makes 4 servings