Eat Your Greens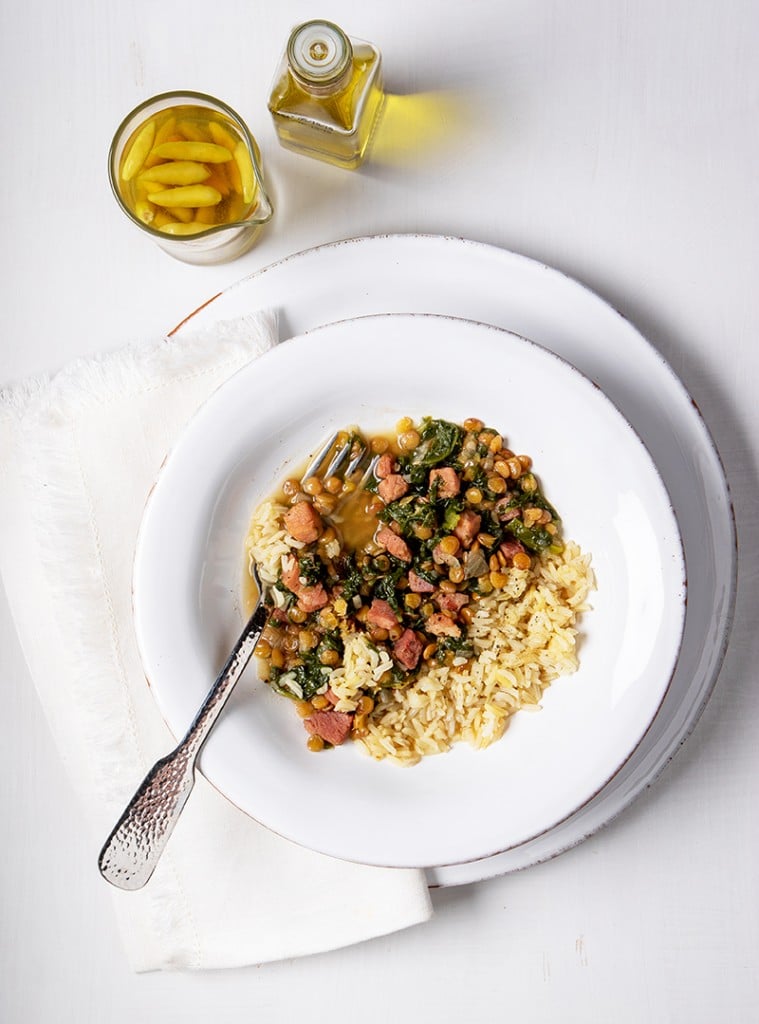 Certain foods can trigger a jumble of memories that span decades. Often all it takes is an aroma or a taste, sometimes only a visual representation, for a lifetime of longings and loves to flood our consciousness. That is probably what people mean when they speak of comfort food. Southerners can name a variety of dishes that fit under that rubric. For many, a mess of greens is one of them.
In one of Elmore Leonard's novels, two hitmen from New Iberia are hanging around Detroit, waiting for the right time to take out their target. I have no idea why Leonard chose New Iberia as the home of his hitmen, but there you are. The guys are homesick. What they really want for solace is a mess of greens, but they can't find any in this strange city. Finally, they get their greens in an Italian restaurant.
When greens are cooked in the Southern manner, with some form of fatty pork, the liquid that results from their long simmering is called pot liquor or, in the vernacular, "potlikker," and it is prized as much or more than the greens themselves. It is so highly esteemed that, in 1931, it became the subject of a national debate between Gov. Huey Long and Julian Harris, an editor of the Atlanta Journal Constitution. The disagreement had to do with whether cornbread or cornpone should be dunked or crumbled into the potlikker. Long came down on the side of dunking.
This month we have recipes for kale, mustard greens, turnip greens and collards. I have eaten greens all my life, but it wasn't until one summer during college that I discovered kale in a Cape Cod diner, where I worked as a waiter. On Sunday nights, the dishwasher, who was of Portuguese descent, prepared two specials. One of them was kale soup and the other was a baked bluefish dish. Both were delicious. I've never been able to figure out how he prepared his bluefish, but I've made the kale soup many times since then, relying on my memory in lieu of a recipe.
I'm very fond of lentils. When I cook them, I often add some spinach. But I recently discovered that mustard greens are an even better addition. I like to serve the dish over rice, with hot pepper vinegar and olive oil.
Orecchiette is the little chewy ear-shaped pasta which is sometimes cooked with greens, a delicious combination made pungent with olive oil, garlic, red pepper and anchovies. It is just the sort of flavorful dish that cries out for a full-bodied red wine on a cold winter night.
Collards require longer cooking than most greens, but you're rewarded with big flavors. Usually they're cooked with salt pork or ham hocks or some other form of fatty pork, and they are delicious that way. This recipe calls for spiced and smoked tasso, which is leaner. Olive oil takes the place of fat.
---
Braised Collards with Tasso
I like my collards with a little bite to them. If you like yours softer, increase the cooking time.
Place ½ pound tasso (sliced) and 3 cups water in a large pot and bring to a simmer. Meanwhile, cut large stems from 2 bunches collards, then tear or cut leaves into smaller pieces. Wash well and add to pot. Cover and simmer until tender, about 60 minutes. Season to taste with coarse salt and freshly ground black pepper. Serve with hot pepper vinegar and extra-virgin olive oil. Makes 4 servings
Kale Soup
If pressed for time, use canned white beans, drained and rinsed, but add them at the end.
1 cup navy or great northern beans
2 tablespoons extra-virgin olive oil
1 medium onion, chopped
4 cloves garlic, minced
½ pound smoked sausage, sliced
6 cups chicken stock or broth
1 bunch kale
2 medium potatoes
Coarse salt and freshly ground black pepper
Cayenne pepper
1. Sort beans and rinse. Place beans in bowl, cover with boiling water and soak for 20 minutes. Drain.
2. In a heavy pot, cook onion and garlic in oil until softened. Add sausage, chicken stock and beans. Bring to a boil, reduce heat, cover and simmer until beans are tender, about 1 hour.
3. Strip kale from stems. Discard stems, wash kale and chop coarsely. Add to pot. Peel potatoes and cut into bite-size pieces. Add potatoes to pot and simmer until potatoes and kale are tender. Season to taste with salt and peppers.
Makes 4-6 servings
Orecchiette With Turnip Greens
If desired, serve with freshly grated pecorino romano.
1 bunch turnip greens
½ cup chicken stock or broth
2 cloves garlic, minced
Large pinch crushed red pepper
4 anchovies
¼ cup extra-virgin olive oil
Coarse salt and freshly ground black pepper
2 cups orecchiette
1. Cut away large stems from turnip greens. Wash and chop greens. Put in a large skillet, along with chicken stock, garlic and red pepper. Cover and simmer, stirring occasionally, until tender, about 30 minutes. Mash anchovies in olive oil, add to pan and stir to combine.
2. Cook orecchiette in boiling salted water according to package instructions until al dente. Drain, reserving some of the cooking water. Add orecchiette to pan and simmer, while stirring, for a minute or two.
3. Add some of the pasta water, as needed. Season to taste with coarse salt and freshly ground black pepper.
Makes 4 servings.
Lentils and Mustard Greens
In a heavy pot on medium heat, cook 1 medium onion (chopped) and 1 cup cubed ham in 2 tablespoons extra-virgin olive oil, stirring frequently, until browned. Add 4 cups chicken stock or broth to pot and bring to a boil. Pick over and rinse 1 cup brown or green lentils, then add to pot. Rinse 1 bunch mustard greens under running water. Cut away large stems. Stack leaves and cut crosswise into thin ribbons. Add to pot. Cover pot and simmer until lentils are tender, about 30-40 minutes. Season to taste with coarse salt and freshly ground black pepper. Serve over steamed rice, accompanied with hot pepper vinegar and extra-virgin olive oil. Makes 4-6 servings
---