Escapism 1940's Style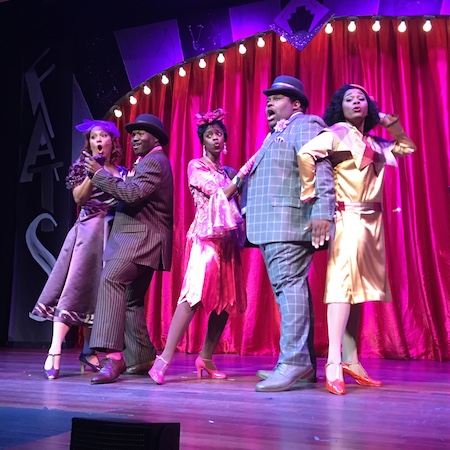 While only the echoes of thousands of G.I.s and Hollywood's "who's who" can be heard at the former sites of the Stage Door Canteen in New York and Hollywood, the music, laughter and entertainment fills the air 75 years later in what may be the next best thing, and a tribute to a spirited bygone era.
These canteens – which were meant to (and did) provide pure escapism for anxious G.I.s who were heading into mind-boggling missions – had the likes of Bing Crosby, Marlene Dietrich and Lauren Bacall entertaining them, dancing with them and serving them refreshments.
With great enthusiasm, some of today's talented entertainers do their part to not only honor those who fought and served in WWII, but also whisk away the audience of today with their talents.
The moment you cross the threshold of BB's Stage Door Canteen at the National World War II Museum in New Orleans, you know you have entered another dimension. From the 1940s décor, memorabilia, and lights set low to tables dotted with candles aglow, the intrinsic mood is set. With its red velvet drapery—reminiscent of the time—the focal point is the stage itself, and a large American Flag adorning the wall above.
From the people who work here, the servers to the performers, there's a presence that is powerfully uplifting, fun and, at the same time, patriotic. There's a mood that's carried out; after all, it was the historic canteens that brought joy to thousands of American soldiers.
Yes, you are sitting in the heart of New Orleans, a city which oozes unsurpassed talent in the music and entertainment industries. It's that undying, spirited talent which shines at the Stage Door Canteen shows.
There are several shows from which to choose, and along with those productions is a scrumptious culinary affair inspired by foods and ingredients used in America during the second World War. You can taste history, which we'll get to in a moment, but first, let's talk about the shows (and one in particular) that can't be missed.
There is truly something here for everyone. The classic 1940s' songs performed in three-part harmony by The Victory Belles; there is their new male counterpart trio called The Vic Tones; and there's everything in between, including swing dances with live swing bands and dance instructors.
While all of the aforementioned will entertain even the most discerning of audiences, perhaps among the favorites is the upbeat, sassy and sultry "Ain't Misbehavin", a Fats Waller musical featuring a team of five dynamic performers who give the audience everything they've got. If you blink, you can miss a lot in this action-packed musical where performers are backed by a live band, which includes some of the best musicians in town, masters of their craft who blow their horns and tickle the ivories with heated passion. Oh yes, you will find it hard to keep still in your seat as the music moves you.
Unlike the real canteens on the home front during World War II, which did not serve alcohol (with the exception of someone sneaking it in), at BB's Stage Door Canteen libations pour, the laughter flows, and the audience joins in singing and clapping. Proceeding the show, these true showmen head out the door only to great the audience and to take photographs.
As mentioned, you can enjoy a delectable three-course dinner before curtain-call, and sit at the same table from which you will watch the show. From start to finish, the food courses are dishes inspired by World War II era ingredients, which soon became common parts of the American diet. Ingredients were bartered amongst fine restaurateurs in New York City and across the country in the 1940s; hence, there was no getting around government controlled rationing to help fund the war, a deprivation every American took part in to help support the fight for liberty. After conducting a bit of research and sifting through culinary history, Stage Door Canteen chefs incorporated ingredients popular during the depression era, putting things like boiled peanuts and broth into their savory entrees, which lack nothing when it comes to flavor. So, how do these two scrumptious dinner entrees choices sound? Fire-roasted salmon sauerkraut with spicy boiled peanuts, Essex mustard, and smoked ham hock broth or fried yard bird crispy, boneless chicken with roasted sweet yams, sawmill gravy, with turnip-hot honey greens. You can't go wrong with either.

(L to R: fire-roasted salmon sauerkraut and Not-Cha Moma's pot roast)
(Tip: A glass of house red or white wine is included with the price of your dinner, and bottles are available for purchase, as well as your favorite cocktails). They also offer delicious brunches and lunches with the shows, or you can opt for a show without a meal; however, the unique dining experience here is something not to be missed.
Speaking of food inspired by the 1940s, the neighboring American Sector Restaurant and Bar, also housed in the World War II Museum, is another great option for lunch or dinner. American Sector, which drips in nostalgic décor and offers great views of New Orleans Warehouse district on one side of the restaurant, offers a Victory Garden-to-Table menu highlighting locally-sourced produce and ingredients, an inspiration also used in dishes at the Stage Door Canteen.
For starters, be sure to try the crawfish boil fritters (which is everything served at a crawfish boil all wrapped into one tasty fritter) or the house-smoked salmon rosettes. The shrimp and grits can't be beat, along with the Not-Cha Moma's pot roast or the Belle burger. Wash it down with a refreshing Buffalo Solder, Midway Mule, or Beso Del Sol Frozen Sangria. (Tip: Happy Hour is from 4 – 7 p.m. daily). Got a sweet tooth? The mouthwatering trio of trifles and coffee pots de crème are great choices and will leave you satisfied.
For more information go to nationalww2museum.org/stage-door-canteen and nationalww2museum.org/american-sector