Events and Highlights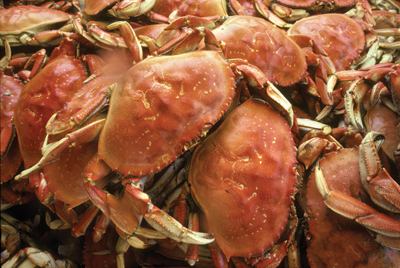 North
SEAFOOD IN MINDEN
The Crawfish Hole # 2 in Minden, an eatery dedicated, but not limited to, Louisiana's revered crustacean. This popular, laid back restaurant, festooned with fish nets and lined with windows, white with crawfish-red pillars inside, is a bright happy place to enjoy delicious food. Owned by Bush and Juanice Carnahan, in addition to serving some of the spiciest, most succulent mudbugs to be found in North Louisiana, this seafood establishment is no slouch in the crab, shrimp and oyster department either during the mudgbugs' offseason. Among their delectable appetizers are snow crab clusters; fried pickles; beer-battered jalapenos; crawfish pies and boudin balls.
For a new take on sandwiches, the crab cake poor boy is delightful – the crab cake itself is a perfect blend of texture and flavors perfectly fried. Then, for a new take on an entrée, the same delicious crab cake is served topped with crawfish etouffee in the crab cake dinner, accompanied by cole slaw and hush puppies. Traditional seafood platters are offered with the addition of frog legs, fried crawfish tails and boudin balls to the usual fried and stuff shrimp; stuffed crab and oysters.
If you're in a lighter frame of mind, take salads to the edge of decadence by choosing a salad with fried oysters, which features a combination of fresh greens and your choice of dressing along with the delicious crunch and texture of the aforementioned shellfish.
THREE HOLIDAYS
The first of October is always enchanting. Gateway to the seasons of Halloween, Thanksgiving and Christmas, Oct. 1 presages cooler air; open windows; and the Impressionist blur of crimson, gold, purple and bronze autumn flowers and leaves – all accompanied by the aroma of homemade vegetable soup. On this day, I hang a life-sized fabric ghost, a wind catcher, outside my front door. I have come to enjoy the strange little dance we engage in each night I return home and the autumn wind causes the ghost and I to entangle, trapped by its cloth in a comical struggle.
The fine city of Monroe also gives the lovely month of October due celebration as the wonderful Downtown River Market sponsors a series of events all month. Featuring the Children's Coalition, the All Children's Festival at the RiverMarket is a French-style marche, multicultural in nature, that sells fresh produce, artisan works and food in a charming town-square setting. The Herbal Harvest and Original Arts and Crafts Festival, held at St. Paschal's Catholic Church on Oct. 24, will boast 60 vendors selling their harvest of herb plants, home cooking, and arts and crafts. Attendees feast on scrumptious taco soup, herbed chicken salad, grilled sausage, sweets and almond tea.
The Downtown Monroe Alliance will hold The Holiday Market early in October. This market is geared to jumpstart holiday shopping that includes Halloween, Thanksgiving and Christmas items. Everything needed for all the holidays is available under one roof: seasonal decorations; party clothes; gifts; caterers for festive occasions; portraits and candles. The fashion show will highlight the works of participating boutiques. Decorators will be on hand to give advice on how to transform your home into holiday wonderlands while seasoned cooks and chefs will dole out their recipes and tips for memorable holiday meals. Teeming with festivity, the Holiday Market is a perfect starting point to create Halloween, Thanksgiving and Christmas Days your children will long remember.
Information, Crawfish Hole #2, 12903 Highway 371, Minden, 71055, (318) 377-0252; The Holiday Market: October 10-11, 2015, Monroe Civic Center, 318-807-1735, river.market@tci.monroe.la.us; All Children's Festival: Oct. 15, 318 South Grand, Monroe, (318) 807-9985; Herbal Harvest and Original Arts and Crafts Festival: 10/24/15, (318) 801-9138

---
Central
SAVING THE WORLD IN CENTRAL LOUISIANA
The historic Hotel Bentley in Alexandria, under new ownership and extensive renovation, is just hair's breadth from its grand re-opening. This past July, according to a report filed by Jay Matthews of the Town Talk, the grand old hotel opened its doors for a fundraiser to raise money for the Friends of the Louisiana National Guard Museum while providing exposure to the Louisiana Maneuvers and Military Museum in Pineville. It was a fitting location: George Patton and Dwight D. Eisenhower slept, plotted, planned and partied here after long days in mock battles fought among trainee soldiers. Not only that: the Hotel Bentley was the place where key military geniuses met to strategize fighting the war in Europe.
According to National Guard Brigadier General Glenn Curtis, adjutant general, the time spent by would-be soldiers in this part of the Bayou State was invaluable.
"The Louisiana Maneuvers was the premier training that prepared the Army to go to Europe and win," he states.
In 1941, half a million men arrived in Central Louisiana to begin the maneuvers that prepared them to take on Hitler and his Axis of evil.
"From Winnfield to Fort Polk to Alexandria," said 93-year maneuvers veteran and Alexandria native Herbert St. Romain, "there were soldiers everywhere."
Also attending the fundraiser from South Carolina was Pat Waters, Patton's grandson, who brought along his grandfather's old army boots. Remembering the stories he heard about the good times his grandfather had at the Hotel Bentley, he expressed pleasure that the Mirror Room had reopened.
The Louisiana Maneuvers and Military Museum stands in a replica of an old WWII barracks holding many items reflective of that time in Central Louisiana, but also presents artifacts of Colonial Louisiana straight through Desert Storm. The Hotel Bentley lobby held a display of some items found at museum–equipment; uniforms; insignias and videos that exposed the visitors to the scope of the immense operation that was orchestrated in Central Louisiana. The contributions of both soldiers and civilians who worked to eventually save the free world are likewise honored in the barracks-like setting.
According to Museum Curator Rabbi Arne Task, the importance and long lasting impact of the Louisiana maneuvers is not to be forgotten.
"Some of the soldiers who trained here," says Rabbi Task, "are among those who liberated the (concentration) camps."
UNCOVERING A JEWEL
Cemeteries: Paradoxically, they are so much a part of life. I remember once as a 15-year-old attending a wake of one of my great uncles in Bordelonville. Now, the wakes held in Bordelonville used to give the Irish wakes a run for their money. Held in the Pavilion, the town hall of sorts, wakes lasted all night. They were crowded events, where strong coffee and delicious food were consumed as the dearly departed lay in state until the time of the funeral the next morning. I remember that cold windy night one of my male cousins challenged me to run through the dark cemetery at St. Peter's Church and lie on a grave. (I refused.)
The Historical Society of Central Louisiana is on a concerted mission to preserve one Central Louisiana cemetery and keep it from being forgotten. Rapides Cemetery has now come under the umbrella of the newly formed Historic Rapides Cemetery Preservation Society. The group meets regularly to keep this graveyard from being swallowed by Mother Nature by removing fallen branches, trees close to toppling and cleaning the graves with natural solutions. The names on the grave markers tell some of the story of Central Louisiana: Alexander Fulton, founder of Alexandria; Pierre Baillio, builder of Kent House Plantation; James Madison Wells, state governor during tumultuous Reconstruction times and George Mason Graham who is called the "Father of LSU."
It also contains the graves of soldiers who fought in the American Revolution all the way through time to the Vietnam War. Volunteers are welcomed, and events with docent-guided tours are periodically held.
Information, Louisiana Maneuvers and Military Museum, 409 F Street, Pineville, (318) 641-5733; Historic Rapides Cemetery historicrapidescemetery@gmail.com

---
Cajun Country

FULL MOONS AND 13 PENNIES
Legend has it that the Rougaroux, Louisiana's incarnation of the werewolf, lurks at night in swamplands and sugarcane fields. Its glowing eyes blink among the cane stalks as the full moon pours its creamy light onto earth. Sometimes, it howls. Rougaroux Rum, made deep in the heart of Bayou LaFourche country by a distillery surrounded by sugarcane fields produces a trio of mysterious elixirs of rum made with molasses and the raw sugar raised and milled on a nearby family owned farm. From their seemingly enchanted cauldron of spirits, Donner-Peltier Distillers have unleashed sheer imbibing pleasure.
Autumn calls one to sit on the porch in the cool air at the end of a hard day or in front of the fire in contemplative rumination of strange things with likeminded friends, and it is usually not complete unless something is sipped. Sipped in slow contemplation of the change in season, Mike the Tiger and whether or not Blue Dog was really a ghost. Rougaroux Full Moon Dark Rum, made with blackstrap molasses and raw sugar, is aged in white oak for smoothness yet remains bold and mysterious. You might taste the subtle notes of vanilla and orange peel mingling with an oaky wood flavor as you inhale the rich bouquet even a loup would love. This is sipping rum at its finest, but it also mixes beautifully in cocktails.
The creators of this rum triumvirate know their legends well. It is said that, because the Rougaroux has only 12 fingers, he cannot count to 13 – casting 13 pennies outside your door will distract this furry fiend from entering your door. (Snarling and growling, he will keep trying to count them until the sun rises and his nocturnal reign of terror is done.) The 13 Pennies Praline Rum is also made with the local sugar and molasses in small batches to which is added Madagascar vanilla beans, toasted pecans and local artisan cane syrup. Consider it a bottle of Halloween treats for adults to be enjoyed in the light of a Jack O' Lantern.
Lastly, there is Rougaroux Sugarshine rum. 101 proof, it's a tribute to the 101 daylong curse that plagues each Rougaroux. This clear rum is considered "Rum Moonshine," so if you've been lured by the seductive mystery of the first two, beware. By itself, this rum comes on almost like an outright Rougaroux attack, burning and startling. Yet, like the Dark Full Moon rum, it is a perfect mixer for cocktails.
HURRICANE Z IN HOUMA
Picture it: You're in a shelter during a hurricane filled with screaming winds and torrential rains. In the midst of the tempest the power of the storm has conjured up a zombie apocalypse that swoops down on you like a storm surge. What must you do? This evening of horror is hosted by the South Louisiana Wetlands Discovery Center and is part of the annual Krewe Ga Rou Festival. This fundraiser is for future construction of their Discovery Center and to promote awareness of the ecological issues facing south Louisiana and coastal erosion. Volunteers, happy to shriek their hearts out as they temporarily deprive you of yours, keep things horrifically lively as you experience Hurricane Z.
The Festival includes the Rougarou Run wherein the course is plagued by attacks of swamp monsters and zombies who try to steal the flags from your flag football belt. Whoever crosses the finish line with at least one flag on their belt survives the zombie apocalypse. The Krewe Ga Rou Parade, filled with homemade floats and waddling horror creatures is geared towards the family, and since it is not Mardi Gras Day in the French Quarter, modesty of costume is required. Costume contests; food; live music; mask making and a Pin the Tail on the Rougarou contest are among some of the activities certain to draw laughter from children.
Information, Donner-Peltier Distillers, 1635 St. Patrick St., Thibodaux, (985) 446-0002; Hurricane Z, Bayou Terrebonne Wildlife Museum, 7910 Park Ave., Houma, Oct.10-11; 17-18;2 4-25; Krewe Ga Rou Festival, Oct. 24-25, Downtown Houma, rougaroufest.org
* Photograph courtesy Donner-Peltier Distillers

---
Baton Rouge
THOMAS JEFFERSON AND THE UFO
In a report written by one Thomas Jefferson, president of the American Philosophical Society, in Transactions of the American Philosophical Society (Philadelphia 1804), the sighting of a UFO over Baton Rouge was described as observed by William Dunbar, native of Natchez and tireless student of natural phenomena in the lower Mississippi Valley. Dunbar reported he had witnessed a phenomenon moving rapidly in the southwest sky, passing over assembled spectators, "crimson red, the size of a large house, wholly luminous, not emitting sparks." The object disappeared into the northeast, and a loud explosion, but not a sonic boom, was heard as it crashed, leaving a relatively small portion of scorched earth and vegetation in its wake. Further analysis of the data taken at that time concluded the object was no meteor; its speed and semi-hollow metallic density could classify the object as a "supersonic aerial craft – of some kind." One thing is apparent: If it had been an object the size of a house entering earth at meteoric velocity, it would have wiped out humans and property for miles around. The sighting, as of today, remains unidentified.
SUGAR PALACE
Early on a Saturday morning in March at Houmas House Plantation, I arose with a cup of coffee brewed in my guest cottage room and sat on the front porch cradling a copy of Jim Blanchard's book, Louisiana's Sugar Palace, Houmas House Plantation and Gardens. I don't use the term cradling loosely; indeed holding this broad, heavy book that weighs six pounds is like holding a child on your lap – and what a child Blanchard has begotten.
Blanchard, architectural archivist, artist, photographer, history purist and all-around Renaissance man, once lived on the grounds there in a converted pigeonniere.
His book is a brilliantly conceived, multi-dimensional and beautifully executed work. Rich in text and Blanchard's breathtaking photography, it's divided into sections that first tell the history of Houmas House, from the time of the Houmas Indians; John Burnside building his sugar empire; slavery and Louisiana's Code Noir. It contains some descriptions of economic reasons the South went to war against the North – tariffs were placed on Southern goods, and Southern financiers were forced to pay higher interest rates to supplement the failure of Northern banks in 1857. Family photos of the generations who lived at Houmas House carry you right through through the last century to the present when history at Houmas House took another turn as it passed into Kevin Kelly's ownership.
The remaining sections of Blanchard's work capture the renaissance of Houmas House from the barracks-white drab imposed on it by a former owner to its present-day transformation into an exquisite dragonfly gleaming in the light of the River Road. It is rife with interesting minutiae and details that combine together to eave the broader picture of an era. Each page that blooms with Blanchard's rainbow-like photography of the exquisite plantation rooms, antiques, grounds and gardens seems captured by someone with the mind of a curator and the soul of a poet. On a beautiful Friday night last March, Jim Blanchard and I stood beneath the pilot house that crowns the plantation home and he pointed out to me lights strangely flickering there like a feu follet. Blanchard has long experienced supernatural encounters at the plantation since he and owner Kevin Kelly set out to restore it. I asked him if there were electrical problems. Blanchard just shook his head, smiled and told me the flickering lights couldn't be explained.
Information, Louisiana's Sugar Palace, Houmas House Plantation and Gardens, published by Houmas House Plantation and Gardens, (225) 473-9380.

---
New Orleans
KREWE OF BOO
Picture a Mardi Gras Krewe and parade conceived in the mind of mad scientist Morgus the Magnificent one night high above New Orleans in the old City Ice House. There you will have the Krewe of Boo, the official Halloween Parade of New Orleans since 2007.
Each Halloween season, the autumn night skyline of the Big Easy is set aglow with Kern-designed, beautifully horrific floats of skulls, skeletons, werewolves, vampires and other various and sundry ghouls as the cries of, "throw me something, monster" rise from the crowd. The Krewe of Boo riders throw favors to the spectators costumed as aliens, witches, warlocks, zombies and other members of Congress lining the streets in this Big Easy version of the celebration of Samhain. Candy corn necklaces; voodoo pins and dolls; Aunt Sally's Pralines and doubloons redeemable for Halloween treats at local eateries are eagerly caught by claws and hooks to eventually be chewed by fangs of locals and tourists alike. The madcap macabre parade wends its way from Elysian Fields, traveling through the "Boo Carre" on Decatur, Royal, Canal and Tchoupitoulas Streets and ends at the Convention Center. The Krewe's ball, the "Monster Mash" culminates the fiendish festivities from 9 p.m. to 3 a.m. at Mardi Gras World.
KNOW THYSELF
I remember once reading that in some ancient cultures physicians were also priests, the concept being that they not only ministered to the body, but also to the soul. It seemed like common sense to me –treating the entire person and not just the disease. Recognizing that the mind, spirit and body are connected influences in the overall picture of health, New Orleans-based fitness expert Emelina Edwards, author of the acclaimed book, Forever Fit and Fabulous –Even at 70 and Beyond, has taken her training expertise a step further in her latest book, Journey to Self-Esteem, Learn to Love and Appreciate Yourself. She makes the very credible point that in order to properly care for our physical well being (through healthy diet and exercise) we must first love ourselves enough to do so. Edwards is the poster person for this mission to promote positive self-awareness – her latest book not only chronicles the mire of ill health (such as cancer) and depression that she has triumphed over, it's the perfect primer to teach us how to flag (and conquer)negative thought tendencies that family, society and we ourselves have ingrained in our minds and undermined our self-esteem.
One revelatory chapter identifies the 12 common cognitive distortions that can lead you into the low self-esteem quagmire of negative inertia. Among these distortions are: all-or-nothing thinking; filtering out all the positive aspects of a situation; and believing that negative emotions reflect the truth of a situation, among a few. Edwards also tackles the root problem of having a poor body image. Not only is low self-esteem a factor in poor health, obesity and depression, it is a self-defeatist plague. Once Edwards identifies the many factors that can comprise poor self-esteem, she offers inspiring ways to vigilantly combat it in the form of morale-boosters and excellent mental, cognitive, emotional and physical exercises.
"The road to peace and happiness is paved with constant self-monitoring," writes Edwards.
At 73, she is the picture of youthful vitality and happiness. Her newest book is a wonderful guide for everyone to achieve the same.
Information, Krewe of Boo Parade, October 24, 2015, parade rolls at 6:30 PM. kreweofboo.com; Journey to Self-Esteem, Learn to Love and Appreciate Yourself. Soul Garden Press.
* Photograph courtesy Krewe of Boo