Face of Dermatology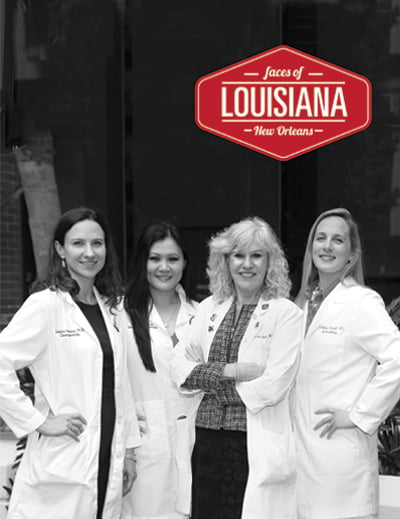 Tulane university school of medicine, Department of dermatology
Tulane Dermatology is known and respected by more than patients—with the utmost in expertise, Tulane Dermatology is also known as one of the best resources to community dermatologists. Bridging the gap between basic dermatological needs and those of a more complex nature, physicians at Tulane offer access to highly specialized care, even when only basic care is needed, and they see patients of all ages, even entire families. No matter the health concern, Tulane is the go-to destination for skincare as well as concerns that go deeper than the surface. Tulane specialists' ability to overlap into other medical fields allows for big-picture care and better, quicker outcomes. Their dermatologists offer free skin cancer screenings throughout the year.
Pictured: Dr. Andrea Murina, Dr. Diane Trieu (Mohs Surgeon), Dr. Erin Boh & Dr. Brittany Stumpf
1415 Tulane Avenue, 5th Floor, New Orleans, LA 70112 | (504) 988-1700
Faces of Louisiana is an advertorial feature highlighting leaders of various industries in Louisiana.