Fall Film Fests: Let the Buzz Begin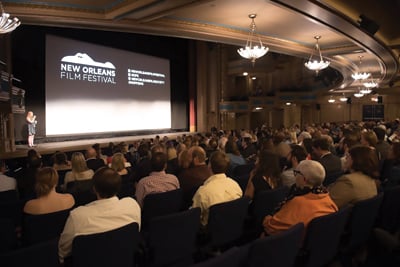 Far from the glitter of Hollywood, aspiring independent filmmakers, fueled by their passion and raw ambition, transform their visions with limited budgets in the hopes that one day, their creative works will be seen around the world. Some make the quantum leap from obscurity to fame by winning awards. Colin Trevorrow's 2012 film fest award for an indie at Sundance propelled him into the director's chair for the Louisiana-shot "Jurassic World," which, in 2015, became the fourth highest grossing film of all time.
Film festivals not only give new indie talent, as well as established artists, an opportunity to shine, but they also allow fans to view bold and creative new films they would not otherwise find in theaters.
The 27th annual New Orleans Film Festival, Oct. 12 through 21, features more than 200 screenings, a diversity of panels, and promises red carpet glitz with Oscar winners and galas galore. It is preceded by Shreveport's fifth annual Louisiana Film Prize, which features the world's largest cash prize for a short film, plus simultaneous food and music fests, Sept. 28 through Oct. 2.
Even as major studio film productions are experiencing a lull in Louisiana, the indie film revolution continues to gather steam. "We are hopeful and optimistic that it will come back stronger than ever," says Joline Pinder, executive director of the New Orleans Film Society. "Our festival has grown tremendously." She points out that a record 3,838 films were submitted this year, up 14 percent from 2015. "We are expecting 375 to 400 filmmakers from around the world."

Diversity is trending in 2016
In addition to amazing new films, parties and networking venues, the events in New Orleans and Shreveport are creating new opportunities for women and minorities behind the scenes. Both festivals have broadened their programs to facilitate further inclusion, which mirrors the national trend in 2016.
Perhaps this was inspired by national attention to the controversy around the lack of diversity among Oscar nominees as well as a government investigation into hiring biases. As a result, programs such as the Sundance Institute's FilmTwo Initiative are dedicated to giving new minority and women filmmakers a chance at equal opportunities.
The Oscar-qualifying New Orleans Film Festival's 2016 focus is on diversity among filmmakers (enhanced by the Emerging Voices Mentorship Program that provides filmmakers of color greater access to industry leaders), in addition to the new Documentary Lab and the second annual Industry Exchange, designed to connect filmmakers with film professionals.
Shreveport's Louisiana Film Prize is a contest and festival (with more than 500 entries this year) that gives the world's largest cash prizes for a short film (a grand prize of $50,000). It requires filmmakers to shoot their productions in the Shreveport vicinity for eligibility, a stipulation that has put hundreds to work, bringing in rental housing and filling restaurants and hotels with the cast and crews — resulting in an estimated $10 million dollars in economic impact.
The lively, fun festival in downtown Shreveport is also breaking barriers. Organizers are committed to diversity, according to Destri Martino, founder of The Director's List and a judge for last year's Film Prize. "Bravo to the Film Prize team for their continued work in this area," she says.
More than 40 percent of the shorts are by female directors and producers, a number that dwarfs the major studio rate of less than 5 percent of female directors, while over 25 percent of the filmmakers and producers identify as belonging to a minority group, compared to half of that in major studios.
"This will certainly be our best year ever," says Gregory Kallenberg, executive director and founder of the Film Prize Foundation. "I can feel the unbridled spirit from our filmmakers, and I know they're going to blow our audiences away with this year's competing films. As well, the Music Prize's presentation of emerging indie rock bands playing alongside indie music pop gods like Polyphonic Spree is going to be magical, and the Food Prize now has its own wine and food event. Together, they are going to create a collective creative energy that will be utterly amazing."
For a schedule of events: LouisianaFilmPrize.com and NewOrleansFilmFestival.org.
---
The New Orleans Film Society was one of 37 film organizations in the United States to receive funding from the Academy of Motion Pictures Arts and Sciences this year. NOFS received a $20,000 FilmCraft grant for its Emerging Voices Mentorship Program, the highest amount awarded. The program was launched with support from an Academy grant in 2013. It was founded on the principle that in order to create a more diverse storytelling landscape, filmmakers of color need greater access to gatekeepers.
---