Farther Flung: Cruisin' 30A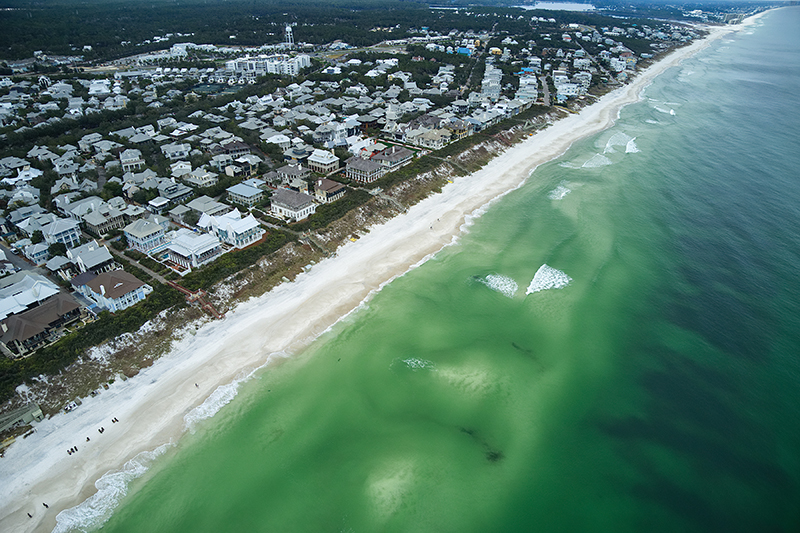 It sounds so easy: Hop over to the Florida Panhandle and enjoy fabulous sun, emerald Gulf waters, grab a cool beach drink and enjoy exquisite seafood. But alas, the region known as 30A — referring to the highway that runs through South Walton — complicates things.
Starting east of Sandestin and stretching down to Panama City, Highway 30A offers miles and miles of beaches carved from sparkling quartz eroding off the Smoky Mountains, the Gulf's turquoise waters and more than a dozen beach neighborhoods with unique personalities. Artists flock here with the promise of this idyllic lifestyle, selling their art in galleries and shows. Adventure lovers not only relish the outdoors, they offer tours. Acclaimed restaurants and shopping dot the landscape. In addition, there's a variety of entertainment and attractions, so every day brings something new.
Yes, it's easy to drive over to Florida and coast down 30A. The hard part is deciding what to do from the long list of opportunities.
But we're here to help.
Resort communities
SEASIDE
Remember "The Truman Show" starring Jim Carrey and the perfect village in which he lived? The film was made in the resort community of Seaside, a 20th-century New Urbanist development of pastel-colored homes with wide porches and a town center featuring shopping, restaurants and entertainment. Rentals are available for visitors. seasidefl.com
ALYS BEACH
Everything's white in Alys Beach, which makes it the perfect place for a digital graffiti festival. Instead of spray cans of paint, artists project their artwork onto the town's brilliant white canvases. Festivals aside, the town offers vacation home rentals so visitors can enjoy the many nature trails, restaurants, wellness centers and more. alysbeach.com
ROSEMARY BEACH
Further east along 30A is the high-end resort community of Rosemary Beach, featuring architectural gems for rent and sale, The Rosemary Beach Inn, several pools, green space for entertainment, restaurants and a lively town center. rosemarybeach.com
Get outside
One of Florida's best state parks lies in the Panhandle. With almost 2,000 acres of dunes, lakes and beaches, Grayton Beach State Park remains a day's adventure for 30A visitors. The park's open daily, year-round, and features more than four miles of trails for hikers and bikers. An inland lake lures fishermen and paddlers and cabins offer overnight accommodations.
If you want to escape the crowds and experience coastal Florida in its natural beauty, Camp Helen State Park fronts the Gulf of Mexico but also skirts Lake Powell, the largest coastal dune lake in the state. Visits to the 180-acre park may enjoy swimming, both freshwater and saltwater fishing, hiking along the trails and exploring the historic Native American middens and mounds. The camp was original a company resort for Avondale Mills, which produced textiles from 1945 to 1987.
For a taste of Florida history with natural acreage, try Eden Gardens State Park near Grayton Beach, once the home of William Henry Wesley and his lumber company, which took advantage of the area's longleaf pine forests. Wesley's company ceased operation around World War I but the massive 1897 Wesley home and its collection of Louis XVI furniture, plus the landscaped 163 acres, are open to the public. The park provides an ideal place for picnics and fishing is allowed on Tucker Bayou.
The unusual
Several dune lakes occur naturally behind the white sand beaches of the Florida Panhandle, created from rising water that breaks through the beach line — known as a "blowout" — and traps Gulf water inland. Visitors who kayak these dune lakes may witness saltwater creatures such as flounder and crabs merging with fresh water alligators and bass, or gulls flying with great blue herons.
Many people head to the Florida Panhandle for the quartz sand beaches and warm Gulf waters but if your predilection turns toward cold water to battle the summer heat, Florida has refreshing natural springs to satisfy. Cold springs for swimming, paddling and diving include Holmes Creek, Econfina, Morrison Springs and Ponce de Leon Springs State Park.
Don't just practice yoga at the beach, downward dog on a paddleboard! 30A Paddleboard Yoga offers everything from weekly Stand Up (SUP) classes to happy hour yoga with dolphins near The Bay Restaurant. For information and a schedule of classes, visit 30apaddleboardyoga.com.
---
DON'T MISS
Renting a bike allows visitors to enjoy more than one beachside community, plus the endless miles of Gulf beaches. There are many bike rental companies to choose from and some, such as 30A Bike Rentals in Seagrove, deliver bikes to the many Hwy. 30A communities.
The region boasts of many year-round festivals so it's easy to visit when one's happening. Food festivals such as the 30A Wine Festival appeals to foodies, while those who prefer a liquid lunch might enjoy the 12th annual Baytowne Wharf Beer Festival at Sandestin on October 11-12.
---
SUNSET DRINKS
Bud & Alley's
Located on the beach, Bud & Alley's in Seaside offers sea-to-table dishes in its restaurants, but you'll not want to miss drinking a Seaside Fizz on the Roof Deck Bar while the sun turns the Gulf's emerald waters to shades of red and orange.
The Vue
The Vue on 30a in Dune Allen Beach has been named one of the "Hottest Spots to Watch the Sunset" in 30A.com's Hot Spots poll. Enjoy an Emerald Coast martini and sample dishes from celebrity Chef Giovanni Filippone, known for his season five role in the culinary reality show, "Hell's Kitchen."
Havana Beach Rooftop Lounge at The Pearl Hotel
The Havana Beach Rooftop Lounge at The Pearl Hotel in Rosemary Beach offers a breathtaking view of the Gulf, plus there are signature cocktails. Share a small plate and sip Cuba Libres while the sun dips below the horizon.
---