Fat Tuesday Revelations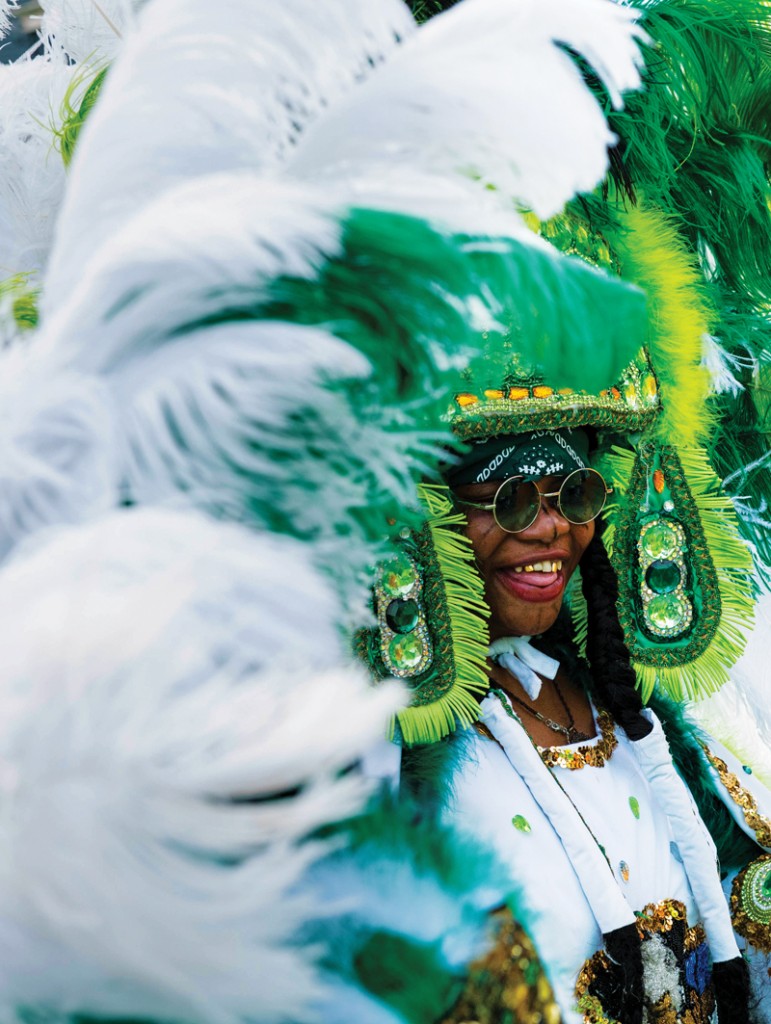 Every year, in the weeks leading up to Fat Tuesday, behind the closed doors of dozens of New Orleans households, the secretive drama of the Black Masking Indians plays out with needles.
The artistic labor of the Indians — sewing their suits — consumes hundreds of hours spread out over an entire year. For the most part, the Indians toil away in secret, pouring their time, hearts and souls into dazzling and elaborate creations, made of bright, colorful feathers, beads, glittering sequins and rhinestones. It is a painstaking creative process (some suits tower over eight feet and can weigh as much as 150 pounds), which they keep hidden to all but their fellow tribe members, family and a few close friends. Only on Fat Tuesday, when the final glops of hot glue have dried and the last smudges of face paint perfectly complement their vision, will they emerge singing from their front doors, revealing their creations, and parade through the city.
This uniquely New Orleans phenomenon with roots in Native American culture is believed to have been passed on to the escaped slaves who found safe haven among Southern tribes during the Antebellum era. The suits are usually worn on only three occasions: Fat Tuesday, Super Sunday and St. Joseph's Night. After these festivities, the process of creating next year's suit begins anew. Following a Big Chief's leadership, colors are chosen, and perhaps a unifying idea is laid out. Then, each individual Indian goes to work on their suit.
In the beginning, most sewers have little idea what the outcome will look like. For Mary Kay Stevenson, Big Queen of the Original Wild Tchoupitoulas, the process begins by sitting down and thinking of all the things life has thrown at her over the past year.
"You know the suit's gonna be a struggle," Stevenson says. "You know it's gonna take money and time. You start by looking at it from your heart, but through your eyes. After awhile, ideas start coming, like the spirit is talking to you. Then you get to work with your needle and it all starts falling together."
The Original Wild Tchoupitoulas' colors last year — green and white — were chosen by Mary Kay's late mother, Big Queen Mercy, before she died in 2016. With this in mind, Big Chief John Ellis envisioned a suit centered around green and white rhinestones — green symbolizing the earth, white gathering light from the sky — which would reflect a message up to the late Queen Mercy, letting her know that they were carrying on the tradition in her absence, that they appreciated and honored what had been left to them.
Last year, most of Stevenson's patches had connections to her late mother. The large beadwork on her back, sewed in her mother's style, was of a panther, "who never abandons her young," Stevenson says, symbolizing her mother watching over her.
Every suit is different, and there are as many styles as there are sewers, as well as different levels of dedication and craftsmanship. The largest responsibility falls to the Big Chief, who must lead the tribe in artistic creativity with his suit. Next comes the Big Queen, who reflects the Chief.
Stevenson only assumed the role of Big Queen in 2016. Previously, as Second Queen, Stevenson made suits, but she was not as fully immersed in her creations, as she is now as Big Queen.
"When I was Second Queen I sewed," Stevenson says, "But I didn't, sew sew. In the past, if Carnival time was in February, I'd start my suit in January. But not no more, no no. Now I'm Big Queen and I have to make sure I'm representing my Chief. I mean I was pretty back then, but I didn't worry about getting pretty pretty until 2016. Now every year's a higher notch. Now I know I represent my tribe. In the past I just made a suit. Now I create suits. My heart, body and soul [are] more dedicated to it."
The suits, Stevenson explains, bring about a metamorphosis. When you put them on, you are a different person. The spirit of the Big Chief, or the Big Queen, assumes control. You are no longer who you were, and the shadow of this possession stretches far beyond Carnival and Super Sunday; it stretches over their entire life.
"After the show, people think it's over," Stevenson says. "They don't understand it's a part of our lives. It's a daily thing. It's part of our identity."
Indians are quick to draw a distinction between an Indian suit and a costume — considered an offensive term for their creations. A costume is something you put on, Stevenson explains. A suit, rather, is something that comes out of you, something you put your whole self into, something you wear with honor and respect.
"You can make a costume in two weeks," says Stevenson. "Or even a day. A suit is different. It takes more time to make a suit. It takes a year to make a suit. You can buy a costume, or someone can make one for you. But it ain't gonna take no year to make a costume. You can have 99 suits, but no two will be alike.
"Because it's an individual's creation — behind your secret doors in that neighborhood or in that household, you're putting together something unique, and when the world see it, it glows. You know why it glows? Because now they know. The secret has been revealed. And it's only revealed on a Tuesday morning."