Female-Ran Moonshadow Festival This September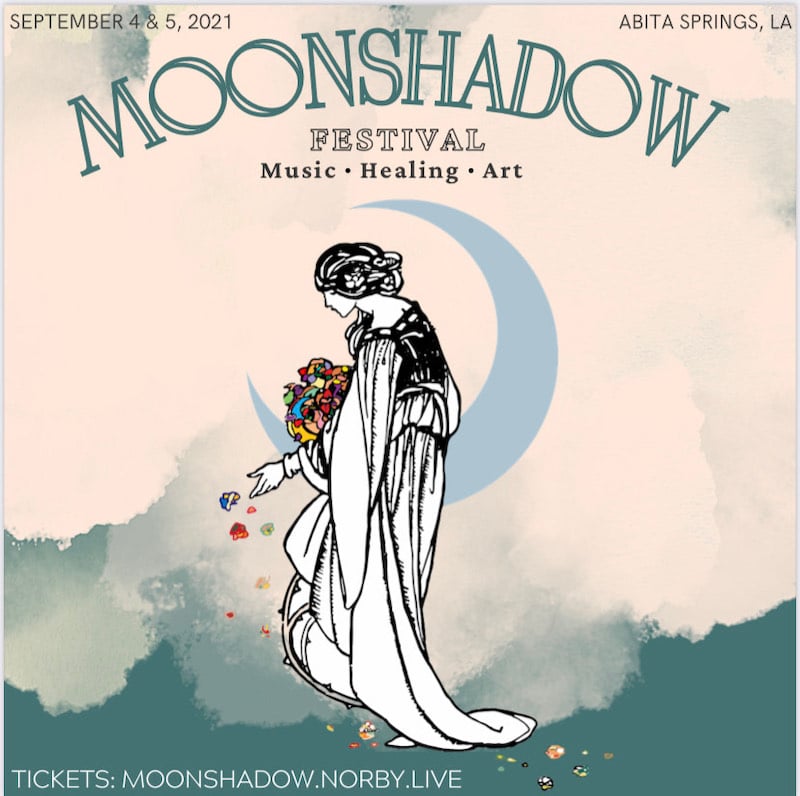 ABITA SPRINGS, La (press release) – Moonshadow Music, Wellness and Art Festival is taking place in Abita Springs on September 4 & 5 (Labor Day Weekend), and featuring performances from Handmade Moments, Mahmoud Chouki, Ray Wimley, Silk & Mortar, Anna Moss & The Nightshades, Santa Barbara Streisand Band, Sara Kirby, Brittany Purdy, Zoomst, and Sansho.
Moonshadow is going to be held on a beautiful 88-acre property for two days and one night, and it's the first festival kicking off the 2021 season.
Some wellness programming includes activities such as cacao ceremonies, propagation workshops, yoga classes and motivational seminars. The Abita Springs Be & Be property itself is equipped with two labyrinths, two lakes, a watsu pool, a sauna and a non-denominational temple just to name a few. We are partnering up with independent artists for installations, performances and live painting.
Tier one general admission tickets are currently on sale for $85 and that includes full festival access and one camping & car pass. People also have the option of buying day passes for $45 a pop or to rent an RV, which comes with four admission tickets, for $1200. Tickets can be purchased on https://moonshadow.norby.live.
Some of our partners include, The Spotted Cat, Nola Station and Lakeside Photoworks to name a few. Some of our current vendors include Clesi's Seafood Restaurant, Pixie Dust Glitter, Freebird Revolution, Luxpunk and Bone Crone.
A. Glantz is a nonprofit organization that helps the artistic community thrive in the greater New Orleans area. In effort to fuel the hospitality industry, we consider ourselves a stepping stone no matter where artists or industry workers are in their career path. We serve local musicians, production companies, independent venues & community vendors by helping the industry's wellbeing and economic welfare one event and program at a time.
Our organization also currently works on an array of projects such as bringing music to retirement homes and offering open mic night programming. After September, we'll be
focusing our efforts on creating more cultural events and putting together a mentorship program.
You can find more information about our inaugural Moonshadow Festival and our organization on www.a-glantz.org.