Fire in the Fields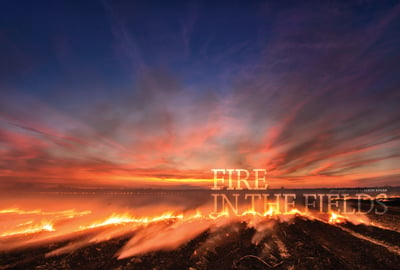 Setting fire to the sugar cane fields after harvest ensures the grounds are prepared for the next season when planting and fertilizing begins in the spring. The fire burns away leftover debris and leaves from the harvested cane. I intended this series to be entirely black and white, but with a classic Louisiana sunset serving as a backdrop behind the burning field, I couldn't resist one color photo, my personal favorite in the series.
Artie Ourso, co-owner of Ourso Farms in White Castle walks through a patch of young cane during harvest on
a cold December morning.
Contract workers plant the cane in the late summer. Cane grows from the "eyes" on the stalks of existing cane. A field of full-grown cane is cut down with a cane harvester, loaded standing straight up into a trailer, and then hand-planted back into the ground with three stalks laid flat on top of each other, then covered with soil. This "mother cane," as it's called, will stay in the ground three years, and new cane will continually grow all three years from that one piece of cane from the "eyes" of the cane stalk. Although some farmers use a machine for planting, Ourso insists on planting by hand to yield the best results and to prevent rot of the mother cane. These contract workers from Mexico make up the majority of the Ourso farm hands. These men work hard, long hours, often 14 hours a day, seven days a week. They work through holidays during harvest season, including Christmas and New Year's Day.
Rock Anderson has worked for Ourso Farms for nearly 25 years and drives an old cane harvester, a machine that cuts down full grown cane which will then be hand-planted back in the ground.
Brothers and owners of Ourso Farms, Mitchel (right) and Artie (left) stand with stalks of "mother cane" used grow the next three years' crops. Not pictured is their brother and co-owner Donnie. The three brothers bought the family farm from their father in 1986 and today farm a total of 6,500 acres.
A snow blower is used to blow the hot, fresh sugar onto a mountain in order to cool it and pile it high simultaneously. It's stored in warehouses until it's sold to sugar companies.
Artie lights a barren cane field on fire to burn away the debris after another harvest season
has come to an end.