Fired Up!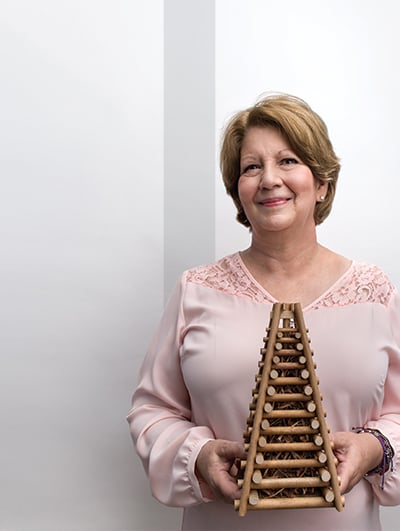 The levee bonfires in St. James Parish leading up to Christmas are likely the most iconic holiday tradition in South Louisiana. Though she'd be the first person to admit it's far from a one-person show, Rhonda Lee is the woman in charge. Lee has been president of the three-day Festival of the Bonfires since 2003. The multifaceted whirlwind of events involves a gumbo cook-off, 5K run, concerts, carnival rides, dance groups and more.
"We have over 60 pots of gumbo every year," Lee says. "That's a hell of a lot of gumbo."
The festival runs on the second full weekend of December, and each evening ends with the lighting of a single bonfire. It's all a prelude to the epic Christmas Eve bonfire lighting on the levee, said perhaps to light the way for Papa Noël.
"I started off small, helping out my friends as a favor," says Lee, whose day job is a supervisor with St. James Parish public schools. "And from there I took on more and more. It was supposed to just be one or two years, and now that it's 14 years later I'm still doing it."
Though the festival is a big deal for the small towns of Lutcher and Gramercy, Lee says it doesn't take her all year to plan. In fact, her all-volunteer team, which has remained virtually unchanged for 10 years, is a finely-tuned machine.
But Lee admits she's planning to retire soon, and will need to pass the festival over to someone else.
"I know it's almost time that I let it go. And when I do, I can say, 'I did good, and I have no regrets.'" And here is where Lee gets choked up, about both the Festival of the Bonfires and the Christmas Eve lighting. "I get teary-eyed when I talk about my festival. I was born and raised here in this area, going to bonfires almost all my life. I don't know what would happen if I wasn't here on a Christmas Eve to see those things go up. It's part of my community and it's great to be from St. James Parish."
---
______ Q&A ______
• Favorite Louisiana dish: Red bean gumbo
• Favorite pasttime: Watching LSU and Lutcher Bulldog football
• Best place for a weekend getaway: New Orleans