First Impressions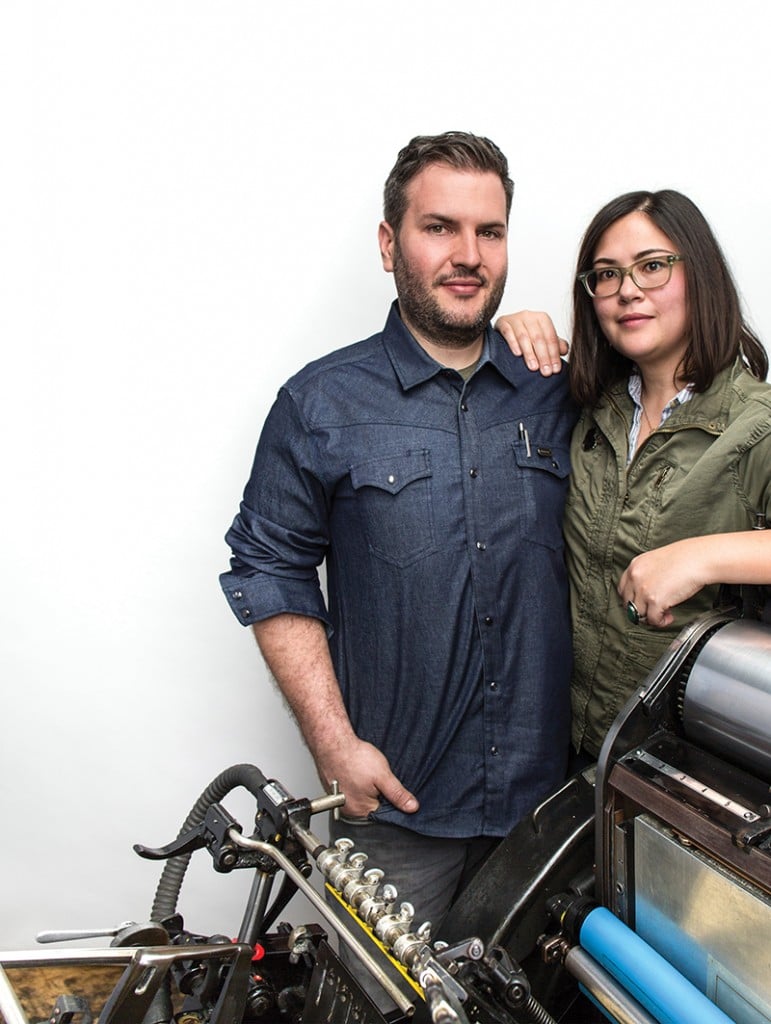 Ryan: "We love the work of Kathryn Hunter at Blackbird Letterpress in Baton Rouge. She's been a role model of ours since before we even moved to Louisiana."
Leslie: "I'd say one of our biggest inspirations would have to be Charles and Ray Eames … they created timeless designs working together."
---
When the press lightly glances off to leave the paper unharmed below and only ink behind, any trace of the creation process is like the faintest whisper of a myth. The finished print is smooth and perfect — and really not all that human.
This is called the kiss.
It was common practice for centuries when letterpress relied on type made of lead; the soft metal an artist used could really smash into gibberish if not incredibly careful.
But with any great revival comes a renewed spirit. Letterpress resurrected for the Digital Age is a more romantic beast, intent to prove its old fashioned ways. Its streak rakish rather than refined, letterpress today runs counter to the glittering gloss of Madison Avenue's march of modern design in its dutiful carrying on of a centuries old craft.
It is with this vigor, the fervor of an old Southern reverend thumping a tattered King James — first distributed en masse thanks to Gutenberg's letterpress in 1454 or 1455 — that the artist couple, Leslie Graham and Ryan Howell, give up the kiss so impersonal and embrace the art of deep impressions.
Using a combination of digital typography, line art and hand lettering on photopolymer letterpress plates, they preach the power of a press graced under masterful command with the gift of leaving the mark of the maker. Theirs is Rise & Shine Letterpress, the company they founded in 2006 amid an abandoned warehouse taken over by a patchwork of artists in North Philly and relocated, three years later, to Alexandria, Louisiana, where Graham was raised.
"Our philosophy," Howell says, "is to borrow what works from the past and evolve it to make it relevant to the present."
It was touching these deep impressions set in a card sent by Graham's sister that first awoke in Howell, then a copywriter for a Philadelphia ad agency, a strong desire to find such an old machine and use it to create something new. Working as a graphic designer, Graham was equally intrigued by the idea of matching her digital design skill set with a mechanical technology perfected during the Eisenhower administration.
Today, Rise & Shine handles foil stamping, graphic design and custom, traditional letterpress for wedding invitations and business cards as well as product labels and packaging for a variety of clients like Bayou Teche Brewing, John & Kira's Chocolates and The Honey Hutch Soap.
"I enjoy that we get to play a small part in a business' growth, that's important," Howell says. "It makes something more real when you strike it into print."
Graham and Howell have an eight-year-old son, and they live and work out of the same renovated space in downtown Alexandia.
"Rent was always more of a struggle in Philly — here we can mellow out and have a bit more time to be creative and grow as artists," Graham says. "But living and working in the same space does require discipline."
The couple makes carpool runs together and schedules out their workflows in a detail only matched by their letterpress. They are driven toward quality over quantity, and while Howell's mechanical mind is enamored with the grandfathered gears of the press, Graham in particular identifies with the passion of the makers movement.
"I'm tired of things falling apart," Graham says. "I appreciate handmade things, things made locally. I like items that are made slowly and methodically. And I want Rise & Shine to always be a part of that."
Though the learning curve was steep after dropping successful careers to pick up an entirely new craft, the biggest lesson for this talented couple has actually been the first thing the letterpress taught them. How would they move the massive, thousand-pounder they first bought to start it all?
"It was huge, this 1902 press with a flywheel and everything, and we had to figure out how to haul it," Howell recalls. "We realized then that in life you have to do things yourself. You're the only thing ever holding you back."
---
Q&A
Working in a smaller town in Louisiana, and not, say New Orleans or Baton Rouge, how do you approach interacting with other creatives or even potential local clients?
Ryan: I've been getting more involved in the letterpress community, and communicating with other people who do what we do. We're all on a similar wavelength and talk like old friends through Facebook, Slack and Instagram. I look up to other letterpress printers, especially Hammerpress in Kansas City.
Leslie: I love to see what all the other print shops are up to. Alexandria is nice, but it's out in the boonies, so it's hard not having a lot of like-minded people close by.
Ryan: We've been wanting to do more events to meet people and market what we do. We're both a bit shy in event situations. But bringing a press is cool, because it enforces interaction. The Crop conference for creativity and design was sort of our first exploration into that. We've been the past two years. It's definitely an awesome experience. We met Crop founder Matt Dawson at Creative South in Columbus, Georgia, actually.
---
When do you feel the most creative?
Ryan: I've found that routine and order is really important to making our business work, so during office hours I'm more structured and production-focused. Creativity happens on the weekends when I get to play around with the equipment or take a hike at Kisatchie National Forest.
Leslie: Besides parental responsibilities, for the most part, our workday is self-guided. I'd say my most productive time is the morning. But I feel like I never stop being creative. It's a 24-7 thing with me.
You mentioned your son who has now grown up around your presses and your designs, but do you have a piece of equipment that's another 'baby' of yours?
Ryan: We have a whole bunch of different presses, now, but our favorites are our five original Heidelberg presses from the 1950s. They really represent the peak of letterpress engineering, and I'm obsessed with everything about them.
So those are the Eames-like, midcentury modern version of a press?
Ryan: They are absolutely that. Made in West Germany, they are like the most beautiful example of midcentury industrial design.