FishSTOCK Festival Celebrates Plaquemines' Natural Resources and Culture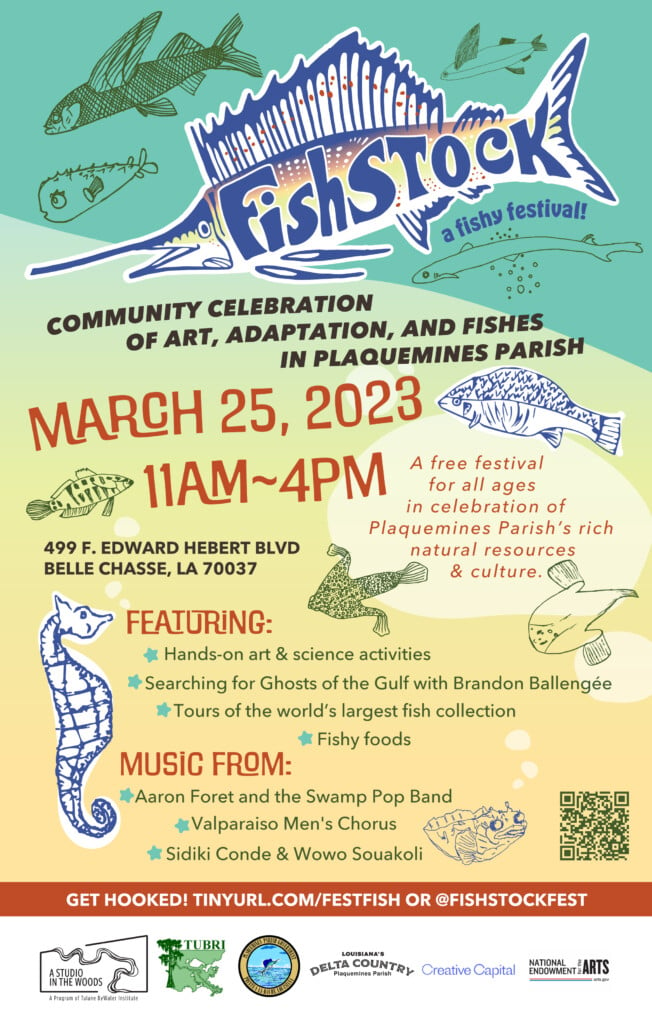 BELLE CHASSE, La (press release) – FishSTOCK, a new, free festival celebrating Plaquemines' natural resources, will be held March 25 from 11 a.m. to 4 p.m. at 499 F. Edward Hebert Blvd. in Belle Chasse.
The festival honors Louisiana's vital coastal communities and focuses on community resilience and adaptation. There will be a variety of educational, art, science, food, music and hands-on activities, as well as tours ofTulane University's Royal D. Suttkus fish collection, the largest collection of post-larval fishes in the world.
FishSTOCK is hosted by Searching for the Ghosts of the Gulf, a collaborative project with artist and biologist Brandon Ballengée, a Studio in the Woods and the Plaquemines Parish Government. Through participatory art and science, Searching for Ghosts of the Gulf explores missing Gulf of Mexico fish species with youth, fishermen, and community members from at-risk Plaquemines Parish coastal communities. The project culminates on March 25 with FishSTOCK, a festival dedicated to those species not seen since the 2010 Deepwater Horizon oil spill.
"Plaquemines Parish and the Gulf of Mexico are among the most special places in the world with incredibly rich biodiversity and culture," said Ballengée.  "Come join us at FishSTOCK for a celebration of these remarkable resources and visit my art installation Collapse, made from over 26,000 specimens at the Royal D. Suttkus fish collection."
Participating artists and organizations include Restore the Mississippi River Delta, Hannah Chalew, Coalition to Restore Coastal Louisiana, Coastal Wetlands Planning Protection and Restoration Act, Couvillion Group, Delta Discovery Tours, Pippin Frisbie-Calder, The Hive, LAYAYA Bus, The Nature Project, Woodlands Conservancy, Woodland Plantation, student art exhibits and more.
MUSIC SCHEDULE:
11:30 a.m.- 12:30 p.m. – Aaron Foret and the Swamp Pop Band
1:00 p.m. – 2:00 p.m. – Sidiki Conde and Wowo Souakoli
2:30 p.m. – 3:15 p.m. –  Valparaiso Men's Chorus
FishSTOCK is free and open to all.