Floating Along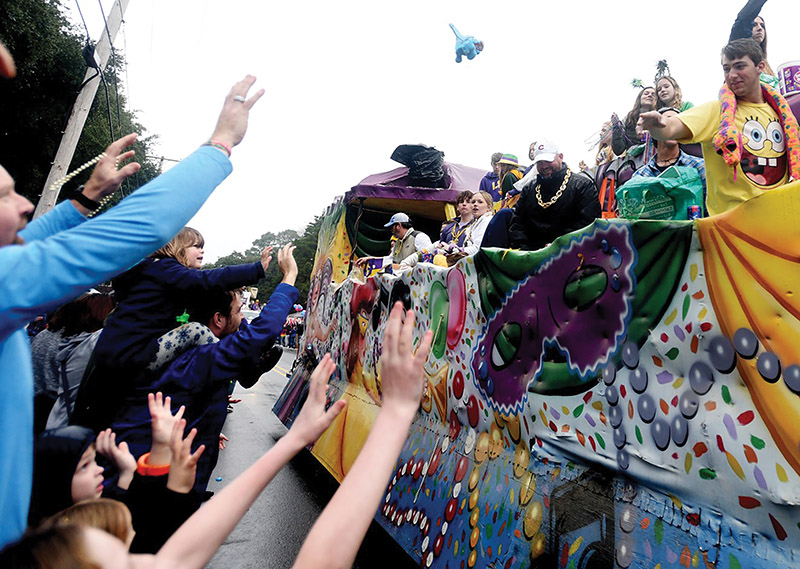 My mother always sewed my Mardi Gras costumes growing up, leaving room for turtlenecks and T-shirts should the weather turn cold. One never knows what Louisiana winters will bring. The weekend could prove warm and mild, our faces basking in spring sunshine as we face the parades, eager for our bounty, and then, like a petulant child jealous of our fun, a cold front could turn Tuesday into a festivity of misery.
Such was the case when I rode in the Krewe of Highland Parade in the Highland Historical District of Shreveport two years ago, shivering on the back of a convertible with hand warmers and layers of blankets. The night before showered tiny droplets of rain on Saturday's Krewe of Gemini parade, but warm enough not to deter watchers from gathering their lot. What followed the night's spring sprinkles was a brutal blast of winter's wrath the following morning.
But that didn't stop the residents of the historic Highland neighborhood from coming out to the three-mile parade. And it certainly didn't curtail my throwing requirements. After all, it's Mardi Gras. We have our duties to perform.
This year presents new problems for the Krewe of Highland, one that usurps the weather. As of press time, founder and organizer Matthew Linn had no idea what the future held for the krewe's quirky Friday night ball and Sunday parade due to the ongoing coronavirus pandemic.
"We're trying to make it happen with the city, but we want it to be safe," he explained. "One thing about the Krewe of Highland is we can throw a party together quickly and we can do that for a parade as well."
Highland's a laid-back group, Linn insisted, with members "with lives" who don't meet regularly throughout the year. After the holidays, however, they bolt into action.
Ideas for 2021 included a true masked ball, Linn said. Past Grand Bals — they partied at St. Mary Medical Center in 2020 with North Louisiana's Ochsner CEO Chuck Daigle as grand marshall — required masks of all members who would remove them during the evening or fail to wear them in the first place. This lack of Carnival etiquette irritated Linn so this year he's was happy to impose safety — and Carnival — standards on unmasked members, who would be escorted out.
The parade plan was a reverse Sunday event, where floats park on a median in the middle of a street and participants drive up and down yelling for throws. Highland hires high school and college marching bands each year to parade but they would instead install them along the route to perform stationary.
Humble origins
Twenty-six years ago, after moving back home to Shreveport, Linn thought the Highland Historic District of Shreveport deserved a parade. So, he started one. Simple as that.
The Highland Area Partnership agreed, a small budget was created and friends and family joined to help. The first parade rolled with about 30 attendees that included festive wagons, a party barge and a decorated lawnmower. 
Over the years, the route expanded to three miles with more than 100 entries, plus krewes within the Krewe sporting names like Krewe of BBQ, Krewe of Spam and the Blanc et Noir Marching Society, all throwing unusual throws, from hot dogs to rubber chickens. Last year's parade garnered 140 floats to 11,000 eager parade-watchers.
"Lots of luck and friends and family and people who show up," Linn said of its success. "It took on a life of its own."
Unfortunately, life can be fickle, throwing harsh weather and COVID our way. And Mardi Gras must evolve with the changes. This year, the krewe's 26th anniversary, participants will see more homemade, family-style floats Linn said. If it's not canceled, of course. 
"I'm fine with that," he said, adding that the public's safety must take center stage.
---
This year the Krewe of Highland celebrates its 26th anniversary. The status of the pandemic will of course determine how, and if, the krewe celebrates.