Fog Machine
Clinton-native's ethereal minimal images evoke loneliness and strength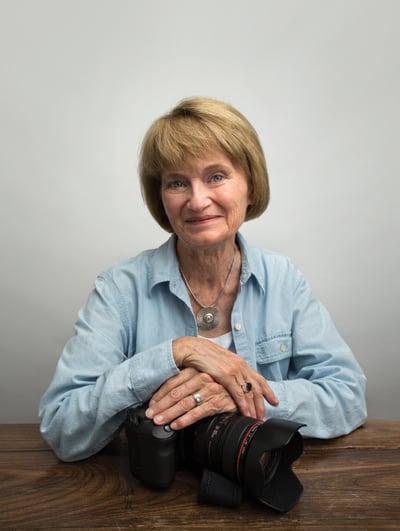 Dede Lusk leans forward in her chair inside a cozy neighborhood coffee shop and darts her eyes over to the windows at the morning light beaming in. Despite the forecast, today's weather is clothed in unusually spring-worthy tones for late January in Baton Rouge. Quickly tapping out her frustrations on the tabletop, the 69-year-old firecracker exhales, staring into the gray surface beneath her fingertips — some vanquished, unrealized images roving through her brain just behind a set of steely eyes. Those pictures will have to wait.
Above, the clouds are saccharine tufts of pure cotton.
"It's a beautiful day — a fine day, really" Lusk says flatly. "It's not my day. I don't even like to wander around on days like this."
To look through Lusk's mythically evocative imagery on Instagram is to be met at once with the familiar and the unknown. Entering her wolrd is to leave the city for dead and explore the life of South Louisiana's marshes and bayous from the back of a boat or around the bend of a trail on foot into the untamed, unspoiled, uncharted.
Lusk describes herself as a fog-chaser. She checks the weather reports religiously and if fog is on tap, she will be up before dawn to make sure she has a few hours of prime time to create the images she likes. These are her days and quiet hours when the sounds of the city are far away, the clutter of architecture and advertising is a distant memory and only the great unknown of adventure.
"I become very introspective, and that makes my heart grateful for the beauty God has created," Lusk says. "My passion in chasing that soft, flat light of fog on the landscape is to capture in a photograph what brings soothing to my soul, and, hopefully, it brings peace to those who view it."
As a young girl growing up in rural Clinton, Louisiana, Lusk began taking pictures with the Kodak Brownie camera her grandfather gave to her. He operated a drug store there, and developed her film, too. Now with decades of experience, she has adopted digital technology, bringing her camera and her apps-loaded iPhone everywhere she goes. Her black-and-white nature photography — seen most recently in the book she co-created "La Louisiana Echantee" —and stark still-lifes of foraged flowers and leaves has taken on a dream-like minimalism. This isn't work designed to stimulate but to soothe.
The images are a form of catharsis for her as well. Warm and direct in person, there's a loneliness reflected in her work, and yet an elusive strength lies within each, and this quality draws the viewer closer. Whether she's skimming along the Atchafalaya Basin by boat or on a walk around the University Lakes at LSU, what she captures is remarkably consistent and convicting.
"I do not like having a cluttered life," she says. "And the older I get, the less cluttered I get, the more I want order for the things I have, and everything I don't want out."
Her uncluttered life does include two talented and longtime photographer friends, Beverly Coates and Toni Goss, "the other legs of the tripod," Lusk says. Such a support group is essential to an artist's continued creativity, she says. Together they go on adventures, or wanderings, she calls them. Last year Lusk, Coates and Goss rented an RV and camped in the desert of Joshua Tree, California.
"A lot of it is just being together," Lusk says. "We go our separate ways in the wild but are never out of eyesight of each other. Then we meet back up and go over each other's work. We're real encouragers for each other."
Once back in Louisiana, Lusk will be right back hunting cypress trees and osprey nests through the thick blankets of the fog. She feels a responsibility to share something beautiful from the state she loves.
Lusk is currently editing the images she took on a return trip back to Clinton, where she photographed the red brick schoolhouse she attended for twelve years, her childhood home and church, and the very places she went to her first dance and roller skated afternoons away.
"I could feel myself walking down the street again as a girl," Lusk recalls of the homecoming. "It was remarkable. More than anything, that'll be a book for myself."
DEDE LISK Dedelusk.com @dedephoto
---
Q & A
What do you do for fun when you're not taking photographs?
I love to fish. I grew up fishing with my dad, and I still go often. We like going to Lake Verret or down to Cocodrie. Sometimes I'll be in the boat and the biggest debate I'll have with myself is whether to pick up my camera or my rod. I follow what art exhibits are coming through town and I try to go to as many as I can.
If you weren't a photographer, what kinds of creative things might you be involved in?
I love woodwork, mostly sculptures and bowls. Rigsby Frederick is a friend, and I love his wood pieces. I've always felt if I could have tried that at a younger age I'd be more involved with it now. Maybe creating some of my own. The feel of it is amazing. There was an exhibit in Baton Rouge recently of woodwork, and there were 'Do Not Touch' signs all over everywhere, and all I wanted to do was rub my hands on them.
I gather you are very involved in your church?
I like to stay involved there for sure. My faith is very important to me and how I live my life. There have been mission trips and prayer groups and events. And helping out with those things uses a lot of creativity, too.