Food & Film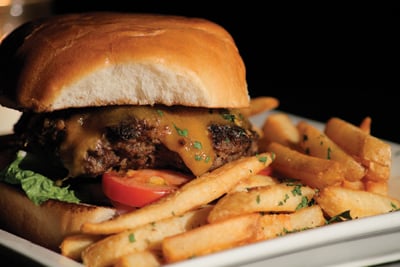 Everyone knows what it is like to be at the movies when you're hungry, and your choices are pretty much limited to hot dogs, nachos, popcorn and candy. Embracing a new generation of movie goers, the Robinson Film Center in Shreveport's revitalized downtown arts district offers Abby Singer's Bistro.
Abby Singer's Bistro is open for lunch and dinner and, particularly given the high cost of theater food today, is always an affordable option. Even at lunch, you can get some exceptional choices that transport the concept of theater food to a galaxy far, far away.
One such choice is the exceptional Tuna Tower Salad. This selection is stacked and deserves a standing ovation. This is not your grandmother's tuna salad, but offers mixed greens, avocados, red bell peppers and sesame seeds on with seared tuna steak and sesame vinaigrette. Their exceptional gumbo is definitely worthy of Louisiana.
The Royale with Cheese is a burger that will please any crowd. If you are not a meat-eater, the vegetarian burger will still be well-received.
The shrimp remoulade is a real award winner: fried green tomatoes topped with sautéed shrimp, Louisiana hot sauce and house-made remoulade.
A stunning cast of salads is offered along with sandwiches, soups and signature entrees, including a Southern tradition: chicken and waffles. Fish tacos are also popular.
At night, the already Oscar-worthy menu adds supporting stars such as duck nachos and Singer Rolls (four shrimp eggrolls with garlic and cilantro served with sweet and sour chili sauce).
The bistro offers an excellent array of wines to complement each dish and also a full bar.
Abby Singer's Bistro is setting the standard. Catch a good affordable meal before or after some of the top independent and foreign films available in the country.
Abby Singer's Bistro at Robinson Film Center, 617 Texas St., Shreveport, (318)-459-1125
---
Mopho in New Orleans
People in New Orleans get fired up whenever a chef from a notable restaurant breaks off on his or her own. In the last few months of 2013, the anticipation reached a fever pitch as Michael Gulotta, former chef de cuisine at perhaps the best restaurant in the city, August, announced his new Mid-City eatery would be opening in mid-January. Mopho is a fusion spot that combines Vietnamese traditions with local flavors, filling a gastronomical niche in Mid-City, one of the city's largest residential neighborhoods.
Mopho has a casual, barbecue joint-like feel, situated in a tiny strip mall at 514 City Park Ave., across from the historic Holt Cemetery. For appetizers, we tried the grilled shrimp spring rolls and crispy chicken wings. The spring rolls are light and packed with crunchy veggies and large Gulf shrimp and are served with one of the better peanut dipping sauces I've ever had. The fried chicken wings are coated in a delicious ginger sauce with a slight lemongrassy bite and are delectable. Next, we tried the titular pho. After choosing a broth (pork, beef, poultry or veggie) one is confronted with a daunting number of protein and veggie options for the contents of the soup. We had beef broth with oxtail, chicken thigh and pork shoulder. The beef broth is the darkest pho broth I have ever encountered, and was incredibly rich and flavorful, as were the meats floating around in it.
The star of the show, however, was the slow-roasted lamb neck and beet in green curry. It's served with Creole cream cheese roti (very similar to Indian naan bread) so that one is free to make little lamb rolls and sop up extra curry and generally make a mess. This dish is a reminder that Mopho is helmed by a skilled chef from an award-winning restaurant and is not your typical strip mall spring roll depot. Be prepared to wait for a table and to later consider the wait worth it.
Mopho, 514 City Park Ave., New Orleans. (504) 482-6845, mophonola.com – Bernard Frugé III