Fresh Pickings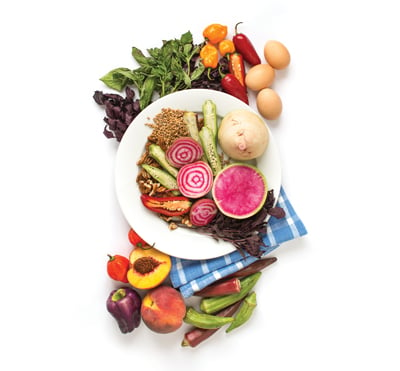 South of downtown Alexandria thickets of fragrant swaying pine trees give way to the 3,800 pristine acres of Inglewood Farm. Here, the Red River Delta's fine alluvial soil pours forth a kaleidoscopic array of organic flowers, fruits, and vegetables, and freely grazing Red Angus cattle, Berkshire pigs, and assorted chickens are raised in a humane, dignified and environmentally sustainable manner on fresh green grass, vegetable scraps and organic feed. In a few weeks the farm's 75 acres of mature pecan groves will release their bounty just in time for the holiday dinner table. It is the only certified organic pecan orchard in Louisiana.
Inglewood's land has been used for commercial farming over its 90-year history. In 2011, its owners, descendants of the Keller family that established the farm on the former plantation in 1927, made the decision to commit their land to use for a greater social good and began converting it to organic use. The process involved replenishing healthy nutrients in soil exhausted by years of commercial farming and creating and maintaining systems that naturally combat bugs and weeds. To this end, aphid-eating ladybugs and mantids are heavily employed. Free-range chickens are pressed into service to enrich the soil via a repurposed school bus and a cotton trailer. The bus of birds is continually moved to different sections of the farm, where the fowl peck about munching on bugs and enriching the soil with their manure.
The decision to convert the farm entirely to certified organic use was initially met with skepticism due to the area's intense heat, humidity and undesirable pest population. Today the successful bounty of Louisiana's largest certified organic farm is for sale at its on-site market as well as other farmers' markets in Alexandria, Pineville, Lafayette, Baton Rouge, Lake Charles and New Orleans. Offerings include free-range meats, both hen and duck eggs, pecans, pecan oil, fresh flowers and 75 varieties of fruits and vegetables.
The Harvest Barn Market at Inglewood is open Saturdays from 8 a.m. to 12 p. m. or by appointment and a devoted effort is made to offer goods at value-driven prices that make the organic offerings available to everyone. Central Louisiana growers and producers are invited the showcase and provide samples of their products during themed events and live music performances. Guests are encouraged to picnic and explore the working organic farm, making the chicken bus a popular attraction. Throughout the year the graceful plantation house is the site for farm-to-table dinners featuring guest chefs from throughout the state. As a Certified Organic Community Supported Agriculture farm, Inglewood offers subscriptions to weekly CSA boxes filled with fresh, seasonal offerings. Autumn harvest boxes will include arugula, beets, cabbage, broccoli, carrots, cauliflower, Chinese greens, collards, daikon, eggplant, both hot and sweet peppers, kale, kohlrabi, assorted lettuces, mustard greens, pumpkin, radishes, rutabagas, Swiss chard, turnips, winter squash, fresh herbs and tender, young sprouts.
Inglewood Farm | 6233 Old Baton Rouge Highway | Alexandria | 318-442-6398 | inglewoodfarm.com
---
GOOD BETS
Alexandria's popular Wildwood Pizza makes fine use of vine-ripened tomatoes from Inglewood Farm. The restaurant's hand-thrown pies are baked in a wood-burning oven and the heirloom varieties really shine in Garden District (garlic olive oil, mozzarella, sliced Inglewood tomatoes, minced garlic, spicy sausage, capers, fresh basil) and Margherita(garlic olive oil, sliced Inglewood tomatoes, fresh mozzarella, fresh basil). Wildwood Pizza is a partner in Fresh Central, a project of the Central Louisiana Local Foods Initiative, which aims to strengthen Central Louisiana's local foods economy, while also increasing access to fresh foods for all residents of the region.
Wildwood Pizza | 1260 Texas St. | Alexandria | 318-448-7121 | wildwood-pizza.com